Bristol was a centre of early photography and many of these early photographs dating back to the 1800's are well preserved. Some of the earliest appear in books such as James Beasley's "A Small Light in the Far West" published in 1996 in conjunction with the Bristol Museum and Art Gallery and Reece Winstone's "Bristol's Earliest Photographs" first published in 1970, but even these very interesting books have very sparse information on the photographers themselves.
This page was written because of an email I received from the Steve Moriarty, Curator of Photographs, Smite Museum of Art, University of Notre Dame, Indiana. The reason he contacted me was that he was trying to find the origins of a Daguerreotype of a middle aged, clean-shaven man with rather chubby cheeks, and wearing a dark coat with a bow tie and white shirt. Judging by its appearance, it is from the early 1840's. It is small, about 2 inches x 1 1/2 inches, and is mounted under a brass oval overmat in a small gilt frame which is set into a thin board, 5 1/2 inches x 5 inches. The wooden panel has been painted black. It has a small brass ring affixed to the top to allow it to be hung on the wall. Also there is a faint written identification on the label, which I believe reads "Mr. R. H. Alexander". So why should that be of interest to me? And why should I know anything about it? Well, on the back of it is printed :-
Beard's
PATENT PHOTOGRAPHIC LIKENESSES
Taken at the Photographic Rooms,
HORTICULTURAL GARDENS,
Top of Park-Street,
BRISTOL
I agreed to do a little research for Mr. Moriarty and, as I knew nothing about the history of photography, did a search across the web. The first site I found was very interesting and I emailed the author, Roger Vaughan. It turned out that he is a fellow Bristolian who would be interested in the history of this photograph as it may well be one of the earliest taken in the city. The next organisation I contacted was the Royal Photographic Society, who also helped me with places I should start my research. My thanks must also go to the the archivists at the Bristol Public Record Office who performed a search for me to ensure I didn't miss anything.
The photograph, now attributed to Bristol photographer Henry Vines, can be seen in the PDF document "Selected Works" from the Snite Museum website. When the document opens you can see the image on page 271 or search for Henry Vines or R. H. Alexander, which will take you to it.
Early Pioneers
The world's first practical photographic method was invented by Louis Jacques Mande Daguerre (1789 - 1851) in the mid-1830s. Licenses were required to use the daguerreotype process and these were granted by Miles Berry, agent for Daguerre. In 1841, Miles Berry sold the patents to Richard Beard (1801 - 1885), a Blackfriars, London coal merchant, for £150 annually. In 1840, Beard reached an agreement with Alexander Wolcott (1804 - 1844) of New York for the use of Wolcott's camera design which used a concave mirror instead of a lens. Beard opened his first studio at the Royal Polytechnic Institution, Regent Street, London in March 1841, another was opened later in Liverpool. He earned £25 to 35 thousand pounds from these portrait studios and the sale of licenses in 1842. The sole exception to his monopoly was Frenchman, Antoine Claudet (1797 - 1867), who bought a license directly from Daguerre before the Berry patent was issued. Many people challenged Beard's patents and the protracted lawsuits resulted in Beard's bankruptcy in 1850, three years before the patents expired. He did manage to keep a studio near London Bridge which was managed by his son, Henry
In September 1840, the Englishman William Henry Fox Talbot (1800 - 1877) invented a new process in which a negative image was formed by exposure in the camera, the fore-runner of the system in use today. The advantage was that multiple copies could be made from the negative. But the texture of the paper base printed through, causing a loss in sharpness. Because the image was printed out directly in the camera, Talbot's "photogenic drawing" needed more exposure than Daguerre's. Talbot added a development step to increase sensitivity, and called the process Calotype or Talbotype. He too, insisted on licenses to use the process but in 1852 he relaxed them.
Calotypes and Daguerreotypes were almost immediately abandoned when the wetplate, or collodion process, was introduced. It was more sensitive, less expensive, and its variants produced a positive in one step or could be replicated through positive-negative printing.
Starting Points
Not much appears to be known about early photography in Bristol. The information the Royal Photographic Society sent me was a useful starting point. Geoge Tuff provided a list of photographers at the Horticultural Rooms, now The Triangle. These were Turner - 1846, James Mitchell Cox - 1847 and Henry Vines - 1848. The one practicing there in 1841 was listed as unknown. They also suggested that I look up the local newspapers for the period.
Roger Vaughan gave me the following useful information :-
Beard did sell a license to someone in Bristol, no doubt for a large sum and the branch opened in 1841. The site of the Horticultural Gardens is now the Triangle, but who was the photographer?
My best guess would be Edmund Gustavus Muller the brother of W. J. Muller, Edmund was an artist living at 1 Park Row, within sight of the Horticultural Gardens, he had in his collection two daguerrotypes one was of his brother. In London W. J. Muller had friends such as Thomas Morson, who were closely involved in early photographic processes - and Morson was a friend of Antoine Claudet - so we have a link with early photography. The date of the Beard licence must relate to July 1841 to May 1843 when Beard gave up the patent - though the photographer in question, may have kept the wording on the back "Beard's ..." some time after if he had a stock of printed labels.
I have looked in Mathew's Directory and cannot find the studio listed for 1842.
Mr. R. H. Alexander is unknown, but there were a number of Alexander's in 1842 in Bristol. Whoever he was he could afford the Guinea one cost!
Abraham Alexander Esq. Consul for Russia, 37 Park Street & Narrow Quay.
M. J. R & A. Alexander, Ship Agent, Quay.
Alexander & Son, 20 Broad St, Auctioneers, Accountants, resident 14 Duke Street.
J. F. Alexander, Royal Hanovarian Consul for Saxony, Frankfort etc. 41 Park Street.
W. W. Alexander, Consul for the two Sicilies, 20 Berkeley Square.
Newspapers - 1841
As suggested by the RPS I started by going through the local newspapers of the time. I must give my thanks to the staff of the Bristol Reference Library for helping me with this.
This advert appeared in the Bristol Gazette And Public Advertiser printed at 46 Nicholas Street dated Thursday 29th July 1841. It also appeared in the Bristol Mirror dated Saturday 31st July1841 :-
BY ROYAL LETTERS PATENT,
THE NOBILITY, GENTRY, & INHABITANTS of Clifton, Bristol and their Vicinities, are respectfully informed that the Photographic Process, for taking Portraits, is now in the course of erection at the HORTICULTURAL ROOMS, at the top of Park Street, and will be opened in a few days.
The Process, under a favourable atmosphere, requires an exceedingly short space of time, when a likeness of the most unerring accuracy is obtained.
A few specimens are exhibited as Messrs PHILP and EVANS'S, Booksellers, Clare Street.
The following appeared in the following newspapers - Bristol Mercury, Bristol Mirror and Felix Farley's Bristol Journal dated Saturday 7th August 1841 :-
BY ROYAL LETTERS PATENT,
THE NOBILITY, GENTRY, & INHABITANTS of Clifton, Bristol and their Vicinities, are respectfully informed that the Photographic Process, for taking Portraits, is now in the course of erection at the HORTICULTURAL ROOMS, at the top of Park Street, and will be opened on Tuesday next.
The Process, under a favourable atmosphere, requires an exceedingly short space of time, when a likeness of the most unerring accuracy is obtained.
A few specimens are exhibited as Messrs PHILP and EVANS'S, Booksellers, Clare Street.
From the Bristol Gazette dated Thursday 12th August and both the Bristol Mercury and Bristol Mirror dated Saturday 14th August 1841. It also appeared in the Bristol Gazette dated 20th September 1841 :-
BY ROYAL LETTERS PATENT,
THE NOBILITY, GENTRY, & INHABITANTS of Clifton, Bristol and their Vicinities, are respectfully informed that the Photographic Process, for taking Portraits, is open at the PHOTOGRAPHIC ROOMS, HORTICULTURAL GARDENS, at the top of Park Street.
The Process, under a favourable atmosphere, requires an exceedingly short space of time, when a LIKENESS of the most unerring accuracy is obtained.
N.B. It does not require Sunshine to take a Likeness.
Specimens are exhibited as MESSRS PHILP & EVANS'S, Clare Street, and at the ROOMS.
From the Bristol Gazette dated Thursday 12th August 1841 :-
PHOTOGRAPHIC LIKENESS
We are desirous of drawing the attention of our readers to the Process for taking Likenesses on the photographic system, now in operation at the Horticultural Rooms, at the top of Park Street. Having by kindness of the proprietors been afforded an opportunity of witnessing the operation, we will give a short account, as it cannot but prove interesting to many. The portraits are taken in miniature. A piece of copper of the required size, plated with silver, is brought to the highest state of polish and then subjected to the action of iodine, (which is susceptible to the influence of light,) and in a short time a substance called iodide of silver is formed upon the plate. The plate, carefully protected from the light is then placed in a Camera Obscura and sitter takes his seat. In a space averaging, according to the state of the day, from ten to forty seconds, a perfect fac simile of the individual is reflected, if we may so term it, upon the plate. The plate is then removed from the camera, and placed over the vapour of heated mercury, which attaches itself to those portions only of the iodide of silver which the light has affected, and thus the various degrees of light and shade are attained. The plate is then placed in a chemical solution for the purpose of "fixing" the portrait, and being carefully cleaned it is then fit to be framed. From this short sketch it will be seen that a perfect likeness must result, if the sitter will, for the very short time it takes, only keep his features still. The light is a faithful portrait painter, and distains to flatter. No wrinkles, or pimples disappear under its touch, and if the pictures of Lawrence exceed in grace they fall far behind in truth. Every particular of light and shade down to the minutest spot is brought out. We saw above a dozen likenesses taken were astonished at their perfect fidelity. Besides their accuracy, the minatures possess every requisite of a painting except of course the colouring, and if taken care of will endure for ever. The charge is moderate, and when we consider the ingenuity of the process, the certain success which attends it, and the very short time required, we anticipate that numbers will avail themselves of this opportunity of obtaining not only correct likenesses of themselves, but of those near and dear to them. In London, the success which has attended the Patentee has been beyond conjecture. His rooms in the Polytechnic Institution, are daily crowded by the highest persons in the Kingdom, and, knowing from personal observation that we have not said more than this very valuable invention deserves, we have only to wish that the gentlemen who have introduced it into Bristol, will meet with the encouragement they so well merit.
From the Bristol Mercury dated Saturday 14th August 1841 :-
PHOTOGRAPHIC PORTRAITURE
The saloon and apparatus for the production of photographic likenesses at the Horticultural Rooms, top of Park Street (announced in our last as being in progress) have been completed, and were opened to the public on Tuesday, and a more interesting and surprising exhibition than they afford has not been met with in this city within our rememberance.
The production of a highly-finished and strikingly-correct portrait in a few seconds of time, by the mere power of light alone, and without the aid of pencil or colouring matter of any description, is a triumph of chemical science that was scarcely to have been looked for even in this advanced age, and the spirited proprietor may take our word for it that he owes it to the diffusion of knowledge, through the medium of the press, that he has not been tried and burnt at the stake as a sorcerer, according to the fashion of the good old time, in which it was the custom, by a direct perversion of scriptural authority, to ascribe all power for the performance of miracles to the Prince of Darkness, his emissaries and votaries. In sober truth and seriousness, a faithful likeness, a perfect icon of the sitter, is now produced in the short space of two or three minutes; a portrait correct in every particular, and with all its details elaborately "worked out" and "finished in the highest style of the art", if we may be allowed to use such expressions in reference to pictures produced by the photographic process.
The visitor, upon applying to the rooms, is introduced into an octagonal saloon, the roof of which is partially covered with violet-coloured glass; he is then placed in a chair, so arranged as to adopt itself to the stature of the sitter, and opposite to which is a small camera - if we mistake not one of Beard's patent, an improvement on that of Wolcott who added to the camera of Daguerre a metallic speculum and reflector for the purpose of modifying the light on the contenance of the sitter. Having fixed on his position the operator commences. The focus (a most important consideration) is correctly adjusted, a small metallic plate is introduced into the camera, the sitter is informed that the work is going on, and in an incredibly short space of time, which varies from 5 to 60 seconds, according to the degree of light; the door opposite to him is closed, and the plate removed; he then retires into an ante-room, and, in a few minutes is surprised to have placed in his hand, beautifully framed and glazed, a really startling fac simile of himself. Thus far, and thus far only, are "the secrets of the prison-house" disclosed to the ordinary visitor; but having been invited to a private inspection on Monday, and allowed by the proprietor to witness the process in every stage, penetrating even the sanctum sanctorum of the artist, we, with his permisson, proceed to relieve the curiosity of our fair readers in particular by placing before them the following brief description.
The plates on which the likenesses are fixed are of copper, the surface being thickly coated with silver, and highly polished by means of a lathe, which is kept in constant operation on the premises. They are then introduced into a box, where they are kept for a short time exposed to the action of iodine, a substance so excessively sensitive to light, that it is affected by the slightest ray which falls upon it. This box (containing the iodine) is placed in a dark room, and, as soon as the surface of the plate is sufficiently coated with it, it is withdrawn and placed in a case to secure it from the light till the camera and the sitter have been properly adjusted. It is then introduced into the camera, and the light reflected from the person the sitter falling upon it with a lesser or greater degree of intensity, according as it has fallen on the sitter himself, the operation goes on, and the coating of iodine is decomposed in proportion as it is affected by the light. The plate is then taken from the camera and again restored to the dark case. At this time there is nothing visible on its surface, and it again taken to the dark room, where it is introduced to a box containing mercurial vapour, which is produced by the action of a spirit lamp, placed under a globe of mercury, and allowed to remain till the thermometer has reached about 65 degrees. In a few minutes the plate is examined with the aid of a lamp, the glass of which is a deep red colour, and, as soon as the image is properly brought out, it is removed from the box, and introduced to a basin containing a solution of the hyposulphite; this part of the process is what is called the washing; in a few moments all of the loose iodine has been removed, and the plate, having passed through two other basins containing distilled water, is placed in a slide so constructed as to admit of a stream of boiling water passing over it. It is then heated by means of a spirit lamp, so as to perfectly dry it and fix the colour; after which, being completed, it is placed in a frame and passed, by means of an ingeneously constructed slide, to the sitter. Such a brief outline of this really novel and interesting exhibition, in order to fully appreciate which, our readers must pay it a visit.
From the Bristol Mirror - Saturday 14th August 1841 :-
PHOTOGRAPHIC PROCESS FOR TAKING PORTRAITS
Most of our readers may have heard of the extraordinary invention for obtaining likenesses by fixing the reflection of the object upon a highly-polished surface of silver, by subjecting it to the action of iodine. This process has lately been practised to an immense extent at the Polytechnic Institution, in London; and we have now to call the attention of our readers to an establishment of a similar nature just opened in the Horticultural Rooms, at the top of park Street, in this city. We have seen several of the portraits, which cannot fail of being accurate resemblances, being, in fact, neither more nor less than reflections from the original, of which they, consequently, form fac similies. It is a mistaken notion that sunshine is a requisite for the process; and the likeness is obtained in less than the space of a minute. The establishment has been fitted up at considerable expense, and we have no doubt that the proprietor, who invites inspection of numerous specimens already taken from well-known inhabitants of this city, will meet with ample success.
From the Bristol Mirror - Saturday 28th August 1841 :-
PHOTOGRAPHIC PORTRAITS
The establishment of the Horticultural Rooms, at the top of Park Street, draws crowds of visitors daily, great numbers of whom have sat for their portraits. We have inspected many of those that are known to us which are exact reproductions of the originals - indeed, how can it be other-wise. By this process, in the incredibly short space of five seconds, the likeness of any individual is taken down on a piece of metal, and the portrait is a perfect facsimile of the sitter. It is nature herself that is called in to be the artist, and her performance is truely astonishing, leaving immeasureably behind it everything that human skill could effect.
This advert appeared in the Bristol Gazette dated Thursday 30th September 1841, then in the Bristol Mirror and Felix Farley's Bristol Journal dated Saturday 2nd October 1841 :-
BY ROYAL LETTERS PATENT
PHOTOGRAPHIC PORTRAITS
The proprietor of the above method of taking Portraits respectfully returns thanks to the Nobility, Gentry, and Inhabitants of Clifton, Bristol and their Vicinities, for the liberal patronage he has hitherto received, and begs to state the process is continued daily from Nine to Six o'clock.
The prevailing opinion of the Sun being necessary is erroneous, as the Portraits are taken in any weather, and the process of tinting now adopted adds much to their beauty.
Specimens are open for inspection.
So much for the newspapers, apart from the nice descriptions of the process all that can be learned from them is that the studio opened on Thursday 10th August 1841. Annoyingly they don't give the names of the proprietors.
Wrights and Matthew Mathews City Directories, 1840 - 1890
As Roger Vaughan did I went through the directories that the City Reference Library have. For the sake of completeness I have included some items not directly relevant to Mr. Moriarty's photograph.
In the 1840 editions I found a reference to Messrs. Philp & Evans's, mentioned in the first adverts. They were booksellers at 29 Clare Street. They are listed in Mathews as printers, wholesale and retail stationers, print-sellers, binders and vendors of genuine patent medecines. They are not mentioned again after this edition.
Editions for later than 1840 didn't bring anything useful either, I did however find these entries :-
1850 (52nd) Edition.
What I did find in this edition was an entry for R. Hamilton, ventian, roller and gauze blind maker, situated opposite the Horticultural Rooms, Park Street.
Ellen Clever, provides and applies the best leeches. Love Street.
The next entries all refer to photographers :-
1870 (72nd) Edition.
46 Park Street, H. Holborn
50 Park Street, Henry Wilcox
Near the Victoria Rooms, Cyrus Voss Bark
27 Triangle, N. Ennel
29 Triangle, M. Guttenburg
1890 Edition
62 Park Street, F T J Morris
84 Park Street, Henry Mower
87 Park Street, William Clark
46 Queens Road, Godfrey Allen
48 Queens Road, T C Willway
Near the Victoria Rooms, Cyrus Voss Bark
59 Triangle, Lindon Hatt
So much for the City directories, but to be fair each volume contain thousands of entries and are generally very useful.
Mr. Alexander
Looking up Mr. Alexander in the CRL indexes, I couldn't find mention of Mr. R. H. Alexander. I did find a document titled the "B" Bond Bulletin, the newsletter of the Bristol Record Office, issue 30, dated Spring 1995. As this contained a history of an Alexander family I thought I might find something useful in it. No mention of R. H. though :-
From 1800 to 1880 the Alexander family, who were Jewish, were engaged as shipping and commission agents in Bristol. Around 1800 Joseph Alexander gave his son, Michael, a Bible. Michael died in 1816, off the coast of Portugal on his way to Leghorn in Italy. In the 1830's, William Wolfe Alexander was the vice-consul in Bristol for the Kingdom of Sicily. William had at least two sons, Brandon who lived in Cara Dei Tirreni near Naples, Italy in the 1860's and Alfred who stayed in Bristol. Philip Douglas Alexander was prosecuted at the Gloucester Assizes in 1851 for manslaughter. It seems he accidentaly killed a business rival.
It may be that Mr. R. H. Alexander may have been a visitor to Bristol, in which case finding any information at all about this man will be very difficult.
The Building - the Horticultural Rooms
Another line of enquiry I persued was the building itself. I was hoping to find some records of the building and work from there. The Bristol Reference Library has only one entry in its indexes for the Horticultural Rooms and that turned out to be six pages photocopied from Chilcott's Bristol Guides 1835 - 1857. The 1835 edition has this entry :-
Bristol Botanical and Horticultural Society
Formed in April 1830 at a public meeting held for that purpose at the Gloucester Hotel, Hotwells. Since which, by the liberality of Thomas Daniel Esq., Charles Hare Esq., and other spirited individuals, a public building has been erected at the top of Park Street, in which five exhibitions anually have been held, viz. in April, May, June, July and September, when prizes were awarded to the proprietors of the best specimens of fruit, flowers etc. by a committee of gentlemen chosen for that purpose. Any person who paid ten shillings annually was considered a subscriber.
Clifton from a map produced 1841 / 43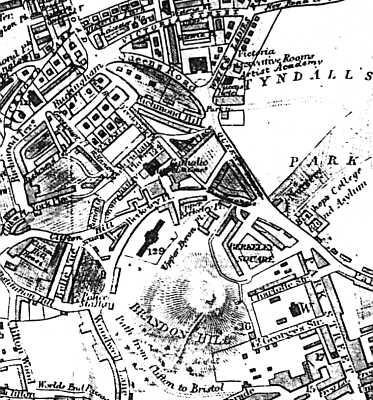 Clifton in 1857
By 1857 the Horticultural Rooms were gone and many more roads had been built. The Royal West of England Academy had been built opposite the Victoria Rooms. Clifton Road had been renamed Queens Road and Gallows Acre Lane (running off the top left) had become Pembroke Road. Buildings and new roads were reducing Tyndall's Park. The site of the Horticultural Rooms are now covered by the Triangle.
---
During the course of my researches I came across several personalities connected with Bristol who also had a bearing on photography.
Cyrus Voss Bark
In October 2009, I purchased what was described as a CDV (Carte-de-Visite) of the Victoria Rooms, Bristol.
Victoria Rooms, Bristol - photograph by Cyrus Voss Bark
The photo seems to be one of a series created by Bark - this is number 626. The back of the photograph gives his address as Strathearn House. The King Edward VII Memorial Fountain was added to the front of the builsing in 1912. Bark and John Beattie were working together until 1868 but Bark was working from 1 Westbourne Place, Clifton in 1869 so the photograph can be dated to either 1868 or 1869.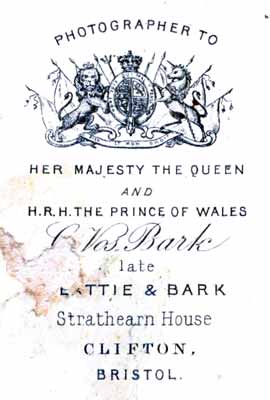 Reverse of the above photograph
Strathearn House was located at 1 Westbourne Place, Clifton, Bristol. According to Roger Vaughan's Old & Antique Prints and Photographs website, Bark was operating out of this address around 1870. Bark was born Cyrus Herbert Voss-Bark in 1848 in Leicestershire and he died in 1913. John Beattie, one time partner of Bark, also operated out of this address, probably from 1864 to 1868.
Over the years, various trade directories give Beattie and Bark various addresses...
1860 John Beattie, 25 Triangle, Queens Road.
1864 Strathearn House, 1 Westbourne Place, Clifton.
1868 Beattie & Bark
1869 1 Westbourne Place, Clifton
1891 C. Voss Bark, 88 City Road
1892 Bark, C. Voss, Engineering & landscape photographer
1897 Bark, Cyrus Voss, 31 Meridian Place, Clifton
1906 Bark, C. Voss, Photographer, 71 Ashley Road 1913 (Last entry)
Roger had several nice websites. These were online from 1999 to around 2016, but the only place they seem to exist after that is on the Internet Archive.
Like me, Roger used a variety of free sites to store his webpages. A list of all his old sites can be found on the Internet Archive.
J. Beattie
In February 2002, I received an email from Lloyd Wright in Michigan. He very kindly sent me a scan of a full plate daguerreotype he wants to know more about. It was taken by J. Beattie of Bristol. Beattie is listed in the trade directories associated with C. Voss in various premises between 1860 and 1868. Lloyd thinks the daguerreotype was taken earlier, around 1852. One interesting thing about this photograph is that there is the Freemasons emblem in the bottom right of it.
From my own researches I've found that C. Voss may have been the Cyrus Voss Bark mentioned in the City Directories operating from a studio near the Victoria Rooms between approximately 1870 and 1890.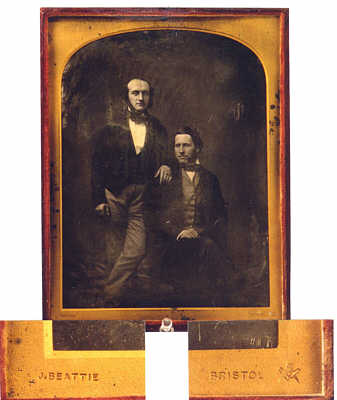 In February 2008, I received an email from Australian photographic historian Marcel Safier whose friend, Sandy Barrie, is working on a directory of British photographers and his earliest date for John Beattie in Bristol is 1858 at Rysdael Place, Queen's Road, Bristol in 1858. Sandy has him listed in various parts of the country but nowhere near Bristol between 1852 and 1858 (including a visit to Stowmarket in 1854). He is listed in the 1861 census as an artistic photographer residing at 25 Triangle, Bristol. In the 1851 census he is listed as a photographist residing at 6 Cross St, Goole, Yorkshire. It is quite possible this dag was taken in 1858. Another perhaps remote possibility (but something that I have come across before) is that someone has rehoused a dag in a Beattie ambrotype case.
William Clark
In April 2019, I got an email from James Cooper. He had just bought a photo of pioneering Alpine mountaineer of Francis Fox Tuckett. The photogrpah has been taken at Tucketts home by William Clark. Clark was an early Bristol photographer. James' photograph is signed by Tucket and dated March 1870. Clatk's address is also on the back of the photograph as 27 Park Street, Bristol. Clark must have moved studios later as in the 1890 edition of Mathews City Directory he is listed as being at 87 Park Street.
William Clark was born in 1834, and lived until 1903. He was the father of photographer Bennett Clark (1863-1937) who later worked in Wolverhampton.
I had never heard of Francis Fox Tuckett, so I read a little about him. He born on February 10, 1834 at the Old House, Frenchay Common, Bristol. During his lifetime he climbed 269 peaks and the crossed 687 passes. A man of wide interests ,Tuckett was vice-president of the Alpine Club, a Fellow of the Royal Geographical Society, a member of the British Association for the Advancement of Science and a member of Clifton Antiquarian Club. He also designed one of the first sleeping bags and the alcohol-fuelled "Rob Roy" or "Russian Furnace" portable stove. He died on June 20, 1913 at his birthplace, the Old House, Frenchay Common, and was buried at the Friends' Meeting House in Frenchay.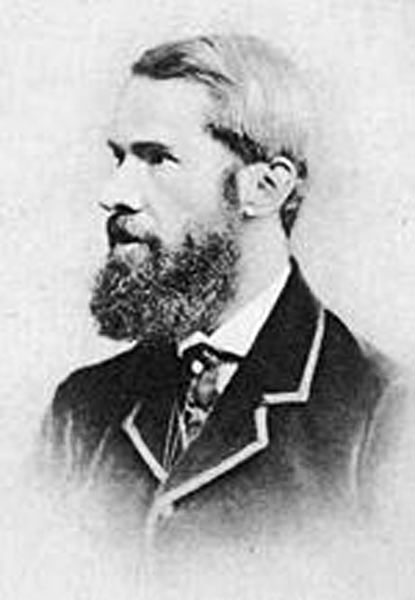 Francis Fox Tuckett in 1868
William Friese-Greene
William Green was born in College Street, Bristol on 7th September 1855 and died in London on 5th May 1921. He was apprenticed to Maurice Guttenberg, a photographer of Queens Road, in 1869. This may well be the M. Guttenberg mentioned in the Mathews Bristol city directory of 1870. It may have even been the same studio as The Triangle and Queens Road actually merge into eachother. In 1851 there were only around 50 professional photographers Britain, by 1871 there were nearly 8,000. His early experiments in cinematography were done at his home near Christ Church, Clifton but he soon left Bristol. Within six years had set up his own studios in Bath and Bristol, which he named the "Photographic Institute". He married Helena Friese on 24th March 1874 and decided to add her maiden name to his.
Between 1885 and 1890 he built a series of four prototype motion-picture cameras. The cost of developing these made him bankrupt and he spent a short time in debtor's prison. Between 1889 and his death he registered 78 patents but, unfortunately none became popular. He worked on stereoscopic film, stage effects and colour film, he developed a process for producing photographic cigarette cards and another invention of his became the first X-ray examination system in Britain. Other patents covered items as diverse as Inkless Printing, Electrical Transmission of Images and Air Cars & Gyroscopically levelling Airships.
Friese-Greene constructed a camera for taking a series of photographs on a roll of perforated film moving intermittently behind a shutter, the basic principle of a motion-picture camera.
It was in Bath that he made the acquaintance of John Arthur Roebuck Rudge, a tall gaunt bearded inventor of magic lanterns. Rudge had the 'Biophantoscope', which could display seven slides in rapid succession, giving the illusion of movement. William found the idea amazing and irrisistible, and started work on his own camera - a camera to record real movement as it occured.
Early one Sunday morning in January 1889, Friese-Greene took his new camera, a box about a foot square with a handle projecting at the side, to Hyde Park. At the west of Apsley Gate, he placed the camera on a tripod and exposed 20 feet of film - his subjects, "leisurely pedestrians, open-topped buses and hansom cabs with trotting horses". Then, he rushed to his studio near Piccadilly and laboured into the small hours developing the celluloid film he himself had also invented. His toil was rewarded, when he became the first man to ever witness moving pictures on a screen.
His experiments cost him a great deal of money and he constantly had financial troubles. When he was 66 he attended a meeting of film makers in London. As he stood up to speak he slumped back into his chair, dead. He had just a shilling and 10 pence in his pocket. When he was buried all the cinemas in Britain halted their films and held a two minute silence in belated respect to "The Father of the Motion Picture". His son Claude, a distinguished cinematographer, developed one of the early processes of colour cinematography. To many, William Friese-Greene, was a charlatan, personally I think he was just unlucky.
Latham's Photographic Rooms
In December 2017, David Baxendell sent me some interesting images: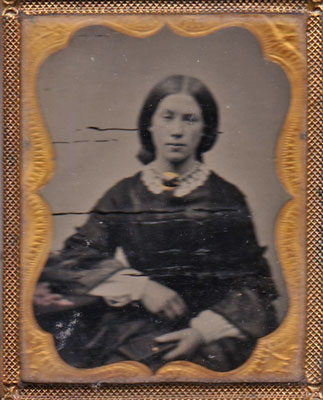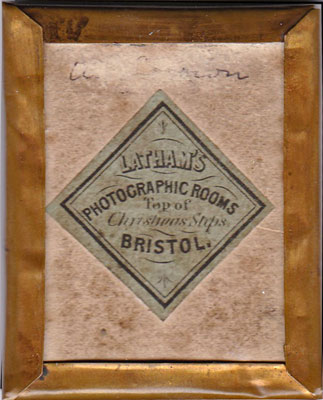 David explained that the photograph is of Sarah Reddy and is an Ambrotype (image printed in negative on glass and rendered positive by a matte black card behind) 2 I/2 inches x 2 Inches, probably taken as an engagement keepsake for his great grandfather.
David also used Roger Vaughans site to find that Latham was listed in the trade directories as "Latham, J W 1859 31 Trenchard 1867 Last entry"
I think this is referring to James W. Latham.
Mungo Ponton
Mungo Ponton, although Scottish by birth died in Bristol at 4, The Paragon in 1880. In 1839 Mungo Ponton discovered a new process based on the light sensitivity of bichromates. When added to gelatin, bichromates render the coating insoluble upon exposure to light. In other words, wherever light touched the coating, that part of the emulsion would not dissolve away. Carbon black was one of the first pigments used, hence the name - carbon prints. Sometimes pigments were chosen for their ability to mimic albumen print image colors. The beauty and durability of carbon prints was undisputed, but they were too time-consuming and difficult to challenge the silver papers.
Henry Vines
In January 2010, I was contacted by Hans Rooseboom, Curator of Photography, Rijksmuseum, Amsterdam. The museum had recently purchased a portrait by Bristol photographer, H. Vines and was looking for some information about him.
Henry Vines was active between the early 1840's and late 1870's. In 1948 he was operating out of The Horticultural Rooms. He is listed in old Bristol directories as operating from 32 Park Street in 1852 and from Glencairn Villa, Queen's Road, opposite Buckingham Place, Clifton, Bristol in 1856. Buckingham Place is still there but eveything opposite in Queen's Road was torn down in 1909 for the Bristol University student union building.
Vines also wrote a book, "A Brief Sketch of the Rise and Progress of Photography, with Particular Reference to the Practice of Daguerreotype" in 1852. Unfortunately, I've never seen a copy of this book and have only ever seen fleeting references to it.
Hans Rooseboom of the Rijksmuseum, Amsterdam very kindly gave me permission to reproduce the labelling of the back of the August 1856 photograph by Vines on these pages...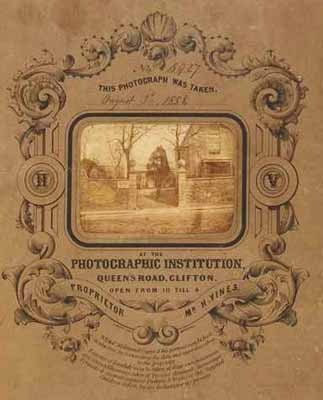 Back of photograph produced by Henry Vines in August 1856
by kind permission of Hans Rooseboom of the Rijksmuseum, Amsterdam
The text reads...
No. 8927
This photograph was taken August ?? 1856
at the
Photographic Institute
Queen's Road, Clifton
Open from 10 till 4
Proprietor Mr. H. Vines
Bristol & West of England Amateur Photographic Association
The Association was formed in 1865. It had 80 members and its own dark room equipped with an "enlarging and reducing lantern". It held its first exhibition in what is now the Royal West of England Academy in 1880.
A Brief Sketch of the Rise and Progress of Photography :-
Bob Pullen is looking for information about a book. The full title of it is "A Brief Sketch of the Rise and Progress of Photography, with Particular Reference to the Practice of Daguerreotype" by H. Vines, published in Bristol 1852.
The early history of photography in Bristol is not at all well documented. If anyone has any information about anything on this page we'd be grateful if you could contact me at brisray@yahoo.co.uk
The Photographic Institute
There were several photographic studios with the same name in Bristol at various times. There was one set up by Hentry Vines at least as early as 1856 and he used a photograph of the entrance of this on the back of the photographs that he produced.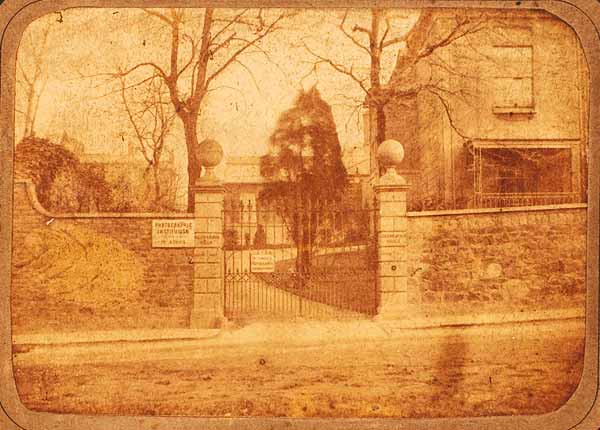 Entrance to Hentry Vines' Photographic Institute, 1856
by kind permission of Hans Rooseboom of the Rijksmuseum, Amsterdam
William Friese-Greene also set up Photographic Institutes in Bath and in Clifton, Bristol in 1875 or 1876. I do not know whether this had any connection with Henry Vines or if Vines had retired by then.
I've been unable to find anything much else at all about these Photographic Institutes. I've had a look and even used Google maps photo utility to find a building anything like the picture that Hans supplied. Although the architecture of several of the buildings is similar, especially near the Victoria Rooms and Royal West of England Academy end of Queen's Road, I assume this building was one of those that were demolished in the early 1900's when part of the road was redeveloped.
Links
Here is a list of photography and cinematography sites
Roger Vaughan had several nice websites. These were online from 1999 to around 2016, but the only place they seem to exist after that is on the Internet Archive. That page has a list of all of Roger's sites.
Bristol Photographers (1852 1972)
Charles Urban - an early cinematographer
City Gallery
Ensign Cameras
History of Cinematography
Ikons Centre
Marcel Safier's Ozemail Home Page
Museum of the History of Science
Photographic Historical Society
Photography Net
Royal Photographic Society
Silverprint
This page created 19th November 2000, last modified 6th May, 2019