Introduction
This page was produced because of an enquiry emailed to me in February 2005 by Arch Yeamans of California into his family's history.
Most of the information about the Yeamans family can be found for the period between 1640 and 1680, when they seem to be at the height of their powers. Research into this family is hampered by the fact that at many members of the family then living, even brothers and sisters, had the same forename, this appears to have been common at the time.
Genealogical Information
First of all here's some very incomplete genealogical information. Because it is incomplete several of the dates and forenames in the main text don't seem to match up with with those in the text. Problems also arise because there are at least 6 John Yeamans listed, but other, earlier, Johns also appear in the text. I'm not even sure if these two lists are part of the same family.
From Descendants of Master, John "the Elder" Roberts there comes...
Edward Yeamans, son of Edmund, was born around 1591 in Bristol. On 14th April 1633, he married Grace Barker in St. Werburgh's, Bristol. The children from this marriage were Mary (born 1635); Sarah (1637); Alice (1639); Walter (1641); John (1643); Thomas (1645); John (1647) and Edward (born 1649).
From Leigh Rayment's Peerage Page comes this list...
John Yeamans created peer on 12th January 1665, died c.1680
William Yeamans created peer c.1680, died c.1685
John Yeamans created peer c.1685, died c.1690
John Yeamans, born c.1689, created peer c.1690, died c.1730
John Yeamans, born c.1720, created peer c.1730, died c.1780
Robert Yeamans, born c.1742, created peer c.1780, died 19th February 1788. The peerage became extinct on his death.
There was also a Robert Yeamans of Redland, Gloucestershire who became a peer on 31st December 1666 and whose peerage became extinct when he died on 7th February 1687.
Brewery
In the early 1600s, John Yeamans owned Bristol's largest brewery. It was much later sold to the Saunders family, who ran it for a hundred years. It eventually became the Georges' and then the Courage Brewery. Yeamans had 13 children, John was the eldest (born in 1610) and Robert was born in 1616.
Cann Family
This information comes from Tibblestone...
William Cann (born 1600, died 1657/8) and who was a Bristol merchant and Mayor of it in 1648/9, married Margaret Yeamans who was born in 1612. They had several children Robert, John (the Preacher), Richard, James, William, Martha, Matthew, Margaret and Hester. Robert, being the eldest, was admitted to the freedom of Bristol in 1646.
Robert twice became the Mayor of Bristol in 1662 and 1675. When he bought land at Stoke Bishop just outside Bristol on which to build a house, his success in moving into the county elite was marked by his term as High Sheriff in 1676. He was Bristol's Member of Parliament in 1678. He was knighted by King Charles II on 22nd April 1662, then was given a baronetcy on 13th September 1662.
His first wife was Cicily Hook, daughter of Alderston Humphry Hook of Bristol, and they had two children, William and Ann. William later inherited the baronetcy from his father and became the 2nd Baronet of Compton Green.
The second wife of Robert Cann was Deliverance Cann (1630 to 1656), daughter of John Cann the Preacher and publisher of the1611 King James Bible. They had a son, John (1643 - 1694) and it is this John Cann who sailed aboard the Griffin in October 1675 arriving in Newcastle, Delaware, USA. Deliverance Cann died in 1656 and was buried in Hull, Yorkshire.
Robert had another wife, Ann Popley, with whom he had a son, Thomas, born 1662. There could also have been another marriage with the sister of Charles Jones.
In 1668, Robert Cann owned land in North America and was granted a license to transport fifty horses for services on his plantations in the Barbados. Also, in 1652, the Governor of Waterford was ordered to deliver to Robert Cann, Robert Yate and Thomas Speed as many Irish rebel prisoners as they might choose to embark in their ship bound for the West Indies. Other property included a town house by the river in Bristol, and a manor house in Compton Greenfield.
Sir Robert Cann died in 1685 and is buried at All Saint's Church in Compton Greenfield, an area to the north of Bristol.
Civil War
In September 1640, Robert Yeamans, of whom this section is about, was paid £40 for entertaining Chief Justice Brampston at his house for four nights, the Chamberlain adding "which was extraordinary."
On 7th June 1642, the Speaker of the House of Commons sent a letter to Bristol council asking for contributions, by way of a loan, for the defence of the kingdom. At the meeting held to discuss the letter, the subscriptions from those present alone amounted to £2,625. John Locke, the Mayor, gave £50. Eight aldermen raised £300 between them. Richard Aldworth gave £150. Two others gave £100 and most of the others gave £25 or £50. Both Robert Yeamans and Thomas Colston, afterwards proved to be Royalists, gave £50 each. Nine councillors gave nothing. These were aldermen Jones and Taylor and Francis Creswick, Gabriel Sherman, John Gonning, Miles Jackson, John Langton, Edward Pitt and John Bush.
In 1643, Bristol, although occupied by Parliamentarian forces still had plenty of Royalist sympathisers in the city of Bristol. A merchant, Robert Yeamans, bribed a Captain and three lieutenants of the city guard and gathered a band of around thirty co-conspirators, who were sworn to secrecy by George Boucher, a friend of Yeamans. King Charles, at Oxford, was informed that a plan to hand the city over to him was afoot and Prince Rupert was dispatched with an army to take advantage of this. On March 7th, the armed conspirators assembled at Yeamans house, which was opposite the Guard House in Wine Street. One of the bribed officers was to surrender his men at midnight, at the same time one of the others was to take his men to Bouchers house near Frome Gate. When the Gate was seized it was to be opened, another band of men, gathered at Thomas Milward's house on St Michaels Hill, would enter the city. Other bands of men would attack the other gates. When the gates were captured, the bells of St Michael's and St John's would be rung, Prince Rupert, waiting at Cotham, would enter the city through Frome Gate and occupy it.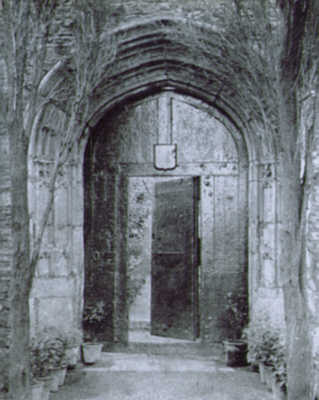 The Guard House Doorway - photographed in 1881
This was the building that Boucher and Yeamans planned to capture before opening the Frome Gate.
In 1571, it was the entrance to William Yate's (Mayor of Bristol, 1796) mansion
Between 1836 and 1844 it was the first police station
In 1881, during rebuilding by Jones & Co., the doorway was moved to Bishopston
(where this photograph was taken)
From 1908 onwards it has been in the care of the City Museum and Art Gallery.
(from "Bristol in the 1880's", Reece Winstone, 1978, plate 27)
The plan was a success, right up to the moment they assembled at various points around the city on the night 7th March 1643, when Nathaniel Fiennes, governor of Bristol and son of Lord Say, had them all arrested. The chances are that the bribed officers had informed him of the plot as soon as they found out the details. Around 60 people were arrested, mostly poor men, and of those only four were put on trial, Robert Yeamans, George Boucher, Edward Dacres and William Yeamans, even two of these were reprieved. Robert Yeamans and George Boucher were hanged. Instead of being released the others had to ransom themselves. Fiennes himself did not expect to make much out of the poor men, in a letter to his father he wrote he didn't expect to get more than £3,000 from all of them.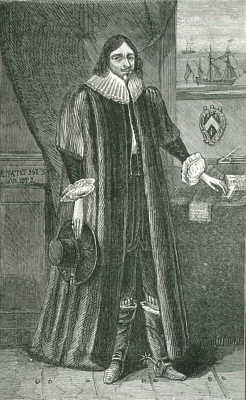 Sir Robert Yeamans, c1642 by Willem Flessiers
Image from "Bristol Past and Present - Volume 1 - Civil History" by J. F. Nicholls and John Taylor (Arrowsmith, 1881, page 303)
I originally misdated this portrait as 1682, whch meant I assumed it was of a later Robert Yeamans. Thanks to Penny Gay who took the trouble to point out my mistake, which led to the updating of this page. The original portrait is held by the Bristol Museum and Art Gallery and there's a nice reproduction of it at Bridgeman Images.
Yeamans and Boucher were hanged in front of Yeamans house in Wine Street on 30th May 1643. Captain Langrish taunted the two men and disturbed their last devotions, whilst Captain Clifton "smote sorely the hand of Yeamans' brother-in-law, John Haggat, because he stayed the oscillation of the body of the victim as he was swung off the ladder." Yeamans left a pregnant widow and eight children and Boucher left a widow and seven children. Yeamans was buried at Christ Church and Boucher at St. Werburgh's.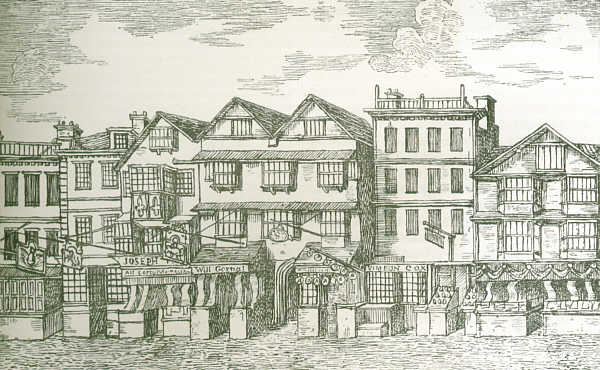 Wine Street, with the entrance to the Guardhouse in the 17th century
Image from "Bristol Past and Present - Volume 1 - Civil History" by J. F. Nicholls and John Taylor (Arrowsmith, 1881, page 302)
Not surprisingly, not too many people had any sympathy for them. Mrs. Dorothy Hazard was reported as having said "it is a pity but that their children's brains should be dashed out against the stones, that no more of their race might remain on the face of the earth." The Royalists had other sentiments...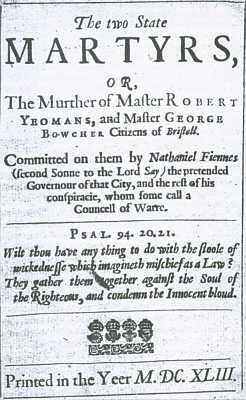 The Two State Martyrs
Image from "For King & Parliament" by John Lynch (Sutton Publishing, 1999, page 56)
Only the year before, in 1642, Robert Yeamans had been Sheriff of Bristol and held the king's commission to raise a regiment. His widow later married the Puritan, later a Quaker, Thomas Speed.
In 1660, on the Restoration of the Throne, Captain Richard Yeamans petitioned to the king for the position of Surveyorship of Customs, saying that his brother, Robert had been murdered,another brother had been cut to pieces, he himself had been wounded, imprisoned and banished as well as losing an estate worth £2000. Richard was appointed Comptroller but died shortly afterwards.
Latimers "Annals of the Nineteenth Century" (page 59) has a rather gruesome afterward on the whole affair.
On March 16, 1814, whilst workmen were sinking a vault near the vestry in St. Mary-le-port Church, under a mural monument in the Early Tudor style, they came upon a lead coffin, the ancient appearance of which was thought worthy of the inspection of the local antiquaries. A group of amateurs was soon assembled, and it was forthwith decided that the remains were of Robert Yeamans, one of the "royal martyrs" executed in 1643, though there is incontestable contemporary testimony to prove that the unfortunate man was buried in Christ Church. Assuming, however , that the supposition had been correct, it's authors displayed their admiration of the victim of Puritan vengeance in a remarkable manner. Mr. Richard Smith, surgeon, who was always foremost in such affairs, cut up the body, which was in excellent preservation, and removed the heart as a precious addition to his "anatomical museum." The incumbent, the Rev. W. Waite, carried off a slice of the shirt. Mr. Henry Smith possessed himself of a portion of the same garment, and further made prize of part of the handkerchief that that bound up the head.
Barbados and Carolina
In September 1653, Robert Yeamans became a privateer when he equipped and sent out the Robert.
Between 1654 and 1694, William Yeaman's & Co. (1654-1673), Robert (1674-1679) and John (1680-1694) imported 2,469 hogsheads of sugar into Bristol. A hogshead cask was between 63 to 140 gallons in volume.
In 1664, Isabel Fell, whose mother was Margaret Fell, an early Quaker who was imprisoned for being so, was married to William Yeamans in Bristol.
Also in 1664, John, who was Robert Yeamans son, was knighted by King Charles II, but it couldn't make up for the family's lost fortunes and he left for Barbados. He owned a sugar plantation in there and built a home, Round House, in Bathsheba. The house still survives as a guest house and restaurant.
Whilst there, he met and fell in love with Margaret Berringer who lived in The Abbey. Unfortunately, she was still married to Colonel Benjamin Berringer. Some sources like Pirates Walks say that Yeamans poisoned Berringer, other like Barbados Archives say there was a duel. Whatever the truth, Colonel Berringer was dead and in 1650, Yeamans married Margaret, who was his second wife. They moved into The Abbey, but life was not easy, friends and family turned against them. The Barbados court eventually ruled that The Abbey be returned to Berringer's children. It still stands, but is now called Nicolos Abbey, after Berringer's grand-daughter who married George Nicholas.
The family already had interests in Barbados, as in 1673 Colonel William Yeamans owned 300 acres of land there.
They seem to have had a few servants bought over from England with them. Chronicle Barbados gives this list...
The following were indentured to Robert Yeamans - Isaac Barrington from Draycot, Wiltshire; Thomas Bower, a draper from Bath; Samuel Bower, a fuller from Bath; Thomas Boy, a labourer from Belanamore, County Mayo, Ireland ; Henry Croutch from Oxford; Robert Millard from Lydney, Gloucestershire; John Sambrooke from St. Michael's, London; Stephen Smalman from Wilderhope, Shropshire; Jeremiah Taylor; Patrick Taylor; John Trustom a shoemaker from Duntisbourne Leard, Gloucestershire and Susan Wits from Calne, Wiltshire.

The following were indentured to William Yeamans - William Chamberlin from Bristol; Daniell Parke from Bristol; John Smith; William Tompson a shoemaker from Cumberland and John Lewis, labourer from Bristol.

The following were indentured to Richard Yeamans - Thomas Dyer a tailor from Bristol.
Indentures would last from 3 to 7 years.
There are differing accounts of what happened in Carolina. The reason of part of the confusion became clearer whilst looking at Foster. That page contains a land grant of 5th September 1674. It says...
You are forthwth to cause to be admeasured and laid out for the Lady Margarett Yeamans one thousand and seaventy acres of land for her selfe ans soe many Servts. And Negroes arriveing in the yeare 1671 & 1672 in some place not yett laid out or marked to be laid out for any other person or use, and if the same happen upon any navigable River or any River capable of being made navigable you are to allow only one fifth part of the depth thereof by the water side; and a Certificate fully specifying the scituatcon and bounds therof you are to returne to us with all convenient speed & for yor soe doing this shall be yor sufficient wart. Given under or hands at Charles Towne this 5th day of September 1674

To Mr: John Yeamans, Surveyor
This John Yeamans was the son of John Yeamans, because Margaret Yeamans was already a widow by September 1674. Neither does it help that they had a daughter whom they named Margaret! This is a common trait in the Yeamans family, did they do this on purpose to perplex future genealogists and historians? It should also be remembered that although being Governor of Carolina, John Yeamans could still have maintained property on Barbados.
In 1663, John Yeamans, along with several residents of Barbados, purchased, from the Indians, a tract of land thirty-two miles square on the Cape Fear river, North Carolina. Sir John was appointed their governor and in October 1665 he arrived from Barbados with a band of emigrants and founded a town. However within 3 years it failed and was abandoned. Yeamans returned to the West Indies.
In November 1669, Sir John Yeamans, was a powerful friend of the Proprietors, and held a blank warrant for the Governorship of the Carolina Colony. He leased another ship, the Three Brothers, to join the colonist's journey. In late November, The Carolina, the Port Royal, and the leased Three Brothers, left Barbados for the coast of America, but were caught in storms again near the island of Nevis and were separated from each other. The Port Royal was wrecked in the Bahamas by the storms. Both the Carolina and the Three Brothers were battered, but eventually made port in Bermuda. Somehow, some of those aboard the Port Royal were able to find passage to the island of Bermuda and rejoin their fellow colonists.
In January 1670, in Bermuda, Yeamans changed his mind, and decided to return to Barbados. He fills in the name of William Sayles, the 80-year old former Governor of Bermuda, on the blank warrant and leaves the expedition. The pioneers settled a little further south at Charles Town on the Ashley river for the eight Proprietors that the King had bestowed the land rights upon. John Lock, Sir John Yeamans, and James Carteret were created landgraves.
Yeamans would have become Governor, but he is listed as the 3rd Governor only because he did not arrive with the original settlers. He arrived several months later, and the 80 yr old governor Sayles he appointed in his absence had died. After deposing Sayle's successor he became Governor.
In 1671 Dutch emigrants arrived from New York and others from Holland, and Sir John arrived from Barbados with 200 African slaves, the first that were landed in any numbers on the North American continent. He imported the slaves to grab the largest plantation, qualifying for an additional 100 acres for each slave.
Sir John Yeamans was not a good governor. He proved to be "a sordid calculator," bent only on acquiring a fortune. He only enriched himself, exporting food during a shortage. In 1674 Yeamans was removed from office and died of disease in Charles Town in August 1674.
Moore Family
Margaret Yeamans, the daughter of John and Margaret Yeamans, married James Moore the son of Roger Moore, the leader of the Irish rebellion of 1640. James arrived in America in 1665 and married Margaret the year after. The family went on to be become slave dealers and he himself was made governor of South Carolina in 1700. He died in Charleston, South Carolina, in 1729 after fathering 10 children.
Back in Bristol...
Robert Yeamans
Robert seems to have purchased some land in Pennywell using an agent, Nehemiah Collins, from John Crumpe. The following is the contract from the two men, it comes from the Bristol Record Office, Redland court Papers dated 16th June 1956, and shows that even 400 years ago, these contracts were full of technicalities...
Agreed betweene Nehemiah Collins of Bristol Gentleman of the one parte. And Robert Yeamans' of the same City merchant of the other parte.

That the said Nehemiah shall procure a goode estate in fee simple att the proper coste as in the lawe of the said Robert, to be made and assured by good assurance in the same to the said Robert Yeamans his heires and assignes, such as by the Councell of the said Robert shalbe advised, of the mesuage or tenemente late of John Price Esquire, and now in the houlding of John Crumpe, with all houseing, orchards, gardens and outletts thereto adioyning and belonging, containing by estimacion two acres be it more or lesse, also one close of meadowe or pasture ground called Pennywell close containing by estimacion seaven acres be it more or lesse; and one close of meadowe or pasture called Penyston leaze containing by estimacion eighteene acres be it more or lesse, which two closes are in the houlding of John Lewen; alsoe one close of meadowe or pasture called Dock acre, conteyning by estimacion one acre now in the houlding of one Clowde, and also one paddock of arrable or garden ground con¬taining by estimacion one acre be it more or lesse lying over against the said Mesuage, wherein John Cruse and all persons trusted are to ioine, and all mortgages and leases are to be deliuered upp and avoided that are on the premisses, soe that the said Robert Yea-mans and his assignes are to have and receave to his and their owne use from and after the 24th day of this instant June the rents and profitts (except of the garden or arrable ground lying over against the said mesuage, of which the lease is to be excepted now in being for 3 lives att 5s rent per annum. Alsoe that hee the said Nehemiah shall procure the Close called Welihouse close lying neere the said Mesuage to be likewise granted and assigned to the said Robert Yeamans or his assignes for the terme of 3 lives thereon, granted by the Mayor and Cominalty of Bristoll, by such assurance as the same Robert Yeamans his Councell shall advise.

That for the Fine and consideracon of the Premisses and the Estates and interests before sould or contracted for, the said Robert Yeamans is to pay to the said Nehemiah Collins and John Stone merchant the full some of Eleven hundred fiftie pounds (viz Sixe hundred and fiftie pounds on or before the first day of August next and the other 5001i on the xxjth Daie of December next).

That in case the said Robert Yeamans his Counsell shall advise that a fine or further assurance is or ought to be made, that till such time or further assurance be presented, all . . . of the Fine shall remaine in the hands of the said Robert Yeamans till the Counsell shall advise that a good estate is made, and till such estate be made as the said Robert his Councell shall advise, the said Robert shall issue out noe money of the purchase But in case the said Roberts counsell shall advise that noe good estate may be made according to the agreement aforesaid, theis presents shalbe utterly void and frustrate.
There seems to have been a dispute between the Yeamans and the Brewer family. The following comes from the Bristol Reord Office Depositions 1657 - 1661 (2nd November 1659 - costs of a witness in London)
Robert Yeamans of the Citty of Bristol Merchant made oath That in the moneth of May last past, hee was inforced to travell to London to testifie his knowledge and speake the truth in a matter of Controversy then depending att issue Betweene Ann Yeamans plaintif and one Brewer defendant; And that the costs Chardges and disbursements that hee expended therein did att least amount unto the summe of tenne pouns, he being inforced to stay there above thirty dayes before it came to any end.
Latimer's "Annals of Bristol in the Seventeenth Century" (pages 312-315) illustrates how bloody minded Robert Yeamans and some others could be. In April 1662, Robert Cann, wealthy Bristol merchant and Councillor was knighted for his services to the royal cause. He was apparently a loud, pompous show-off. A little after he tired to gain precedence over the city's Aldermen at a function. The row it caused and Cann's petulant behaviour carried on for well over a year. Even when the Herald's College said that his title didn't allow him to have have precedence over his seniors, Cann wouldn't listen. Sir Robert Yeamans, a man with quite a temper, now supported Cann.
Below, is a letter send by Robert Cann and Robert Yeamans to the king on 8th February 1664. This is just a small part of the correspondence that must have taken place over this arguement that stretched on for over three years.
To the Kings most Excellent Majestie

The humble and loyall Representation and Peticion of Sir Robert Cann Knight and Barronett who was lately Major when your Majestie was gratiously pleased to honnour your Citty of Bristoll with your Royall presence, and Sir Robert Yeamans Knight who was then Sherriffe

Sheweth. That your most excellent Majestie haueing out of your Princely favour conferred seuerall honnours and dignities on us, But soe it is, that by a late order of the Major Aldermen and Common councell of your Majesties Citty of Bristoll, it being decreed and ordered to this effect vizt that the Aldermen and their wiues shall haue precedency and take place of all knights and Barronetts and their wives in Bristoll contrary to the usages and custorne that is and hath been in that matter, your Majesties most humble Petitioners thought themselues obliged in bounden duty and Loyalty to your Majestie to give your most excellent Majestie notise thereof, that soe nothing on theire partes may be concealed whereby your Majesties honnours may be encroached vppon by any of your Majesties Subiects vppon any pretence in theise your Majesties dominions: least in soe doeing your Majesties Petitioners should become guilty of concealeing any thing that might turne to the preiudice of your Majesties most Royall person, your Crowne and dignity. And because the matters aforesaid may alsoe occation some controuersy in that your Majesties Citty, where your Petitioners have Resydence, your Majesties Petitioners doe most humbly pray that this theire most humble Representation and Petition being taken into your Majesties most Royal! breast, such consideration may be had therein that your Petitioners and others vppon whom your Majestie hath been pleased to conferr honnours may peaceably and quietly enjoy their places and preceedency, and that such order may be taken thereupon as your Majestie shall thinke fitt.

And your Majesties Petitoners shall ever pray.
On 9th February 1664, Yeamans refused to wear his gown and was insulting to the Mayor and Aldermen. He was sentenced to be taken to Newgate, but escaped from the city before he could be arrested.
The whole mess was laid before the king on 24th February 1664, who told both Cann and Yeamans that the Herald's College was right and they must take their proper places. The two men complied, but the next month an argument erupted between one of the two and the sheriff over the same issue of seniority. By now rumours were going going around the city that the issue of precedence was being fuelled by the two men's wives. The matter dragged on and in October 1665 the king's Privy council were again discussing the issue. Shortly afterwards the king issued a statement saying that the "custom of London should be followed in Bristol as well by the knights as by their wives."
The argument was settled, but it seems that the affair had turned the city council, especially Cann and Yeamans into a laughing stock. In 1668, Samuel Pepys, the diarist, was visiting Salisbury and wrote in his diary how the landlord of the inn in which they were staying "made us mighty mighty at supper about manning the new ship at Bristol with none but men whose wives do master them; and it seems it is in reproach to some men of estate that this is become common talk."
On 9th September 1663, the taxes were reassessed to 5s 4d in the pound (there were 20s in the pound) of a persons goods. Robert Yeamans was assessed along with John Knight as having goods worth £7. The Mayor, Robert Cann (Robert Cann in the incident above was his son) was worth £10, Henry Cresewick and Alderman Lawford were worth £8. William Colston was worth only £4. Even if money was worth a lot more around 400 hundred years ago, there is obviously something wrong with these figures. It turns out that the assessments around the entire country were very lenient, being around 100th of a persons' goods true worth. In fact, the amount of money collected was only a quarter of a century before. In February 1664, the Privy council expressed surprise that such a prosperous city as Bristol was filled with poor men. Shortly afterwards, this system of taxation, so openly subject to abuse, was abandoned.
Around 1669/1670, law and order in the city, and elsewhere in the country, seemed to be breaking down. Religious dissent by the Quakers was again rising, the streets were becoming dirty, neglected and dangerous at night. Many traders were using false weights and measures. The Mayor and Chief Magistrate, Robert Yeamans held both offices simultaneously, said he couldn't trust his fellow councillors, even the local court, the Tolzey, was being neglected with councillors and magistrates not turning up for duty.
The local Apprentice Boys, usually a rowdy lot and given much freedom on certain days of the year, were rebellious. Latimer reports a government agent writing on 19th February 1670, that "The apprentices of Bristol took more than ordinary liberty on Tuesday last, and at night met together with staves and clubs, intending to fight, but were prevented by the Mayor, who persuaded them to depart. He prevailed with most, but some, being abusive, were sent to gaol, which aroused some resentment; and about 50 or 60 were up on Wednesday and Thursday nights, threatening to force the others' freedom; but Sir Robert Yeamans and some officers dispersed them. Had it not been for his great vigilance, mischief would have been done."
The Quakers also caused problems for Sir Robert and the council. They had been ordered not to hold conventicles and has Mayor and Chief Magistrate, Yeamans was supposed to enforce the law. However, he complained that the parish constables refused to close these meetings. Robert was criticized by the council and in September 1669, when the elections for a new Mayor was to take place John Knight, a sugar refiner, was elected above those who were 'next in line" for the post. There was also, at the time, a councillor, Sir John Knight, who seems to have gone ballistic at his namesake being elected. Sir John made his feelings known to the Privy Council and even indicted Sir Robert Yeamans, who was, after all trying to close the meetings down. The Privy Council ordered a re-election by the city council refused. Sir John Knight again complained and Sir Robert Yeamans and John Knight were called to London on 10th February 1670 and detained in custody. Yeamans was dismissed from his office of Chief magistrate by the Privy Council. Sir Robert Yeamans returned to Bristol where he was met by 220 riders on horseback at Lawford's Gate who escorted him home amid the cheering of the population. John Knight was detained until in custody in April, and was met in a similar manner on his return to Bristol. Despite the complaints, he was still Mayor. Sir John Knight, however seems to have to slunk back into the city.
The story is a bit confused, I can't see why Sir Robert Yeamans should be treated the same way as John Knight who overtly sympathized with the Quakers, whilst Sir Robert was supposed to be trying to close their meetings down. Perhaps Sir Robert's complaint of the constables was a cover to hide his own sympathies? The problem with this though is that Sir Robert is still attacking the Quakers in 1675.
Robert was knighted in 1663, created a baronet in 1666, the Sheriff in 1662/3, Master of the Merchant Venturers in 1662/3, Mayor and Chief Magistrate of Bristol in 1669, as well as a ship owner and a merchant, who had an early involvement in the Caribbean trade. Redland Court was owned by Sir Robert Yeamans in the 1680s. He died childless.
One of Robert Yeamans' apprentices, Robert Stafford, was made a freeman on 9th February 1681.
Sir John Yeamans' grandson, Colonel Robert Yeamans of Barbados, eventually inherited Redland Court.
In 1669, the same year he was made Mayor, Queen Street, now better known as Christmas Steps, was built. A plaque, at the top of the steps commemorating the event says that...
Rebuilt AD 1881

This Streete was steppered done
& finished September 1669.
The Right Worpfl Thomas Stevens
Esqr then Mayor, Humphry Little
and Richard Hart, Sherrifffes, the
Right Worpfl Robert Yeamans
Knt & Barronet, Mayor Elect, Charles
Powell and Edward Horne Sherriffes
Elect of this Citty.
By and at the cost of Jonathan
Blackwell, Esqr Formerly Sherriffe
of this Citty and afterwards
Alderman of the Citty of London
& by ye said Sir Robert Yeamans then
Mayor and Alderman of this Citty
named Queene Streete.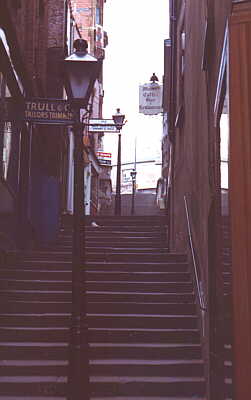 Looking up Christmas Steps... (1999)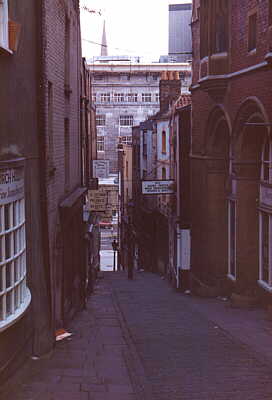 and looking down (1999)
Other Yeamans...
Humphrey Browne was made a freeman on 5th February 1610 after being apprenticed to George White. He was a member of the city council from 1618 to 1630, sheriff 1619/20, Master of the Merchant Venturers 1629/30 and died on 22nd March 1630. In his will dated 27th January 1630 he left his friend, public notary, William Yeamans, "ten pounds and mourning." William was also one of the witnesses to the will along with Francis Yeamans, Giles Workman and Henry Dounlee.
The Burgess Books list the following entries for William, George, Robert and John Yeamans...
12th November 1642 - William Yeamans Marchant is Admitted into the Liberties of this Cittie for that hee was the sonn of William Yeamans scrivener a freeman of the same and paid iiijs vjd.

11th November 1643 - Robert Yeamans Marchant is Admitted into the Liberties of this Cittie for that hee was the sonn of John Yeamans brewer a freeman of the same and paid iiijs vjd.

1st April 1647 - George Yeamans Marchant is Admitted into the Liberties of this Cittie for that hee was the sonn of John Yeamans Brewer a freeman of the same and hath paid iiijs vjd.

31st August 1649 - John Yeamans Merchant is Admitted int the Liberties of this Citty for that hee was the sonn of Mr. John Yeamans Brewer a Freeman of the same and hath paid iiijs vjd.
Sometime between 1650 and 1666, Thomas Easton a merchant of Bristol made himself responsible for bringing to England and educating Willoughby Browne, daughter of Sir James Browne of Barbados. When she grew up he gave her in marriage to William Yeamans, son of John Yeamans in Barbados, whose relative Sir Robert Yeamans of Redland Court was a major merchant in Bristol.
There is an entry in the Apprentice Book for Edmund Yeamans dated 23rd April 1652...
Thomas Power sonn of William Power late of Waterford in Ireland merchant deceased bound apprentice to Edmond Yeamans merchant and to his wife to be educated in the art of a Mariner for seaven yeares paying 4s 6d for his fredom with double apparrell.
In the Bristol Record Office (Dispositions 1654-1657) there is the following from 25th February 1657 - Transportation of Irish Rebels...
William Yeamans of the Citty of Bristoll merchant aged 21 yeeres &c maketh oath that on or aboute the moneth of October last he the deponent was present in the house of his mother Mrs Ann Yeamans widow within the said Citty and did see and heare William Bullocke of the same Citty merchant take to frieght of the same Ann Yeamans one quarter part of the shipp called the Loves Increase of Bristoll burden one hundred tons &c for a voiage from the port of Bristoll to Ireland there to receive in Tories and from thence to Barbadose or any of the Cariba Islands and to returne backe directly for Bristoll, and did agree to have the said ship for 6 monethes voiadge certen and to pay for the same after the rate of 40li per moneth for the whole ship.
William Bullock was admitted as a member of the Society of Merchant Venturers in 1650. His father, also William, built the Loves Increase which at one time was captured by the Irish rebels and its name changed to the St. Patrick of Ross.
On 27th August 1670 John Yeamans married Thomasine Tovey (also known as Garland). Both are listed as coming from Redcliffe.
There is an entry in the Apprentice Book for Edward Yeamans dated 1st May 1684...
Edwardus filius Edwardi Yeamans de Port Royall in Insula de Jamaica Mercatoris posuit se Apprenticium Anthonio Swymmer mercatori et uxori pro 7 annis.
Robert Vickris was made a freeman on 10th November 1648, as the son of Richard Vickris. He was a member of the city council from 1650 to 1662, sheriff 1656/57, Master of the Merchant Venturers 1669/70. His will dated 6th November 1684, was witnessed by Francis Yeamans, Alaxander Tompson, James Hands and Richard Yeamans.
Sources :-
An Historical Account Of The Rise And Progress Of The Colonies Of South Carolina And Georgia
Annals of Bristol in the Nineteenth Century by John Latimer (W. & F. Morgan, 1887)
Annals of Bristol in the Seventeenth Century by John Latimer (William Georges, 1900)
Barbados Archives - Barbados information
Boon Origins - Barbados/Carolina information
Bristol and the Civil War by Patrick McGrath (Bristol Branch of the Historical Society, 1981)
Bristol Past and Present - Volume 1 - Civil History by J. F. Nicholls and John Taylor (Arrowsmith, 1881)
Bristol's Sugar Trade & Refining Industry by Donald Jones (Bristol Branch of the Historical Society, 1996)
Chronicle Barbados - This gives the information on the Yeamans' servants
Descendants of Master, John "the Elder" Roberts - Genealogical information
"For King & Parliament" by John Lynch (Sutton Publishing, 1999)
Foster - The Fosters of Barbados
Historic Towns - Bristol by Rev. William Hunt (Longmans, Green & Co., 1895)
Leigh Rayment's Peerage Page
Merchants and Merchandise in Seventeenth Century Bristol by Patrick McGrath (Bristol Record Society Vol. XIX, 1955) - This book contains much information collated from Bristol Record Office
Pirate Walks - Barbados/Carolina information
PortCities Bristol
Tibblestone- Sir Robert Cann - Genealogical information
This page created 19th April 2005, last modified 15th October 2017