HomePage | Optical Illusions | War Stories | QBasic | Dads Navy Days | Bristol | Bristol, USA | Bristol, Canada | Terre Haute | Miscellany | Web Stuff | About Ray | Site Map | Site Search | Messages | Credits | Links | Web Rings
Miscellany | 6 Degrees | Afghanistan | Biological Warfare | DW Canoe Race | The Donner Party | The Eastland | The Edmund Fitzgerald | K Class Submarines (Page 1), (Page 2) | McClellan | Murder | Plagiarism | Product Placement | Racial Insults | Ten Plagues of Egypt | UK & US Flags
Miscellany :-
These pages are for subjects that I find particularly interesting. Unfortunately, I've neither the time nor resources to research them more fully, but luckily, other people have made fascinating web-sites on these subjects. I hope you find the choice of material here as interesting as I do.
General George Brinton McClellan :-
This essay was originally written for an American History class at Ivy Tech State College. This essay can also be opened as a Word document for viewing or downloading.
General George Brinton McClellan
The Cautious General
by


Ray Thomas
July 2003
During the Battle of Antietam on 17th September, 1862, around 25,000 men lost their lives in the single bloodiest day of the American Civil War. The casualties were split fairly evenly between the Union and Confederate sides, and it was a decisive day for neither. Many officers, on both sides, have since been shown to have made mistakes on that day, but it was the commanding officer of the Union side, General George Brinton McClellan, who drew the criticism of turning what could have been a decisive victory for the North into a bloodbath. Much has been written about the Civil War and Antietam in particular, but who was General McClellan and what sort of man was he?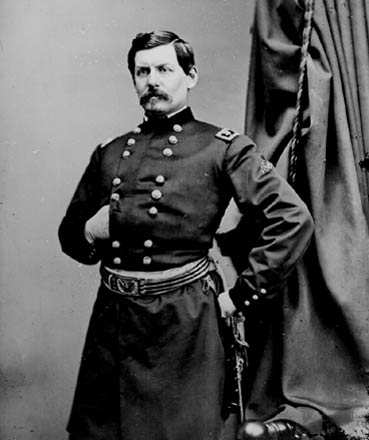 General George Brinton McClellan
In June, 1842, the fifteen year old George McClellan entered West Point. At the end of his first year McClellan was third in his class, Thomas J. Jackson, later Major General "Stonewall" Jackson, could only manage fifty-first from their class of eighty-three. When they graduated, on 1st July, 1846, there were fifty-eight left in the class and McClellan was second, beaten only by Charles S. Stewart, who became a Captain in the Confederate army and was killed by Indians in 1861. Even this wasn't good enough for McClellan, who wrote home "… if I did not graduate head of my class, I can nethertheless do something." (Sears, Young Napoleon, 12)
The same day that he graduated, McClellan was made a Second Lieutenant in the newly formed Company of Engineer Soldiers. He took to his first post with enthusiasm and vigor and he soon gained a reputation for being a good organizer. Neither did he forget that he was a gentleman as well as an officer; he wrote to his mother that he had met an acquaintance of his father's who had called him George and who was "entirely too familiar & impertinent to suit my taste." (Sears, Young Napoleon, 14) Earlier that year, the Mexican American war had started and McClellan couldn't wait to be in the thick of it.
The company left New York for the Rio Grande River on 26th September, 1846. During this war, McClellan's personal bravery was proved. On 19th August, for example, during the Battle of Contreras, McClellan had two horses shot from under him. When the commander of a section of artillery was killed, he took on that command; when the commander of a howitzer battery was killed McClellan took that under his command also. For his part in the battle McClellan was mentioned in dispatches and after the following days Battle of Churubusco, he was promoted to First Lieutenant. It was during the war that he first contracted dysentery and malaria. The latter disease would reoccur in later years.
When the war ended in 1848, McClellan had learned many lessons, especially from General Winfield Scott. Scott had made several brilliant tactical decisions, such as not using a head-on assault when other methods could be employed, hence the siege tactics used at Vera Cruz and the turning movement employed at Cerro Gorda. Scott also had a good relationship with the rank and file he commanded, all of which McClellan witnessed and remembered. McClellan seems to have later forgotten the boldness and departure of conventional military doctrine with which some of Scott's maneuvers were carried out. In 1856, his friend, Joe Johnston wrote to McClellan regarding the Mexican War, saying that "there is no comfort like that of going into battle with the certainty of winning." McClellan certainly seems to have agreed with this sentiment. (Sears, Young Napoleon, 26) As a regular soldier McClellan thought that civilians could not understand war and should not be permitted to direct it. (Sears, Young Napoleon, 17) This attitude may explain why during the Civil War he would seem to treat President Lincoln and other superiors with such little regard.
When General McClellan took command of Washington and the Army of the Potomac on 26th July, 1861, everyone had great expectations of him. He was a hero. People still were still getting over the shock of the defeat at the Battle of Bull Run, but McClellan had brought victory in the western Virginia mountains. These people expected great things from him. For a while they got them. Not only did he make the capital safe, he made it "feel" safe. His success seems to have gone to his head as in a letter to his wife, he wrote "I seem to have become the power in the land" and "I could become dictator or anything else that might please me – but nothing of that kind would please me – therefore I won't be Dictator. Admirable self denial!" (Catton, 80) At a state dinner at the White house on 4th August, 1861, British minister, Lord Lyons, remarked that McClellan could be the next president of the United States. (Catton, 82)
But McClellan's mind was already being clouded by thoughts of a strong enemy. In August he wrote to his wife "Beauregard probably has 150,000 men – I cannot count more than 55,000." And in another letter about the same time; "the enemy have 3 to 4 times my force." The reality was that Johnston and Beauregard had to abandon plans for any offensive because they couldn't muster 60,000 men between them. (Catton, 84 & 85) The summer passed in strengthening of the defenses of Washington. Rumors of a southern offensive against Washington caused McClellan to beg for the Army of the Potomac to be increased to 300,000 men, even if it meant that the Union were to go on the defensive everywhere else. (Catton, 87)
On his arrival in Washington, McClellan took less than three weeks to come to the conclusion that Lincoln was an idiot and General Winfield Scott, from whom he should have learned so much during the Mexican War, was either a dotard or a traitor. (Catton, 85) After another defeat for the Union at Ball's Bluff on 21st October, on 1st November, Scott resigned as general-in-chief and McClellan was named his successor.
In November 1861, McClellan had presented his Urbanna plan. He would move 50,000 men to Urbanna, 50 miles east of Richmond. These would be reinforced by another 50,000, and the whole force would march to take Richmond. McClellan did not give an actual timetable but said that Richmond would be in Union hands by 1st February. (Catton, 129) For this plan to work, Norfolk was going to have to be taken first. It was now January, 1862, and no preparations had been made for any of this to happen. McClellan was ill with typhoid fever and Lincoln was losing patience with his generals. In a meeting of 10th January, Lincoln said that "if General McClellan, sick or well, did not plan to use the army right away I would like to borrow it, provided I could find out what ought to be done with it." At a meeting later in the month, McClellan claimed he did have a plan and a timetable for it, but refused to say what either was. (Catton, 132) McClellan had been promoted on the understanding that there was a need for action, something he simply wasn't providing.
It is around this time when the famous incident of Lincoln being snubbed by McClellan took place. Lincoln arrived at McClellan's house wanting to discuss his plans with him. McClellan had already retired and sent one of his staff to Lincoln to say he had gone to bed and would see no one.
McClellan was a conservative Democrat and strongly opposed to abolition. By the beginning of 1862, the question of emancipation for the slaves had been raised, President Lincoln wrote a letter to the New York Times pointing out that the war was costing $2 million a day and that if it cost $400 a head to free all the slaves in the border states, it would still be cheaper than three months of war. (Catton, 184) Slavery was quickly becoming part of the Union's strategy, and this was a further pressure on McClellan. The longer he dawdled the stronger the call for emancipation would be.
McClellan acted, and in doing so incurred the wrath of President Lincoln. Before moving on Richmond, McClellan wanted to protect the western line of the Baltimore and Ohio Railroad. To do this he needed to move a large force into the Shenandoah Valley. This meant new bridges over the Potomac at Harper's Ferry, which the army crossed on 26th February. Supplies would be ferried up the Chesapeake and Ohio Canal. Everything was in place, and seemed to be going well, except that when they came to be used, the barges were found to be too wide for the canal and the whole army returned to Washington. Lincoln was furious and said that "General McClellan did not intend to do anything anyway." His secretary, John Nicolay, later said that this was the only time he saw Lincoln lose his temper. (Catton, 195)
On the last day of January, 1862, McClellan finally outlined his Urbanna plan. In essence he was going to outflank the Confederates in Virginia. Generals Buell and Halleck would attack to the west. The Confederates would face a great crescent of Union soldiers stretching from Port Royal to New Orleans. He would start by moving his men to Urbanna in the south, via Annapolis to the north. General Johnston would retreat when the Union soldiers reached Urbanna and be decimated. Richmond would be taken and the war would end. (See map Appendix 1)
There were problems with this plan right from the start. General Johnston was already in Centreville to the southwest of Washington, and McClellan, by moving his Army north to Annapolis, may have placed the capital in jeopardy. Johnston solved everybody's problems for them and on 7th March, 1962, moved his army south. The news didn't reach Washington until the 9th, when McClellan hurriedly set off to Centreville, far too late to catch Johnston and his army, something that Lincoln had been urging him to do all winter.
On 11th March, 1862, President Lincoln finally lost patience and demoted McClellan from general-in-chief to the commander of the Army of the Potomac. The newspapers reached McClellan before the official order did, and this is how McClellan learned of it. After the war McClellan wrote that this "proved to be one of the steps taken to tie my hands in order to secure the failure of the coming campaign." (Catton, 202) McClellan could not see the writing on the wall and shortly after this wrote to his friend, S. L. M. Barlow that "The President is all right – he is my strongest friend." (Catton, 202) Among the orders that Lincoln issued to McClellan on 13th March was that Washington was to left secure and that he was to take the remainder of the army and pursue the enemy.
McClellan started to move his army south to Fort Monroe. It was during this phase of the war that he miscalculated not only the size of the Confederate army facing him, but also his own. McClellan had told Lincoln that 55,000 soldiers were to stay in the vicinity of Washington to defend it. On paper there were indeed 55,000 men, except that most of these belonged to General Banks who was at that moment arranging for them to be moved to the Shenandoah Valley to the west. On 3rd April, 1862, Lincoln ordered McClellan to return General McDowell and over 33,000 men from the Army of the Potomac back to Washington. McClellan's own estimates of the size of his own army varied from day to day, sometimes by as much as 17,000 men. (Catton, 269) Allan Pinkerton, who would later become famous as a detective, supplied McClellan with estimates of the enemy's strength. He invariably padded the figure and McClellan would pad it again in his reports to Washington. Worse still, he believed these higher figures and this is why he hesitated when he should have pushed on.
The York River is 1,000 yards wide were it passes between Yorktown and Gloucester and both places were heavily defended by the Confederates. McClellan had planned to use navy warships to pound Yorktown into dust. Unfortunately, no one had bothered to inform the Navy. McClellan decided to take Yorktown by siege and it took nearly a month for the earthworks and gun positions to be made ready. Just as things were ready, the Confederates evacuated both towns. With these two towns in Union hands, it didn't take much of a struggle to take Norfolk. Lincoln himself arrived to oversee the operation. McClellan was less than thirty miles away but refused to talk to the President or Stanton, the Secretary for War.
In September 1862, McClellan was back in Washington. Halleck was now general-in-chief, the Seven Days Battle had been fought, and the Confederates were on the offensive. When Confederate General Lee marched his army from Harper's Ferry to Sharpsburg, he knew his army was half the size of the Army of the Potomac, (40,000 men to 80,000) that his men were tired, demoralized and looked like scarecrows. (Catton, 449) But he knew McClellan's style and thought that he could win against him. Catton in "Terrible Swift Sword" wrote that "Antietam Creek wasn't much of a stream and Sharpsburg was not much a town, and the army that Lee planted behind the creek on September 15 was then not much of an army." (Catton, 450) A few days earlier a Confederate officer had lost Lee's entire battle movement plans. They were found, and on 13th September, 1862, given to McClellan.
The Union should have won a tremendous victory on 17th September. They won because although both sides had a similar numbers of casualties, Lee's army was half the size to start with and he had to withdraw. McClellan had superior numbers, knew exactly where Lee would position his troops, but still produced a series of uncoordinated attacks that were very often late. There were various reasons for this. McClellan promised Lincoln that "no time will be lost" in catching Lee. Losing no time for McClellan meant starting some time next day. (Sears, Bloodiest Day, 4) Another reason was that he'd only developed his battle plan the day before and at no time had gotten all of his commanders together at one time. (Chiles, 12) Not only that, but McClellan had convinced himself that the Confederate army he faced was far larger than it really was. He thought that he was attacking at least 97,000 men, not the maximum of 40,000 that Lee had at his disposal. (Chiles, 57)
Over the next couple of days Lee was making plans to gather up his army and go back on the offensive, but by now his army was too weak. McClellan, true to form, did nothing. Once again he miscalculated the size of the remaining Confederate forces and decided he needed more reinforcements before he could do anything. What he did do was complain about his superiors. In a letter to his wife he wrote that "I have insisted that Stanton shall be removed & that Halleck shall give way to me as Comdr in Chief. I will not serve under him – for he is an incompetent fool." (Catton, 460)
On 22nd September, Lincoln issued the Proclamation of Emancipation, to which McClellan strongly opposed. At a dinner for some of his generals and politician friends, McClellan announced that "the army was so devoted to him that it would enforce any decision he might make regarding war policy." (Catton, 465) Perhaps McClellan was testing the water, but he was quickly disillusioned when his guests assured him that "not a corporal's guard would follow him if he actually tried to take the reins into his own hands." (Catton, 465)
Two weeks after the battle of Antietam Lincoln went to see McClellan. The two men came back with different stories. The way that McClellan saw it, he had been told that he was to continue his "preparations for a new campaign, not to stir an inch until fully ready, and when ready to do what I thought best." Of the same meeting, Lincoln told John Hay that he'd seen McClellan and "came back thinking he would move at once." (Catton, 475)
On 6th October 1862, Halleck reminded McClellan that the President wanted immediate action from McClellan. It was nineteen days later that McClellan put the first man across the Potomac and it was nine days after that when the last man crossed. McClellan then stopped and waited for more men and supplies. By now, people were becoming very impatient with McClellan. When he asked for more horses, Lincoln wrote to McClellan "Will you pardon me for asking what the horses of your army have done since the battle of Antietam that fatigues anything?" Halleck said that "There is an immobility here that exceeds all that any man can conceive of. It requires the lever of Archimedes to move this inert mass." For his part, McClellan wrote to his wife, "The good of my country requires me to submit to all this from men whom I know to be greatly my inferior socially, intellectually and morally! There never was a truer epithet applied to a certain individual than that of the "Gorilla"." (Catton, 476)
Enough was enough, and on 5th November, 1862, Lincoln relieved McClellan of his command and replaced him with Major General Ambrose E. Burnside.
That McClellan was academically very bright, personally brave, and a good organizer isn't in doubt. Neither is the fact that he was a good unit commander and popular with the men under his command.
What made him a bad General was that he just couldn't understand that in America, as in most democratic countries, it is the civil authority that actually directs a war. In other words the military is there to do the government's bidding. He had a very high opinion of his own values and judgments, not necessarily a bad thing in any leader, but he was a snob. All of this led to the frictions that arose between him, Abraham Lincoln, other politicians and others in the military.
His sluggishness in doing anything definite when in high command because he was waiting for the "right time" suggests that he was promoted higher than his abilities should have allowed him to be, a classic case of the Peter Principle. (Heylighen) Around the same time as the Civil War, in Germany, strategist Field Marshall Count Helmuth Carl Bernard Von Moltke the elder (1800 – 1891) was telling his students that "No plan survives contact with the enemy," something that McClellan should have known and guarded against, but this was another of his failings as a General. Once he'd conceived of a strategy and it had to be scrapped, such as his Urbanna plan, McClellan would seem totally paralyzed. His inaction may have been due to the fact that he was frightened of failure and the consequences this would have had for the Union.
Unfortunately, it was this same inaction that may have prolonged the war and caused many more casualties than if he'd taken to heart the lessons he'd learned from General Winfield Scott during the Mexican War and had acted more aggressively against the Confederates.

Works Cited
Catton, Bruce. Terrible Swift Sword, New York, Doubleday, 1963
Chiles, Paul. "Artillery Hell!" Blue & Gray, XVI-2 (1998)
Heylighen, F, The Generalized "Peter Principle". Nov. 1993, Principia Cybernetica Web, 9th July 2003, http://pespmc1.vub.ac.be/PETERPR.html
Sears, Stephen W, George McClellan, The Young Napoleon. New York, Da Capo Press, 1999
Sears, Stephen W, "The Bloodiest Day," Civil War Times, XXVI-2 (April 1987)
Appendix 1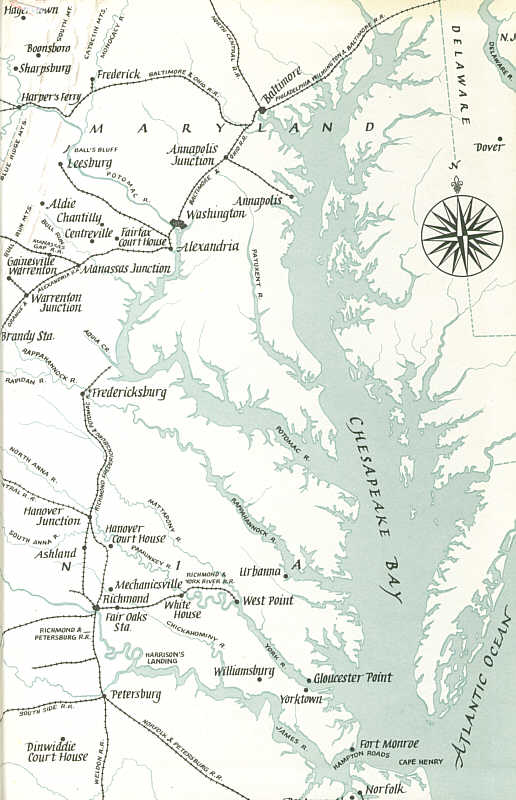 Eastern Virginia - 1862

Appendix 2

Whilst writing this paper I came across some quotes that were simply too good to be ignored.
"The President [Abraham Lincoln] is an idiot, the old General [Winfield Scott] is in his dotage" - Letter from McClellan to his wife, 16th August, 1861
"The extreme virulence with which he [Stanton] abused the President [Lincoln]; he never spoke of him except as the original gorilla." - McClellan writing of his friend, Edwin M. Stanton. Stanton was secretary of war for the Union, replacing Simon Cameron, on 15th January 1862.
"I kept McClellan in command after I had expected that he would win victories, simply because I knew his dismissal would provoke popular indignation and shake the faith of the people in the final success of the war." - Lincoln on why he kept McClellan - 1863
"Of all the men whom I have encountered in high position Halleck was the most hopelessly stupid. It was more difficult to get an idea through his head than can be conceived by anyone who never made the attempt. I do not think he ever had a correct military idea from beginning to end." - McClellan writing on Halleck – 1887
"Sending armies to McClellan is like shoveling fleas across a barnyard. Not a half of them get there." - Lincoln on McClellan – date unknown
"If we had a million men, McClellan would swear the enemy had two millions, and then he would sit down in the mud and yell for three." - Edwin Stanton, Secretary of War on McClellan – date unknown
"The President [Lincoln] is nothing more than a well-meaning baboon… I went to the White House directly after tea where I found "the original Gorilla" about as intelligent as ever. What a specimen to be at the head of our affairs now!" - McClellan on Lincoln
"I have just read your dispatch about sore-tongued and fatigued horses. Will you pardon me for asking what the horses of your army have done since the battle of Antietam that fatigues anything?" - Lincoln in a telegram to McClellan
"If I save this army now, I tell you plainly that I owe no thanks to you or any other person in Washington. You have done your best to sacrifice this Army." - McClellan to Edwin Stanton, Secretary of War after the Seven Days' battle. Stanton didn't see this message for months because his clerk didn't give it to him.
"Upon the whole it seems as if our general [McClellan] went with his finger in his mouth on a fool's errand and that he has won a fool's reward." - The diary of Attorney General Bates after McClellan's march to Centreville on 9th March 1862.
"A most wonderful history of the insanity of a class that the world had ever seen." - Secretary Chase to John Hay on slave holders.
"That is not the game; the object is that neither army shall get much advantage of the other; that both shall be kept in the field till they are exhausted, when we will make a compromise and save slavery." - Major John J. Key to Major Levi Turner on being asked why Lee's army had not been captured at Sharpsburg, shortly after the battle of Antietam. Lincoln sacked Key for saying this.
Selected Bibliography
Adams, Charles S. "Cincinnati's Forgotten General," 1998, Cincinnati Civil War Round Table, 22 July, 2003, http://users.aol.com/dmsmith001/adams.html
Blair, James Alexander, "The Strengths and Weaknesses of Major General George B. McClellan as a Field Commander," 2002, Drift Reality, 3rd July, 2003, http://www.driftreality.com/Jamie/McClellanasfieldCommander.pdf
Carrothers, William, "Abraham Lincoln - Selected Quotes," Billy's Playhouse, 3rd July, 2003, http://www.bridgeboymusic.com/billyboy/lincoln.htm
Catton, Bruce. The Army of the Potomac – Mr. Lincoln's Army, New York, Doubleday, 1962
Catton, Bruce. Terrible Swift Sword, New York, Doubleday, 1963
Chiles, Paul. "Artillery Hell!" Blue & Gray, XVI-2 (1998)
"George B. McClellan," Mr. Lincoln's White House, 2003, The Lincoln Institute & The Lehrman Institute, 3rd July, 2003, http://www.mrlincolnswhitehouse.org/templates/index.cfm?ID=137
"George B. McClellan," US History, 2002, Online Highways, 3rd July, 2003, http://www.u-s-history.com/pages/h116.html
"George McClellan," Spartacus Educational, 3rd July, 2003, http://www.spartacus.schoolnet.co.uk/USACWmcclellan.htm
Harrison, Tim. "Major General George McClellan," The American Civil War, 3rd July, 2003, http://www.swcivilwar.com/mcclellan.html
Hood, Sam, "Civil War Quotes," Sam Hood's Civil War Site, 3rd July, 2003, http://www.geocities.com/TimesSquare/Labyrinth/1164/quote.html
Hosier, Scott. "Savage Skirmish near Sharpsburg," America's Civil War, Sept 1998: 38-45
"Lee's Lost Dispatch," Antietam National Battlefield, 2003, National Park Service, 3rd July, 2003, http://www.nps.gov/anti/ordr_191.htm
"Lincoln's Generals," Freedom, A History of US, 2002, PBS Picture History and Educational Broadcasting Corporation, 3rd July, 2003, http://www.pbs.org/wnet/historyofus/web06/segment3_p.html
Martin, David G. The Second Bull Run Campaign, Pennsylvania, Combined Books, 1997
Newmark, Elizabeth, "Quotes," American History & other Cool Stuff, 2003, 3rd July, 2003, http://home.att.net/~betsynewmark/Quotes.html
Palfrey, Francis Winthrop. The Antietam and Fredericksburg, Edison, NJ, Castle Books, 2002
Sears, Stephen W, George McClellan, The Young Napoleon, New York, Da Capo Press, 1999
Sears, Stephen W, "McClellan at Antietam," Blue & Gray, III-2 (Nov. 1985): 6-21
Sears, Stephen W, "The Bloodiest Day," Civil War Times, XXVI-2 (April 1987)
Shulman, Terry, "To be held at all costs," Civil War Times, XXII-4 (Sept. 1993): 42-49
Tran-Phu, Toan, "General George McClellan," American History & other Cool Stuff, 2003, 3rd July, 2003, http://home.att.net/~betsynewmark2/CW02ToanTranPhu.html

Ray Thomas, July 2003

Miscellany | 6 Degrees | Afghanistan | Biological Warfare | DW Canoe Race | The Donner Party | The Eastland | The Edmund Fitzgerald | K Class Submarines (Page 1), (Page 2) | McClellan | Murder | Plagiarism | Product Placement | Racial Insults | Ten Plagues of Egypt | UK & US Flags
HomePage | Optical Illusions | War Stories | QBasic | Dads Navy Days | Bristol | Bristol, USA | Bristol, Canada | Terre Haute | Miscellany | Web Stuff | About Ray | Site Map | Site Search | Messages | Credits | Links | Web Rings
This page created 25th April 2004, last modified 27th April 2005