Biography
Maurits Cornelis Escher was born in Leeuwarden, Holland in 1898. Having failed to obtain a diploma on leaving school he went to train as an architect in Haarlem in 1919, but quickly changed to art and graphics. In 1922 he left for Italy and married Jetta Umiker in 1924. In 1935 they left for Switzerland, moving to Belgium in 1937, and finally back to Holland in 1941. He died on 27th March 1972, leaving us a remarkable collection of prints, woodcuts and models.
I would have liked to have included more of his art in these pages but finally decided to include only the best of those depicting illusions of space.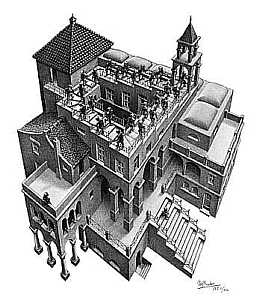 Ascending and Descending
Lithograph, 1960
This looks like a perfectly normal building, except for the steps on the roof. Although the figures seem to be ascending or descending the steps, if you follow them round then you will find yourself back where you started. The idea was based on an article by L. S. Penrose.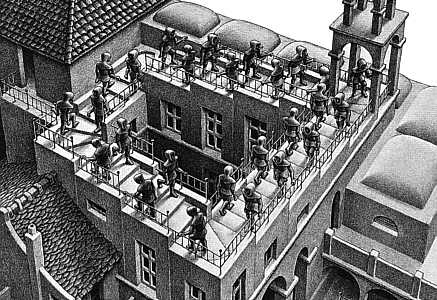 Roof detail from Ascending and Descending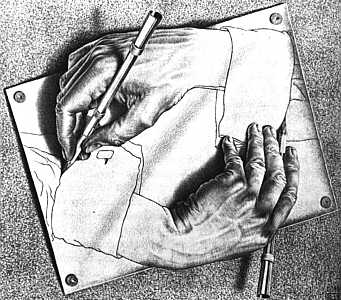 Drawing Hands
Lithograph, 1948
Relativity
Lithograph, 1953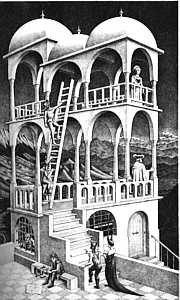 Belvedere
Lithograph, 1958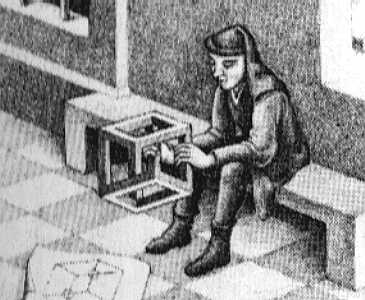 Crate detail from Belvedere
See the crate as a line drawing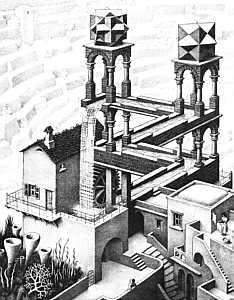 Waterfall
Lithograph, 1961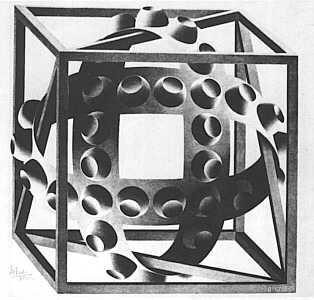 Cube with Magic Ribbons
Lithograph ~ 1957
This page created 6th June 1999, last modified 3rd July 2005