Ray's Graduation ~ Thursday, 6th May 2004
Hi, I thought you may be interested in some recent photos of ME and Patty, and a friend of ours and ME. Did I mention some photos of ME?
After I moved to the US in 2001, I couldn't work until I received my Green Card. As Patty works in the local college, Ivy Tech State College, I went back to school.
I was sat in my chair listening to other people get awards when I heard my name called. This is me and Mr. Lambkin, the President of Ivy Tech on stage.

It's a long walk down the aisle and up on to the stage when you're by yourself!
This is me and my award for Outstanding Computer Information Systems Graduate.

Underneath the plaque is an envelope. I remember saying to someone "I hope this has got money in it" Guess what? It did! A cheque for a couple of hundred dollars!
This is me, just after getting my degree with Magna Cum Laude. That means with "high academic honour and distinction." Its literal, Latin, meaning is "with great praise." Its more down-to-Earth meaning is "a brainy git."

To say I was pleased with myself is an understatement! I was chuffed to bits and was grinning like a Cheshire cat all evening - and most of the following week.

The gold tassel and stole shows I'm a member of Phi Theta Kappa, the international student honour society. The green and silver tassel shows I'm a student of Ivy Tech. The gold cord shows that I graduated with high honours. The red and blue tie shows I haven't much taste in clothes.
This is the present that Patty got me for graduating. She gave it to a friend of ours to wrap. He covered it with duct tape then soldered a whole bunch of welding wire to it. It took me 20 minutes with a pair of tin snips to open it!

It's a brilliant Pocket PC. There is only one problem with it - Patty's already kidnapped it so she can play solitaire and jawbreaker on it! Now she wants me to download more games for it. I only had it long enough to charge the battery :-(
This is part of the newspaper report of the ceremony. Of course I only scanned the most interesting part - the bit about ME!
It's probably of not much interest outside of family and friends but you can download a video clip of me collecting the CIS Outstanding Graduate Award, the files are 46 seconds long in WMV format
150kbs (912Kb) or 768kbs (4.4Mb) version.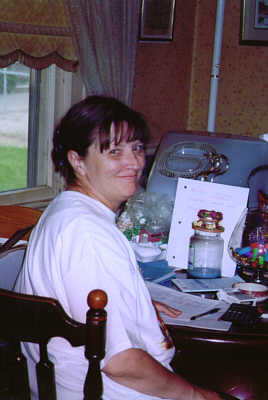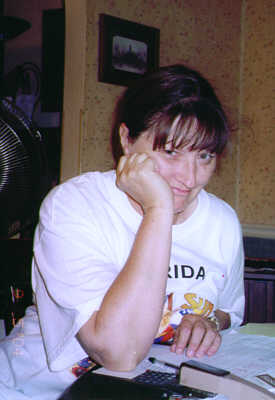 Here's some recent photo's of Patty. She said she was marking student's end of term tests, but she was thinking of games she could download to my present!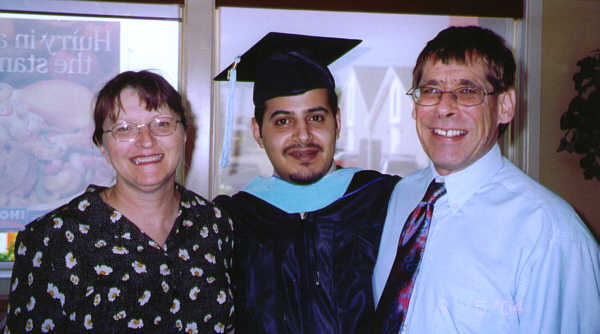 This is us with Mansour, a Indiana State University student friend of ours from Saudi Arabia. He just got his Masters degree, but wasn't going to go to his graduation ceremony, which was a couple of days after mine. That is, until he saw how impressed I was with mine.
In December 2013, I was earned a Bachelor of Science degree in Adult Career Education from Indiana State University, but it really was getting that Associates Degree from Ivy Tech that gave me the most pleasure getting.
This page created 13th May 2004, last modified 17th January 2016