This page was created because of an email I received from Haydon Miller in April 2014. Haydon said that HMS Chevron's bell, dated 1944, was now the school bell at Collingwood Area School, Golden Bay in the north of New Zealand's South Island.
Haydon also put me in contact with local historian Denny Galoolie and his son Paddy. Paddy can remember the bell being presented to the school by Rear Admiral Richard Everley Washbourn around 1965.
I also emailed the school and received a reply from one of their librarians, Diane Street, who turned out to be an absolute star and sent me a lot of information and pictures and who gave me permission to put them on this site.
Rear Admiral Richard Everley Washbourn, C.B., D.S.O., O.B.E.
Richard Everley Washbourn was born at Sumner, Christchurch on 14th February 1910. He was educated at Nelson College and joined the Royal Navy by special entry from New Zealand in 1927. After spending eight years aboard HMS Erebus (1928), HMS London (1929-1931), HMS Warspite (1933)and HMS Diomede (1934-1935), he spent 1936–37 specialising in gunnery. In 1938 he was posted to HMS Excellent and in 1939 to HMS Achilles. For his part in the engagement at the River Plate, off the coast of Argentina Rear Admiral Washbourn won the D.S.O. This was the famous battle between HMS Exeter, Ajax and Achilles and the Admiral Graf Spee. The Admiral Graf Spee was forced to run to Montevideo where she was scuttled. During the engagement, Wasbourn, then a lieutenant, was wounded in the head when shell splinters tore through Achilles' Director Control Tower.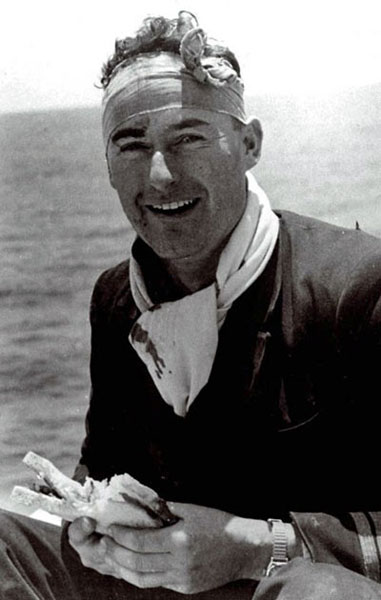 Lieutenant Wasbourn recovering from his wounds
Image from New Zealand History Online
His citation for the D.S.O. read:
When early in the action several splinters struck the gun director tower, at once killing three men and wounding two others inside the tower, though wounded on the head by a splinter which half stunned him and killed the man behind him, continued to control the main armament with the utmost coolness. He set a magnificent example to the rest of the Director Tower crew, who all stood to their posts and made light of the incident. Thus the primary control kept working and secured throughout the action a high rate of hits on the enemy.
There's a great account of the battle at New Zealand Electronic Text Collection. Most of the photographs were supplied by Washbourn and several show the damage done to the Director Control Tower where he was wounded.
After three years' service on Achilles, in 1942, he was transferred back to HMS Excellent and in 1943 to HMS Anson. Now a Lieutenant-Commander he married June Beatrice Medwin Herapath in July 1943 at St. Mary Abbott's Church, Kensington, London. He spent the final two years of the war at the Admiralty Gunnery Establishment. In 1950 he became Executive Officer on HMNZS Bellona for two years (1946-1948), Commander Superintendent of HMNZ Dockyard, Devonport (1950), and Deputy Director of Naval Ordnance (1951–1952). After a year in command of HMS Manxman (1953), he was appointed Chief Staff Officer to Flag Officer (Flotillas) in the Mediterranean (1954–1955). He next spent two years as Director of Naval Ordnance (1956-1958), and a year in command of HMS Tiger (1959), before taking up the position of Director-General of Weapons for the Admiralty (1960–1962). He retired from the Royal Navy in 1962 but then became Chief of Naval Staff, Royal New Zealand Navy (1963-1965). He retired from that position in 1965. Some people put the slight forgetfulness he sometimes had down to the head wound he suffered during the war but it was about this time he started to suffer from Alzheimer's disease. He died on 8th August, 1988 at Onekaka, Nelson, New Zealand.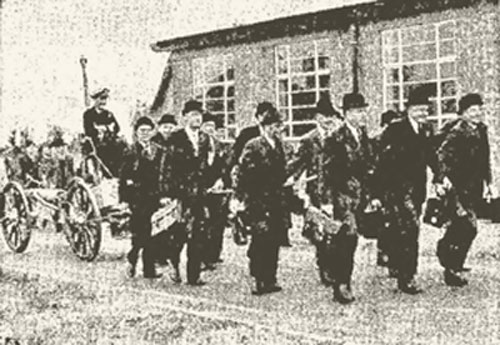 Washbourn being retired, 1962, Bath, England
His staff are wearing business suits and bowler hats
Image from the Baytown Sun Newspaper Archive: December 4, 1962
The original caption reads R. W. Washbourn, but I believe this is R. E. Washbourn.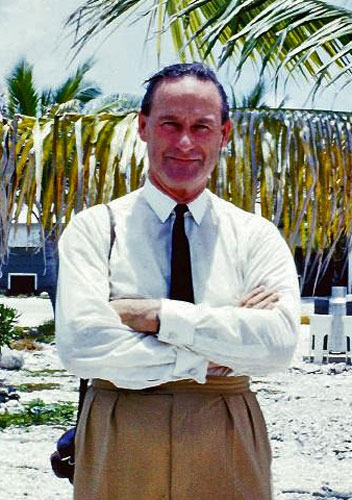 Admiral Washbourn, Kanton Island, South Pacific, 25th September 1963
Image from John Maioha Stewart's site
The Bell
By at least 1964, Admiral Washbourn must have been looking at ways of helping his local community in New Zealand. When alumnus James Borron presented Nelson College with a painting of Nelson along with a model of his ship, Victory on 21st October, Trafalgar Day, 1964, Admiral Washbourn delivered a speech.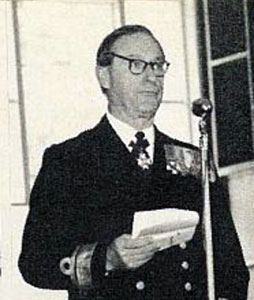 Admiral Washbourn delivering a speech at Nelson College, 21st October 1964
Image from Nelson Photo News
In December 1964 Admiral Washbourn purchased HMS Chevron's bell as Lot #54 from the dockyard at Rosyth, Scotland for £8. The bell weighed 45lbs, 12 3/4" in diameter and 10" tall. For transporting the bell he was charged 2s for the case, 10s for labour and 17s 6d for transport to London. For those unfamiliar with the old British coinage, there were 12 pennies (d) to the shilling (s) and 20 shillings to the pound (£). This made the total amount for the bell, £9 9s 6d.
When he purchased the bell he was stationed at Royal New Zealand Navy Headquarters, New Zealand House, Haymarket, London but had it forwarded via diplomatic bag to Wellington, New Zealand. It seems to have taken until at least March 1965, for the paperwork for the purchase to have been completed.
The following scans of the documents concerning the purchase of the bell were very kindly sent to me by Diane Street, the librarian at Collingwood Area School. Clicking on them will bring up a full size image. The documents were exchanged between Admiral Washbourn, The shipyard at Rosyth, and the the Ministry of Defence, Empress State Building, Fulham, London.
Starting in July 1965, Admiral Washbourne started contacting various people to get as much information as he could about the ship to give to the school. Among those he wrote to were Lieutenant-Commander P. K. Kemp O.B.E. of the Naval Historical Branch, Vice Admiral Sir John Bush K.C.B., D.S.C. who was once Chevron's commanding officer and was then the Vice Chief of Naval Staff and Captain S. F. Mercer RNZN who was a liaison officer.
I think he was a little disappointed that Chevron had not seen any war service. She was launched on 23rd February, 1945 and commissioned on 23rd August 1945. Victory in Europe (VE) day was on 8th May 1945.
When writing to Lt. Cdr. Kemp on 30th July, 1965, Admiral Washbourn wrote that "Collingwood is a very remote little settlement one hundred miles from the nearest town and it will do the young good to have some reminder of the world outside... even if that reminder only serves the mundane purpose of calling them to their studies."
Again to Lt. Cdr. Kemp on 30th September, 1965, "Pity we can't make it [the history of the ship] a bit more glamorous! However she got around a bit, and the pupils of Collingwood will have a bell which will have covered the waters between the Eastern Atlantic and the Persian Gulf."
When writing to Mr. C. R. G. Masters of Beach Road, Collingwood on 31st August 1965, he laments that he could not get the original ships badge. Admiral Wshbourn writes, "I think an acquire he badge, but it will not be, so to speak a genuine one... not one that she ever wore. These are invariably and inevitably pinched by the last ship's company, when she pays off for breaking up."
Again, the following scans of the documents concerning the purchase of the bell were very kindly sent to me by Diane Street, the librarian at Collingwood Area School. Clicking on them will bring up a full size image.
Diane also very kindly sent me some images of the bell at Collingwood Area School: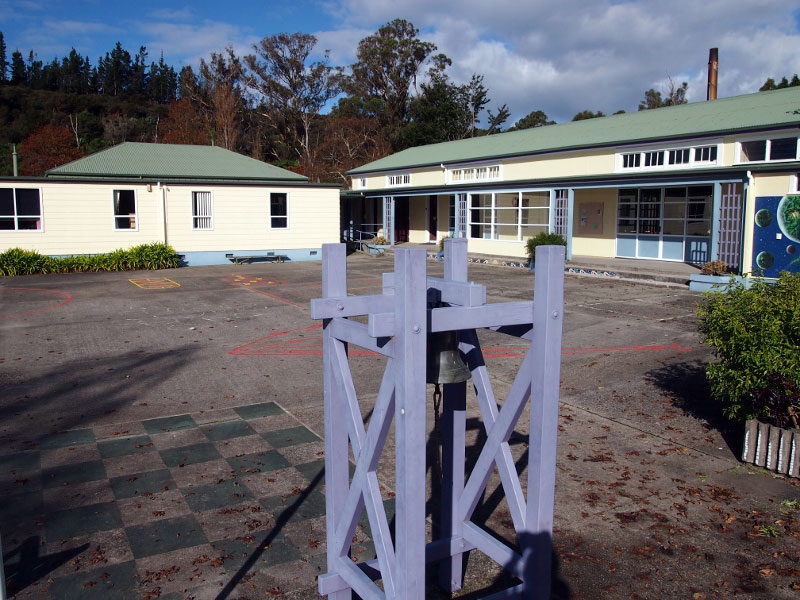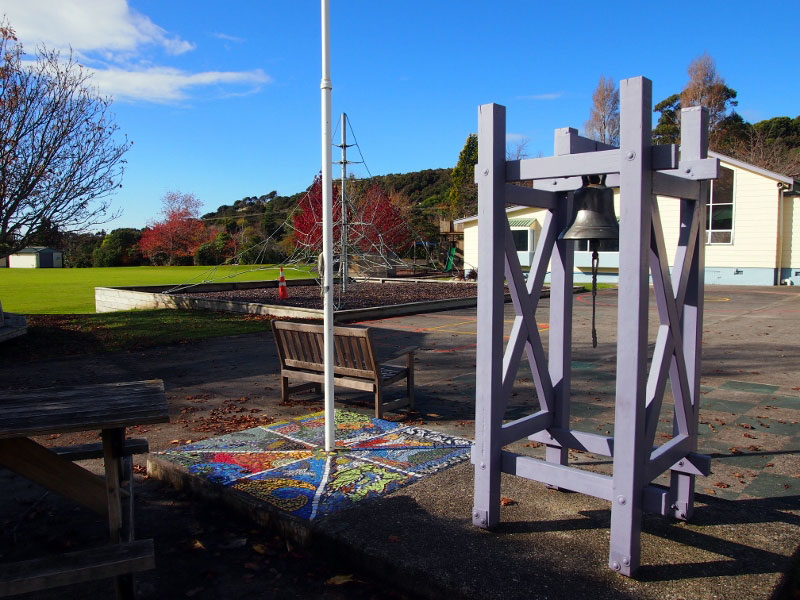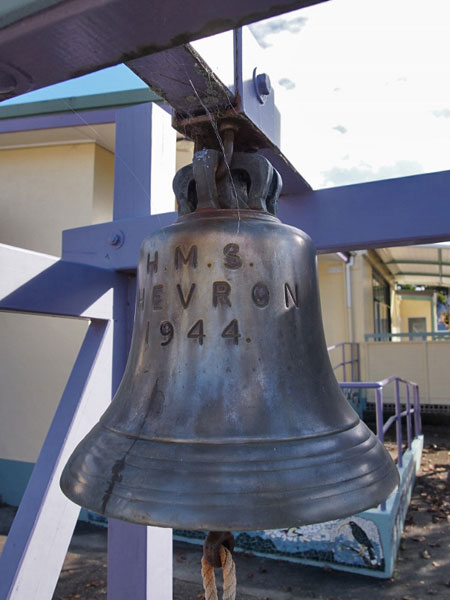 There is also a plaque with the bell: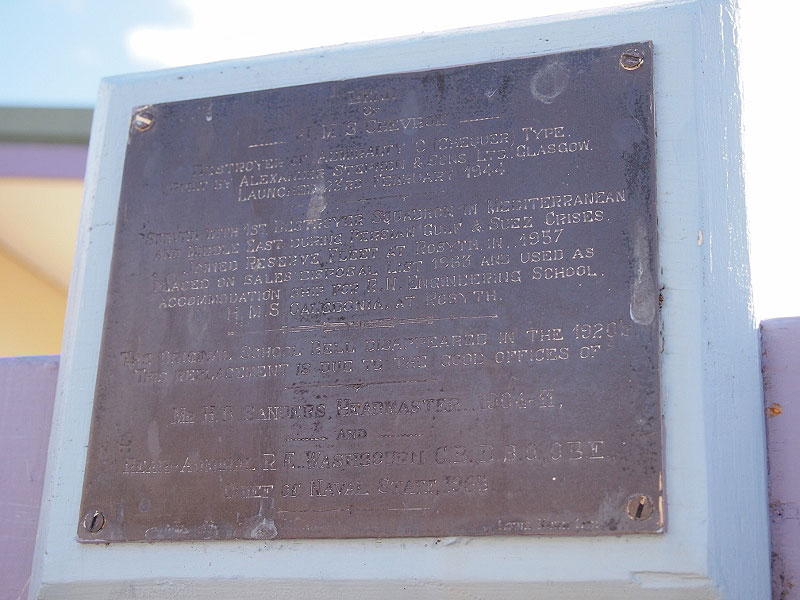 The plaque reads:
Bell
of
---------- HMS Chevron ----------

Destroyer of Admiralty C (Chequer) Type.
Built by Alexander Stephen & Sons Ltd. Glasgow.
Launched 23rd February 1944.
-------------------------
Served with 1st Destroyer Squadron in Mediterranean and Middle East during Persian Gulf and Suez Crises.
Joined Reserve Fleet at Rosyth in 1957.
Placed on Sales Disposal list 1963 and used as accommodation ship for R.N. Engineering School, HMS Caledonia at Rosyth.
-------------------------
The original school bell disappeared in the 1920's.
This replacement is due to the good offices of
-------------------------
Mr. H. G. Sanders, Headmaster, 1904-11
---------- and ----------
Rear Admiral R. E. Washbourn CB, DSO, OBE
Chief of Naval staff, 1965
Sources
Biography of Rear Admiral Richard Everley Washbourn, C.B., D.S.O., O.B.E. - An Encyclopedia of New Zealand
Biography of Rear Admiral Richard Everley Washbourn, C.B., D.S.O., O.B.E. - Liddell Hart Centre for Military Archives
Biography of Rear Admiral Richard Everley Washbourn, C.B., D.S.O., O.B.E. - New Zealand History Online
Chief of Navy # 10 - RNZN Communicators Association
Marriage of Lieutenant-Commander Washbourn - PapersPast
Washbourn, Alzheimer's disease - RNZN Communicators Association: Rear Admiral E.C. Thorne – Oral History
Washbourn, D.S.O. Citation - World War II Unit Histories and Officers
Washbourn, speech at Nelson College - Nelson Photo News
This page created 17th May 2014, last modified 1st September 2017