My thanks to Bernard Mouzer OBE RVM, Terry Bateman, John Birch, Ken Booth, Don Cruikshank, Geoff Flewitt, John Harris, Bill Hartland, Les Jefferies, Steve McAllister, Roy Pavely and Jenny Thompson (nee Dickinson), who contributed, some of them unknowingly, to this page.
In the original versions of this page I wrote that the captain of HMS Phoebe was named Dickenson, it should, of course, been Captain Dickinson.
On Monday, 16th October 1950, HMS Gambia and HMS Phoebe collided while on exercise. Gambia suffered damage to her bow and Phoebe had her propellers and propeller shaft damaged.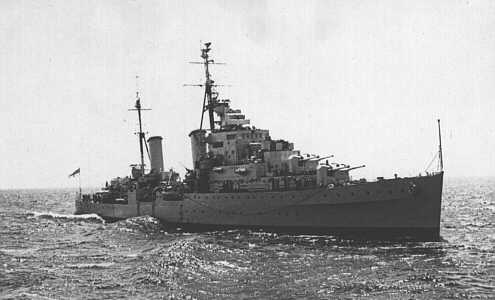 HMS Phoebe (1951)
This photograph must have been taken in early 1951 as Phoebe was put in reserve after she arrived back in the UK on 14th March 1951. As far as I know, after the collision in 1950, the only voyage that Phoebe made was the one back to the UK.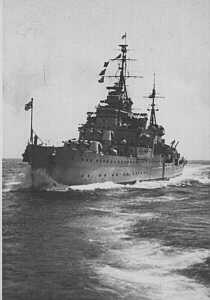 HMS Liverpool (1950)
Bernard Mouzer was a petty officer on HMS Phoebe, he kindly emailed me to say that Captain Dickinson had been hurriedly transferred to anther post and that Commander Scatchard was acting Captain. Both officers were really first class people and it was a terrible shame that Scatchard should have had this misfortune. He was a hugely popular man. Captain Dickinson was drafted to Hong Kong in 1951.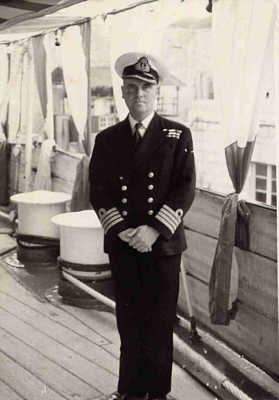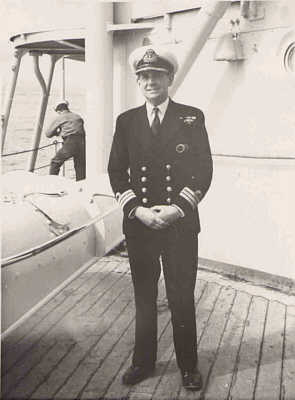 Captain Dickinson and Commander Scatchard of HMS Phoebe
The photos very kindly sent to me by Bernard Mouzer OBE RVM
Four ships of the First Cruiser Squadron of the Royal Navy's Mediterranean Fleet, Euryalus, Gambia, Liverpool (flagship) and Phoebe were involved in a replenishment exercise. Also taking part were the frigates Magpie and Surprise and a destroyer flotilla made up of Chequers, Chiders, Chevron, Cheviot, Chevrolet, Chieftain, Gravelines and Vigo. There were also several other ships and submarines involved. On Gambia at least, tannoy announcements kept the crew informed which ships were in the vicinity and their position.
Gambia was in the centre, Liverpool to starboard (right) and Phoebe was to port (left) with Euryalus around three and a half cables astern of (behind) Gambia. A cable is 608 feet so Euryalus was about 2,100 feet (710 yards) behind Gambia. The exercise took place in the Eastern Mediterranean, near Malta and involved transferring fuel and rigging jackstays for the transfer of mail, personnel, stores and ammunition between the ships. The following photographs illustrate what happens during these operations.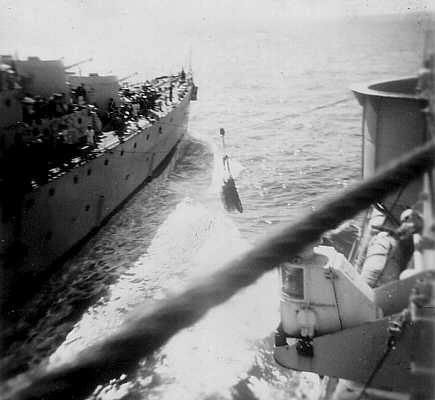 Transferring mail from Gambia to Phoebe
This photograph very kindly sent to me by John Birch
A Box Brownie photograph taken on the day of the collision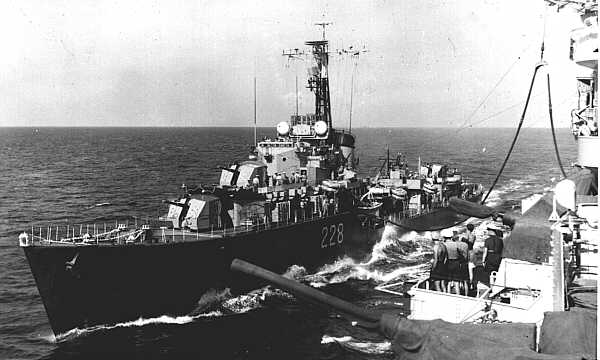 Fuelling HMCS Crusader from HMS Warrior ~ 1953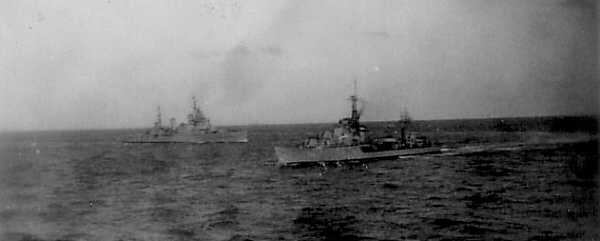 Vigo and Euryalus from Gambia
One of John Birch's photographs
The following is my interpretation of what happened. I wasn't even born till eight years after the incident so the following is an amalgamation of my correspondence from people who were there and from the information given on various web sites. Some people I've spoken to insist that the collision was Gambia's fault, others say it was Phoebe's. The purpose of this article isn't to apportion blame to anyone. In his albums dad had some photographs of the damage done to Gambia's bow, this page is the result of my trying to find out how it happened.
At around 1pm, the ships were moving at around 14 to 16 knots. A knot is a nautical mile an hour. A nautical mile is is 6,080 feet (6 feet = 1 Fathom, 100 fathoms = 1 cable, 10 cables = 1 mile, 3 miles = 1 league) A land mile is 5,280 feet. For an extensive explanation of Naval slang and terms see the HMS Carysfort site.
The transfer between Chieftain (on the starboard side) and Gambia had just been completed. Chieftain had moved away and Liverpool was just taken up station. The transfer between Phoebe (on the port side of Gambia) and Gambia was completed and Phoebe increased speed to around 18 knots. At this point the transfer of fuel and goods between Gambia and Liverpool was still taking place.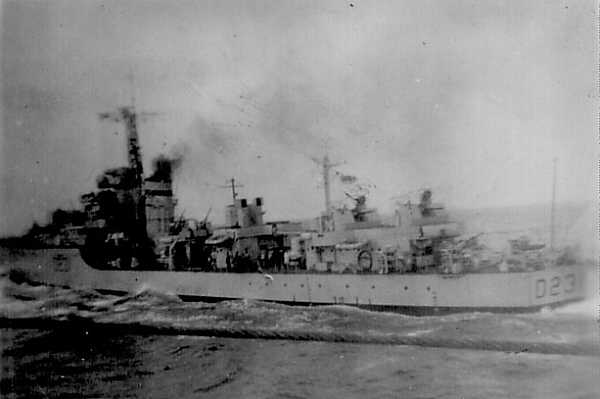 HMS Chieftain after fuelling Gambia
One of John Birch's photographs
This page created 15th November 2002, last modified 16th February, 2019