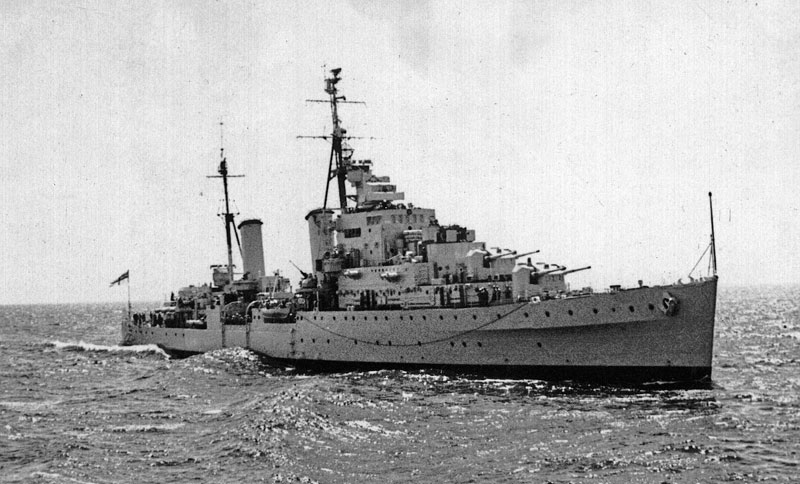 HMS Phoebe, 1951. Image from dad's photo albums.
In February 2019, Terry Bateman sent me a photo of HMS Phoebe, over the next couple of months he sent me more photos and a little about his father, Roy, who served on her. This page is the result of those emails.
Terry very kindly allowed me to use the following photos: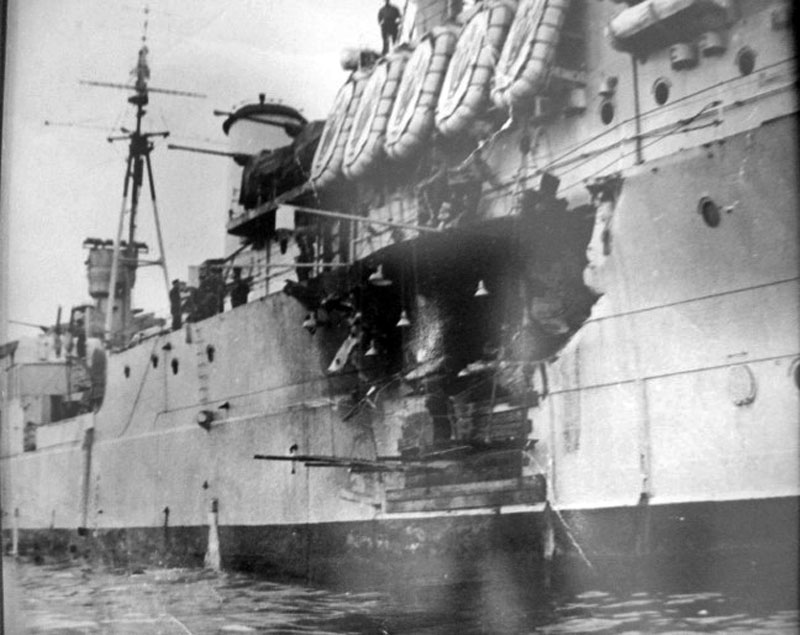 Damage to HMS Phoebe
I think the photo dates from 1942 when Phoebe was hit by a torpedo fired by the submarine U-161. Phoebe was enroute from Simonstown, South Africa to Freetown, Sierra Leone when just off the Congo Estuary on October 23, 1942, she was attacked by the submarine. Phoebe was extensively damaged with about 60 of her crew killed. After provisional repairs, Phoebe made for New York for complete repairs. It was an incredible feat to sail 10,000 miles with a gaping hole (60 by 30 feet) in her side. The repairs were not completed until June 1943. In October 1943, she returned to the Mediterranean to take part in further operations.
Terry wrote that his father, Roy Bateman, served on Phoebe between 1948 to when she was scrapped in 1951.
Roy joined the Royal Navy just after the end of WWII, his first ship was HMS Nelson after she had her rear turret removed, he also served on HMS Jamaica and HMS Swiftsure. Terry remembers him saying HMS Phoebe was his favourite ship.
After leaving the Royal Navy he joined the merchant navy and joined the liner SS Canton where he continued with his hobby of photography eventually leaving the merchant navy, marrying, and opening his own photographic studios in Kentish Town, London, named Canton studios finally retiring in 1999 to Spain. Sadly, Roy passed away in 2014.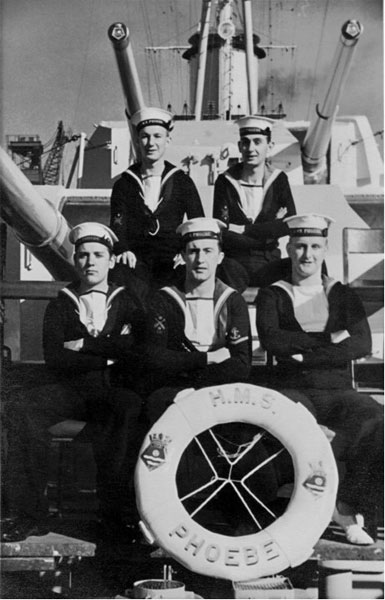 Roy Bateman is top right of this photo.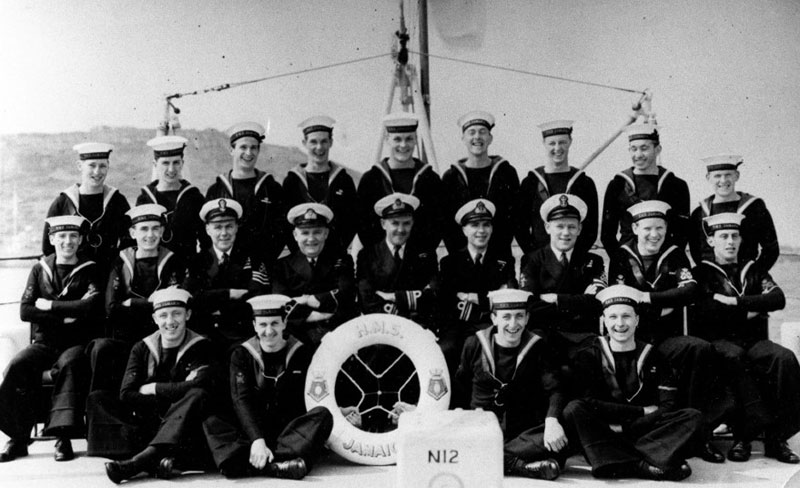 Roy is second row, second from left of this photo from HMS Jamaica
Naval uniforms did change over the years and Alan Priestman suggests that because of the white caps and dark sea jerseys, this photo would have been taken around 1956.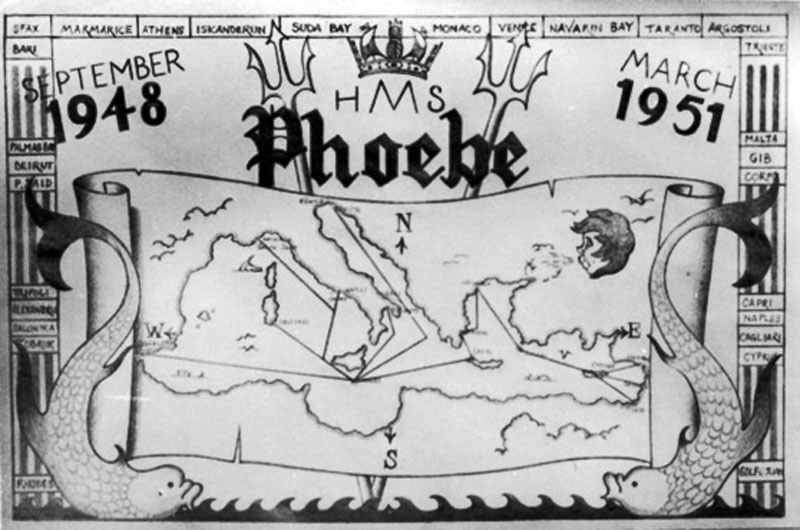 HMS Phoebe's 1948-51 Cruise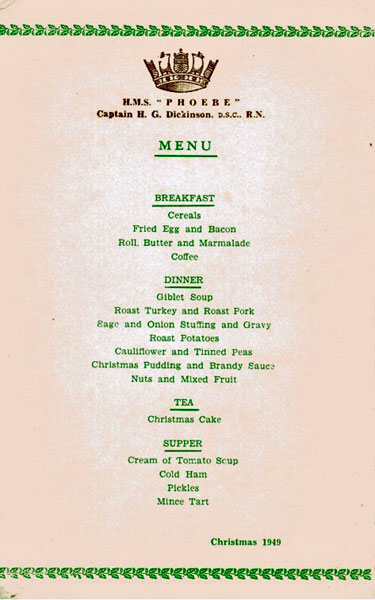 HMS Phoebe's Christmas Menu, 1949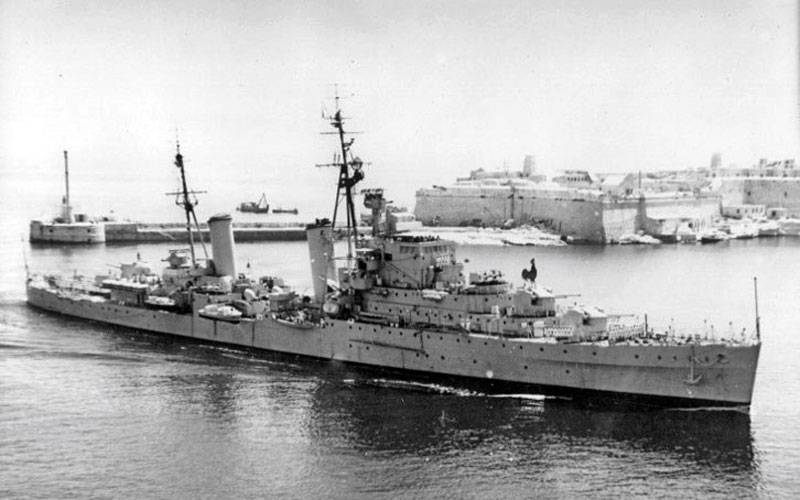 HMS Phoebe entering Grand Harbour, Malta, proudly displaying the "Cock of the Fleet" on her "B" turret after winning it at Marmarice, Turkey, in July 1950.
A resupply exercise. These photos from Terry Bateman might be of the exercise in October 1950 which ended with the collision of HMS Gambia and HMS Phoebe.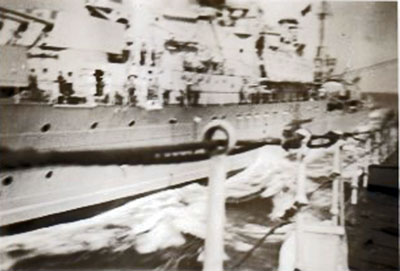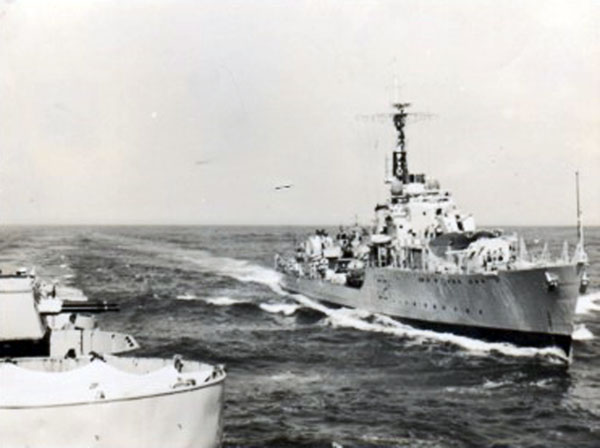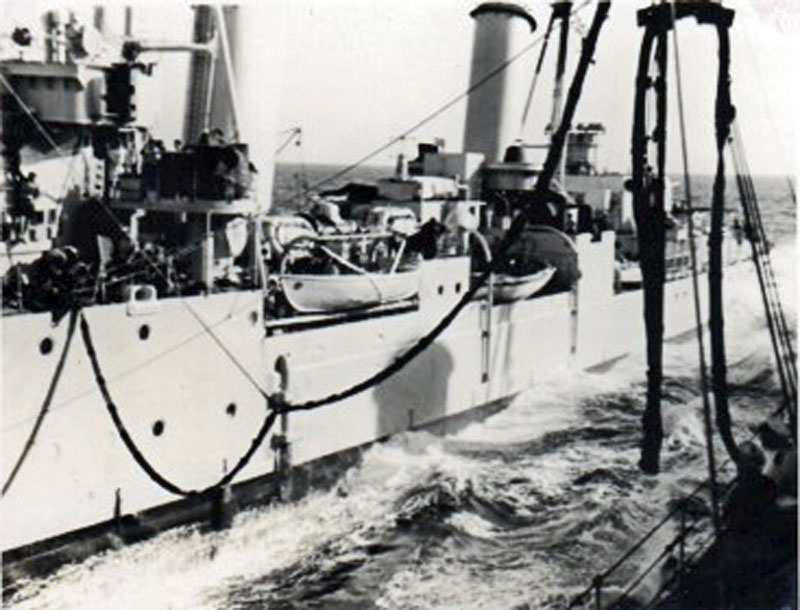 This page created 20th July 2019, last modified 21st July 2019