Information Wanted
I know very little about any of the crew of either HMS Gambia, Warrior or any other ship but now and then I get emails from people asking about crew members. If anyone has any information about any of the following I'll gladly pass it on. Probably one of the best sites to search for information or to contact someone would be the Forces Reunited web site.
I have received an email from Linda asking about Raymond Charles Hunt born 18/02/1928. He served on HMS Gambia and Warrior.
Paul Tindle emailed me saying his father Bill Tindle served on HMS Warrior in the 1950s.
I have received an email from Alaric Errington. He is trying to find anyone who knew his father, Peter Errington, who served on HMS Warrior. Alaric is unsure of when his father served but knows that he was at Christmas Island during the Bomb tests.
I have received an email saying that Naval Airman D. Warren (Bunny) served on Warrior in 1953-1954. He was in the same mess as Tony Pearce, Norman Ford, and Kingsley Jones and would like to contact any of his old shipmates.
The same month, I also got an email on behalf of William Burdett who also served on Warrior in 1953.
I have received an email from Bianca asking about her grandfather, Navigator Donald Watts.
I have received an email from Jackie Phillips asking about her father, Raymond John Heard, "Lofty" who served on HMS Warrior from 1951 to 1954.
I received an interesting email from Gordon King. Gordon wrote:
I served aboard HMS Warrior. I joined her in December 1948 after leaving boys training at HMS St. Vincent at the time she was doing jet trials in landing and taking off of jet aircraft off Spithead she had been fitted with a rubber blown up deck. I was only on her for 9 months.
In 1955, I was on board HMS Burghead Bay we had been down the Falklands as guard ship called into Montevideo [Uruguay] at the entrance to the River Plate there was an Argentinean carrier anchored there, she seemed very familiar, I am pretty sure it was the HMS Warrior now ARA Independencia.
Also, HMS Orion was the name of the reserve fleet at Devonport the two main ships used for accommodation were HMS Roberts and HMS Urylus.
I have received an email from David Judson asking for any information about his father, David Robert Worthington. He served on HMS Warrior in 1953. Although by 1956 he was possibly at Aircraft Handlers fire Station in Gosport
I received a very nice email from Geoff "Wiggy" Bennett saying the site brought back such great memories for him. He was serving in Warrior in 1953/54 and his mates were "Slinger" Woods and "Trog" Jackson. Trog lived in Preston, and we were all flight deck division aircraft handlers, fantastic crew, God bless them all.
Geoff also wants to know where he can get a copy of the book that was produced on the way back to the UK.
Caroline Oliver emailed me about her father, Albert "Olly" Oliver who served on the Warrior in the Korean War. He was an Aircraft Handler - commonly known as a "chockhead." Albert passed away in March 2018.
If any one has any information about any of these people then please email at the address below and I'll pass the message on
HMS Warrior's Crew
The following photographs are of my father and his shipmates aboard HMS Warrior. I know nothing at all about the people he served with apart from the nick names he gave them in the albums.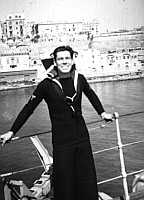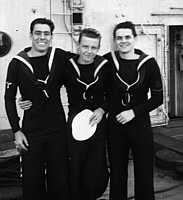 Dad ~ 1953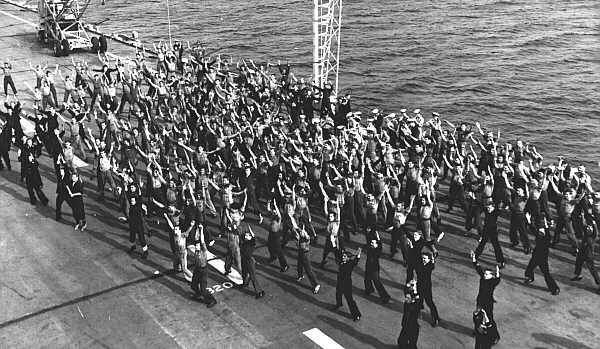 Getting rid of hangovers ~ HMS Warrior ~ 1953
In January 2005, Helen Adendorff signed my guestbook, saying that her father, Michael Martin, served on HMS Warrior in the 1950's as an aircraft mechanic. She very kindly sent me a photo...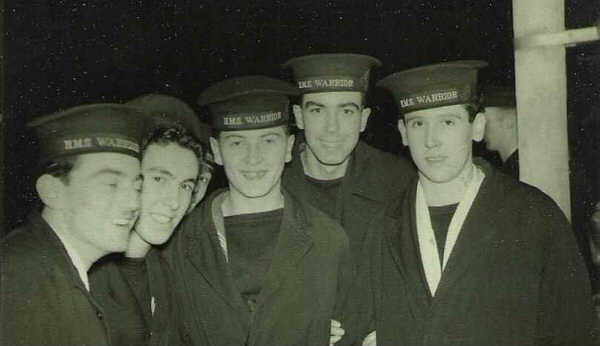 Michael Martin is on the right in this photo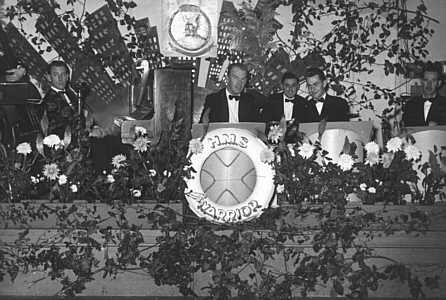 Ships concert ~ Kure, Japan ~ 1954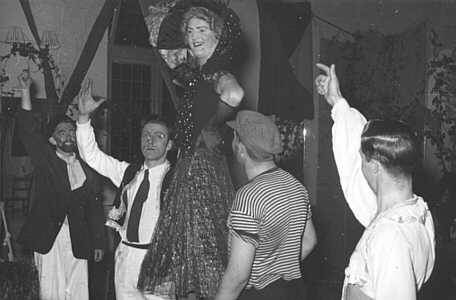 Madam Harrison ~ Ships concert ~ Kure, Japan ~ 1954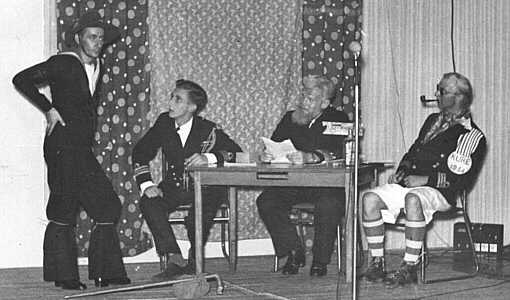 Navvy Jones ~ Ships concert ~ Kure, Japan ~ 1954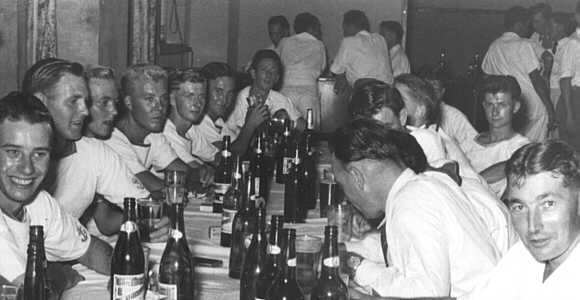 Beertime at the China Fleet Club ~ Hong Kong ~ 1954
In November 2018, I got a wonderful email from Susan Dooley about the above photo. There's a sailor leaning back from the table in the right-middle of the photo. That sailor is her dad, Frank "Yorkie" Rawson. Frank was an armourer and served on Warrior in 1953/4. He also played the euphonium and was in the ship's band and concert party. Frank recognized two of his shipmates in the photo, the 2nd and 4th people on the left. The first had the surname of Waddington or something similar and they both came from Yorkshire.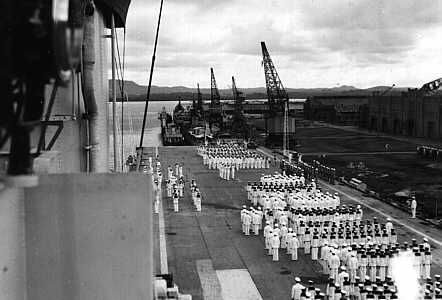 C in Cs Far East inspection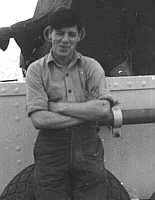 Alfie ~ 1953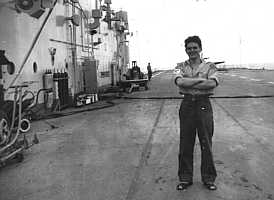 Buckie ~ 1953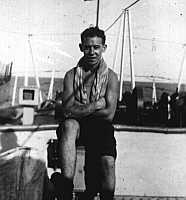 Wee Jock ~ 1953
In March 2015, I received an email from Linda Packham of Victoria, Australia telling of her father Raymond Charles Hunt who was born on February 18, 1928. She says that "Dad passed away in 2001 from a brain tumour also he had asbestosis dad was in the engine room I assume he was a stoker."
In September 2013, I received a great set of photos from Susan Davies of her father, Ernest William Lamb, who served in HMS Warrior in 1953. Susan said he hated being called Ernest and was always called Bill or by his nickname Chips. Susan said he would often talk fondly of his mates "Horse" and "Jock." I wonder if this is the same "Jock" whose picture also appears on this page?
Susan would love to hear from anyone who remembers Bill and we'd like to know anything else about these pictures.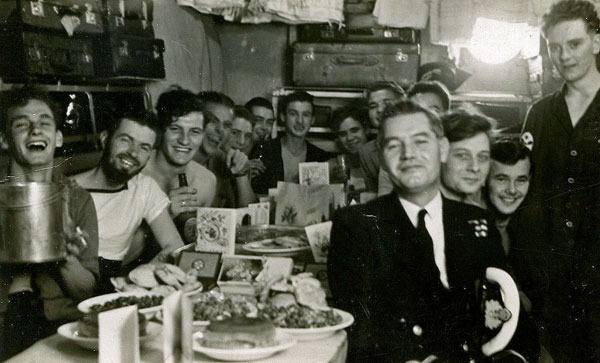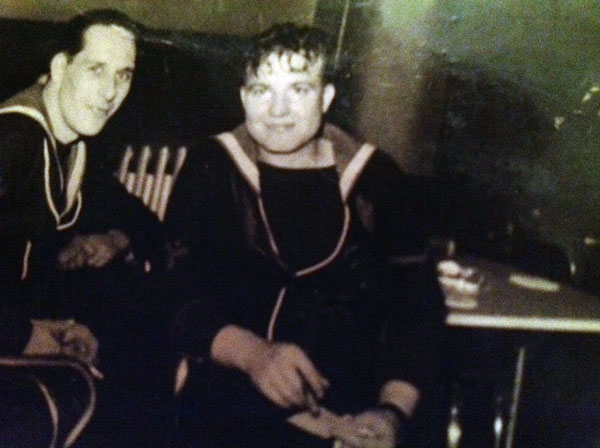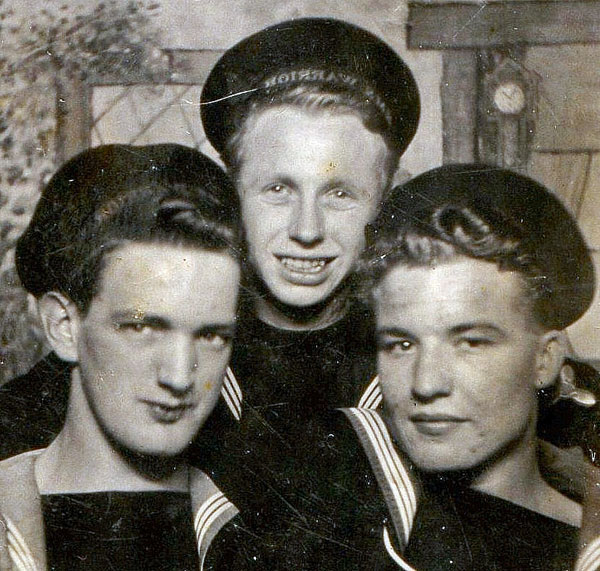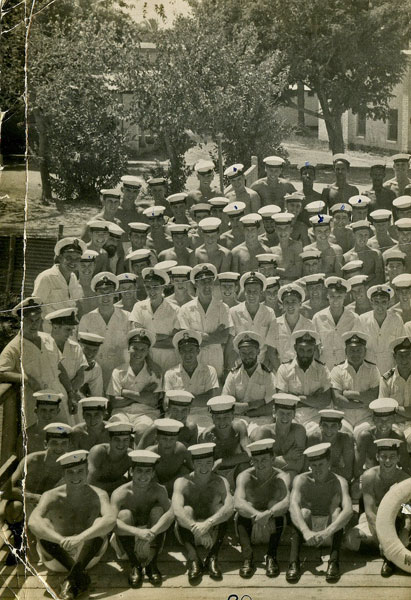 This page created 20th June 1999, last modified 24th December 2018