Peter sent me an email asking about his father, Terry Heath. Terry was a Petty Officer on Chevron when it was in the 1st destroyer squad in Cyprus. If anyone has any information about Terry Heath we'd be grateful if you could email me at brisray@yahoo.co.uk and I'll pass the message on.
Wayne contacted me about his father, Arthur Marston. Arthur was a gunner on HMS Chevron during WWII and both would like to know if there are any other veterans around and more of the history of the ship at this time.
I received an email from Will Hastie in Australia. He wrote "I remember the Chevron, it was back in 1966 she was still around in the bar boat basin at Rosyth. I had just finished decoaling HMS Barnstone and we all lugged our gear over to Chevron on completion. Chevron was in good nick then."
I received the following pictures and information from Ray Holden. Ray started emailing me back in 2001 and sent a lot of information and pictures. Ray obviously enjoyed his time in the Royal Navy and I'm very pleased to say he's given me permission to reproduce them here.
HMS Chevron's badge
Some facts about HMS Chevron
HMS Chevron was a C H Class Destroyer completed in 1945 and was built at Scotts at Greenock.
She was 362.75 ft. in length and a beam of 35ft. 75"
A draft of 10ft. and a displacement of 2,545 tons.
She had two Parsons geared steam turbine engines and two shafts. She developed 40,000 shp Horsepower
A top speed of 36.75knots, a usual maximum of 31.25 knots.
Endurance of 1,300 nautical miles at top speed.
Main armament was four 4.5" gun turrets.
2 40mm. Bofors mountings.
2 Sets of 4X21" torpedo tubes.
2 Stern racks for depth charges and 4 depth charge throwers.
A compliment of 222 oficers and men.
6th Destroyer Squadron
The squadron is seen here at 32Knots on it's way to Abadan to rescue oil workers, at the time of Dr Mussadiq. It seems that Mussadiq who was the Premier of Persia, now Iran, nationalized the oil installations in Abadan in June 1950. You can read more at the Canal Zone, part of the Britain's Small Wars website.
Ray writes :-
In the spring of 1951 I was drafted to HMS Liverpool, she was Flagship of the 1st Cruiser Squadron in Malta. Although I enjoyed my stay with her I didn't really take to big ship routine, I got on well with my mess mates and a few weeks after picking up my Able Seamans rate I was recommended for a Leading Rates course. Part of the way through this course, after eight months service on Liverpool I was drafted to HMS Chevron, she was tied up alongside in Malta dockyard.
On joining my messdeck I immediately noticed the friendliness of my new messmates more so than on Liverpool. Chevron was COCK OF THE FLEET an achievement taken over from Gambia after she left the station.
I took up my station as Tallboy operator on the radar set in the Transmitting Station and I felt very pleased with myself to find that it was my job to send all the projectiles on their way every time the Gunnery Officer dropped his hand on my right shoulder.
Then the Fleet Gunnery Shield came our way, Chevron on more than one occasion shot sleeve targets out of the sky with her main armament.
I spent a lot of time at Port Said on Liverpool and Chevron. On Chevron we used to run backwards and forwards between Cyprus and Port Said at the time of the terrorism in both places. I was awarded a medal for the Suez campaign with a bar denoting the Cyprus service. Men who fought terrorism in Egypt didn't get one because they obviously were not there at the time of the invasion. This is unfair because they fought for some years, many of them national service men.
Jackstay transfer between HMS Chevron and the aircraft carrier, HMS Glory
HMS Chevron at sea
This picture was taken from the aircraft carrier, HMS Glory
HMS Chevron's bridge, taken from HMS Glory
Another view of HMS Chevron's bridge, taken from HMS Glory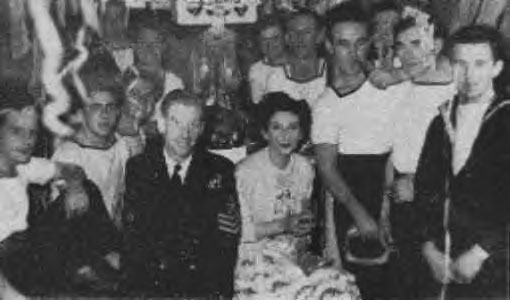 Christmas 1952, Chevron No. 1 Mess
Ray is in the back right hand corner second from the right.
The lady is the wife of the Petty Officer Cook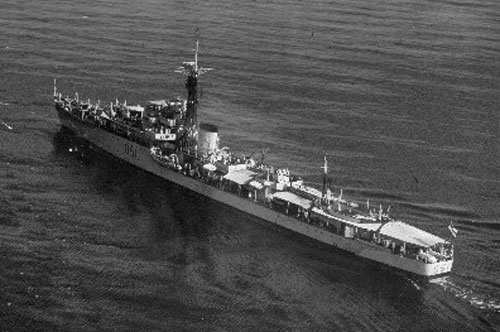 HMS Chevron entering Sliema Harbour, Malta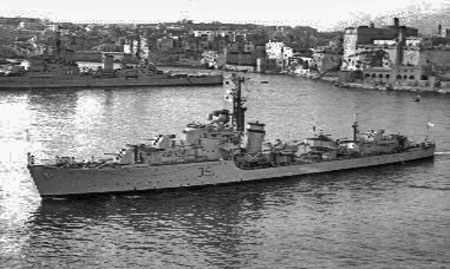 HMS Chevron in Valleta Harbour, Malta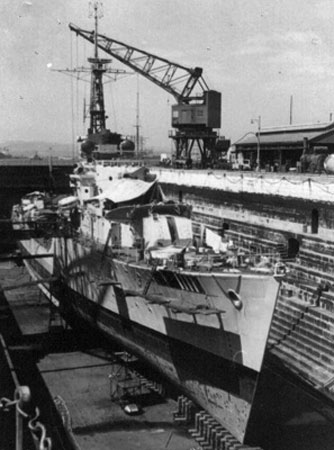 HMS Chevron in drydock, Malta 1953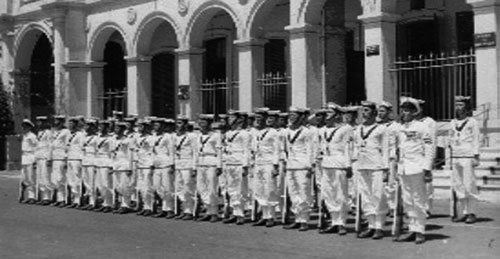 HMS Chevron's Coronation Guard, Port Said, 1953
This page created 28th April 2002, last modified 19th August 2016