More pictures and information from Ray Holden . . .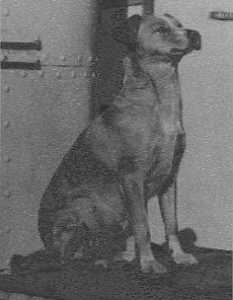 Jenny, the ship's mascot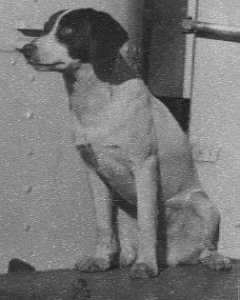 Bonce, son of Jenny
Both dogs were billeted with us in No1 Mess, when at sea, Jenny amused herself by chasing along the deck trying to catch the waves that broke over the decks, she never got washed overboard, in fact she didn't even get wet. As soon as the ships engines started up Bonce found himself a quiet corner and went to sleep, he wasn't a very good sailor. If it was very, very smooth he might have a little wander around just to make believe he was a Jack Me Hearty.
Lt. Cdr. Gleadowe, our No. 1 or (Jimmy) as they are known in the navy with Cdr Simon Yorke DSC.
Ray originally said it was probably ship Commander Cdr. Rose. Emails from Mike Sach and Mike Paine, Surg. Rear Admiral confirm it was Cdr Simon Yorke DSC. Rear Admiral Paine also adds that Cdr. Yorke was invalided out of the RN as a Captain.
The 1st Lt. (or Jimmy) was Lt Cdr. Gleadowe and officer and a gentleman, a very rare breed of officer indeed and his crew showed their respect by their achievements. In the spring of 1953, No.1 as he was called, was rated up to Commander and was posted back to the UK to join the board of the admiralty. The Lower Deck ratings of Chevron arranged a surprise party for him and his wife ashore in Valleta and he was presented with a silver tray and coffee set from his Lower Deck crew. In his last address to the crew her told us that when it was his turn to entertain the Brass Hats that coffee set would be on show because he was sure that no other officer could boast of a present like that, engraved from his crew.
Enter Lt.Cdr. Shaw a petty disciplinarian who had just spent five years behind a desk in Germany, in just a few weeks he destroyed everything No1 had worked for, men refused to enter the sports arena and reluctantly gave up their trophies. Chevron lost her coveted Gunnery Shield. At sea I put one foot outside the guardrail in order to catch a heaving line thrown by a sister ship coming alongside, Shaw put me on a charge, the first and only time in my service. He also took me off the Leading Seaman recommendation list.
Shortly after I was piped to the ships office to be told by the Leading Writer that I had overstayed my commission by three months and I was ordered back to the UK. Having to go back home had not even entered my head, I hadn't even given it a thought and I found myself in a position where I wanted to stay. Chevron was my home and my messmates my best friends. But at least I was out of Shaw's clutches, but Chevrons decline had not gone un-noticed by Captain "D" and he was relieved of his post and sent ashore. I flew home to the UK under the new admiralty system and was sent home for three months well earned leave, but the sadness of having lost Chevron and my mates was still there, she was without doubt my happiest ship.
In July 2003, I received an email from Mike Sach. He wrote that "Lt.Cmdr. Richard Gleadowe's wife is a close friend of my family. She would like you to know that she was deeply moved by Ray's memories of her husband and that she still treasures the engraved tray and silver tea set mentioned by him given to her husband on leaving H.M.S. Chevron. She believes that the Commander Rose shown with her husband in the photograph is in fact Cdr. Simon Yorke! Have you had any contact with any other shipmates? Are you aware that Cdr. Gleadowe was sadly killed in Malta whilst serving on the Commander in Chiefs Staff in July 1959? She would be pleased to hear from any former Chevron shipmates.
If anyone would like to contact Mrs Gleadowe I'd be happy to pass on Mike's email address to you.
Ray Holden in whites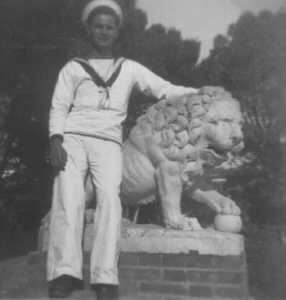 Ray and a pet on Capri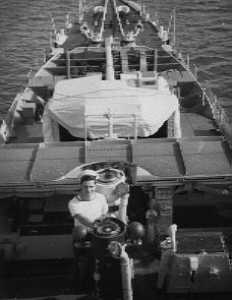 Ray on the bridge of HMS Chevron
The telegram to Ray informing him of the birth of his son
In January 2003, Ray emailed me this picture of his wife, Dorothy, and wrote "One picture I didn't send you was of my wife Dorothy who waited at home for me, with lots of anxious times. She had to endure the cruelty of having our first son two weeks after I left for abroad. In the back of an old wallet I found a poem I sent her."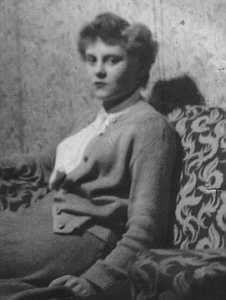 Ray's wife, Dorothy
Here's the poem he wrote to her :-
Lord never let her feel alone
Without someone to call her own
Don't let her think that countries far
Will ever take away the star
That she alone creates around
All other far off foreign ground
I'll pray she's waiting true and strong
If that is right I wont go wrong
So tell her with your gentle calm
To keep away from things that harm
Remind her that there'll be a day
When I'll be home no more to stray
Then dear Lord I'll love her more
Than she's been ever loved before
The things I've missed will all be there
Her smiling lips her gorgeous hair
The gentle precious hands
Of which I've dreamed whilst in the lands
That keep us far apart.
So tell her that I think of home
How could I let my fancies roam
When all they want to do is flow
Back to the one that I love so
Just tell her nothing can replace
The memory of her darling face
No matter where I go.
In the spring of 1954 I watched Chevron sail up Spithead flying one of the longest paying off pennants ever flown, she had never re-commissioned after going to Malta in 1945 her crew being relieved as when required.
She entered Portsmouth dockyard and her engines fell silent for the last time. I was able to meet some of my old mates but I never saw any of them again because I was later drafted to HMS Sheffield in Portsmouth dockyard and sailed for Malta in February 1955.
My first born child was due on 24th March and I requested a stay of execution but a signal came back from the CinC to say that childbirth was a natural event and that he could find no cause for compassion. Paul my son was eight months old when I first met him and that was not for long because I was drafted back to Malta to join the Suez Invasion Fleet. I will always remember Chevron as a very happy ship, with true comrades who were always ready to help one another out.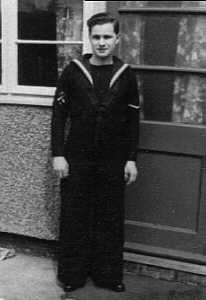 Ray at home
Chevron came home from the Med in 1954, about six to nine months after I left her, she was paid off and was never commissioned again. Although I was a Radar Rating I was attached to the Gunnery Branch.
Ray also sent this story :-
When I flew to Malta for Suez I joined the crew of HMS Retrieve, she was ex German captured in the war, a large lifting vessel that could lift thousands of tons by cable and also ballast tanks. The stern was U shaped which was called the "well " and from the deck high above the well were two huge lifting horns and hanging from them was a block and tackle which was absolutely enormous, the hawser from it went to a huge winding drum driven by a steam engine. This was the only engine that Retrieve had, she could not propel herself so had to be towed by tug. The tug eased us through the breakwater of Valleta Harbour and we were on our way in the wake of the fleet, main armament, one service revolver and one .303 Lee Enfield Rifle.
After a few hours we began to feel peckish, before this our meals were taken in Ricasoli Barracks. The Galley was deserted so we looked for the Cook but couldn't find him, this was because we didn't have one. However someone volunteered because he was good at cooking, the Pratt served us up burnt fish and chips. However we did later find an old hand who did the job well. The following day the Lookout reported that the Tug was signaling furiously, the Skipper, a Warrant rank from the Lower Deck sent for the signalman but he couldn't be found, because we hadn't got one of those either.
The Lower Deck was cleared of all seamen, twelve of us, we stood on the bridge and tried to recognise what letters we could and the Skipper wrote them down on a pad. After about twenty minutes we cracked it, "Inclement weather due, I am shortening the tow " The reply should have been, "message received and understood" but all the Tug got back was our Skipper's raised thumb. We were tied up against a sunken dredger in the outer Port Said Harbour and we watched Egyptians firing at one another, one faction in blue uniform a red fez the other in khaki battledress. An intelligence officer came on board and said to take no notice they had been at it for two days.
Our divers spent three days fixing hawsers and wotnot to the dredger but before we could start work we were called off because Foster Dulles had turned against his British allies. He made a bed for the Yanks that they are still lying on. The Army Commander in Chief addressed us telling us that it was a very professional job, but the politicians have sold you down the line. Luckily for Retrieve no one had told him about us. So we spent weeks tied up in Port Fouad, the Skipper got us as much beer as we wanted as long as we could pay for it. But we did have luxurious quarters a cabin bunk bed writing desk and wardrobe, much different to our usual sardine can. Not many serving men have ever heard of HMS Retrieve, certainly not the Cookery Branch or Signals Branch, no photos exist, I have looked.
John Hake very kindly emailed me in September 2003 and said that HMS Chevron was scrapped at Inverkeithing in December 1969.
John also said that "I was in the Royal Navy and in April 1967 I was drafted to HMS Cochrane at Rosyth. HMS Cochrane was the "naval barracks" at Rosyth and consisted of 3 accommodation ships. The first one was HMS Duncansby Head, an old WW2, Canadian built cargo ship, alongside that was HMS Girdle Ness another WW2, Canadian built cargo ship that has been converted to a guided weapons trial ship and alongside the Girdle Ness was HMS Chevron. We, as Cochrane ships company, were all accommodated on the Duncansby Head. Ships refitting in Rosyth would have their ships company accommodated in Girdle Ness and Chevron. The information I have is that the Chevron was scrapped at Inverkeithing in December 1969. The other two ships were scrapped in 1970 when proper shore side accommodation was built at Rosyth. My last ship was HMS Bristol and after 30 years she is still afloat and used as a harbour training ship in Portsmouth."
In April 2004, John Callus emailed me about his time in the Royal Navy.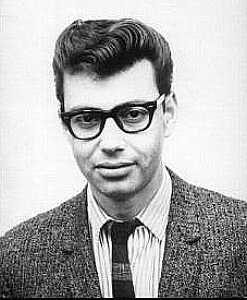 John Callus in 1951
From the several emails he sent, here's his story...
I am both Maltese and British as I was born in Floriana, Malta and my parents were Maltese, but as I spent 33 years in the UK I became a British Citizen and now I am back in Malta, I hold duel citizenship.
Anyway back to HMS Chevron. My story started when I was 15 years old and I was still at school. I got so fed up with that I started missing lessons and staying away in general. My Dad was a Leading Steward in the Royal Navy, when I decided to quit school and get a job. This was late in 1950. There was not many jobs to be had so my Dad suggested joining the NAAFI as a canteen assistant on HM Ships i.e. the Mediterranean fleet, so I started late in 1950 on the Frigate HMS Loch Scavaig. As my Dad was the Leading Steward on this ship my boss decided that it will be best to start me off with him. Anyway, after a couple of cruises to Italy the ship was going back to Chatham for paying off. As my Dad suffered badly with asthma he was taken off to go to a shore posting and he was given the post of steward to Lord Mountbatten in Malta.
That is how I got to England for the first time. We left Malta around October, 1951 and had to escort 4 wooden MTBs so it took nearly a month to get to Sheerness, because we stopped off in Gibraltar, Lisbon and Santander in Spain before we crossed the Bay and it was very rough. We got to Sheerness on a horrible wintry, foggy autumn evening in November, it was the sort of weather that I had never seen before. Then we went on to Pompey and eventually to Chatham and the manager and I were flown back to Malta 6 weeks later. I really liked Chatham and London and I started scheming about getting back permanently, which I eventually I managed to do.
Anyway, back to 1951. After being flown back to Malta, I was posted to another couple of ships, including HMS Glasgow and then to HMS Chevron in late 1952, and I spent nearly 2 years on that destroyer. I remember going to Crete as an escort for HMS Ocean and after that we went to Greece for the usual Regetta and of course Chevron was "The Ship". It won everything. After going back to Malta I had some shore leave. I was on HMS Chevron when it and HMS Chieftain escorted President Tito of Yugoslavia as far as Gibraltar and the Home Fleet took over then as he was visiting the UK on a State visit. He also invited us to visit Dubrovnik and a few days later we got as far as the harbour of that town but had to return back to Malta straight away as trouble was brewing in Egypt. We came back to Malta, loaded up with stores and went to Tripoli in Libya and picked up 200 commandoes and off we went to Port Said and up and down the canal to the Bitter Lakes for a good six months. This was early in 1953 as June the 2nd was my 18th birthday and of course it was Coronation Day. On that day I qualified for a tot of rum.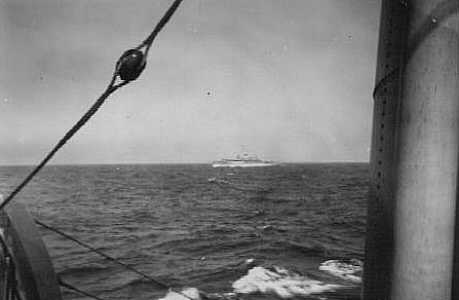 Tito's yacht from HMS Chevron
I also remember HMS FORT having some sort of explosion one Sunday in Port Said and having divers go down and inspect the hulls of the ships for mines. Yet the Royal Navy says that I have no proof that I was on HMS Chevron at the time. The NAAFI can't help either because all records have disappeared. After Port Said and the Canal Zone the ship went to Haifa in Israel and we were the first British Navy Ship to visit Israel and when we left we gave the Israelis a fireworks display from outside the harbour, and the we carried on to Famagusta, Cyprus for a few days before we returned to Malta.
I left the NAAFI early in 1954 and joined the Royal Malta Artillery but I transferred to the Royal Army Service Corps and was taken to England and after some more training I was posted to Germany early in 1955, where I spent just over 2 years before being demobbed in 1957. After which I settled in Walthamstow, London where I spent 31 years before I retired early and returned back home to Malta in 1988, where I now live, but my children and grandchildren still live in the UK.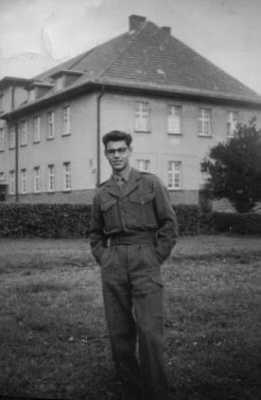 John Callus in front of the barracks, Delmenhorst, Germany.
Delmenhorst is around 15km from Bremen.
I certainly had a very good comradeship on HMS Chevron as I used to be in the Boy's Mess. Early this year [2004] we were told that a medal was being given to anybody that was in the Suez region for 3 months or more from 1952 to 53, I did apply but because the NAAFI was disbanded some years ago all the records of employees were lost and there is no way I can prove that I actually was in the NAAFI on HM Ships. I was also stationed on HMS Glasgow and other ships but cannot remember their name, but the Chevron was the best.
I have been trying to get the New Service Medal for the time I spent in the Canal Zone, Port Said and Port Fuad in 1953. In fact on Coronation day it was my 18th birthday and I remember the parade and the double ration of rum. I shall never forget the time I spent on the Chevron.
If anyone can help John, or anyone else, with the Suez medal I'd appreciate it if you'd email me at brisray@yahoo.co.uk
Mike Putt emailed me in November 2008:
My late father; Arthur Putt was in the navy man and boy until 1960, he was a Chief E/A in the Mediterranean fleet based in Malta from 1950 (ish) until the Chevron was decommissioned, he sailed back to the UK on her.
Mike blake emailed me in October 2016:
My father served on the Chevron. He was radar; his commanding officer was Cmdr Yorke. My father always said it was his favourite ship. He met my mother when he came home, when the ship was decommissioned. My father's name was Bob Blake; sadly he died several years ago. He would have loved this site.
Fred Burt emailed me in July 2004 with an interesting story concerning HMS Girdle Ness mentioned above. Fred, who was part of the ships company in Malta in 1959 and was the sea slug magazine operator, is trying to find what happened to the ship' bell. This is for a very special reason, and one I haven't heard of before - his daughter's name is engraved on the inner ring of it. Dawn Belinda Burt was christened onboard HMS Girdle Ness and the bell was used as the font. If anyone knows where the bell is we'd be very grateful if you'd email me at brisray@yahoo.co.uk
The sea slug missile system was developed in the 1950's and used during the 1982 Falklands War. See the Skomer site for an image.
Fred thinks he's now (November 2004) found the bell in Carmarthen and is waiting to hear back from the Royal Navy Association about it.
In February 2005, Fred sent me the following photographs of the bell...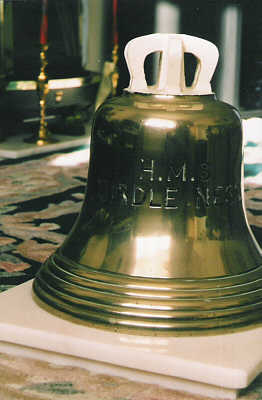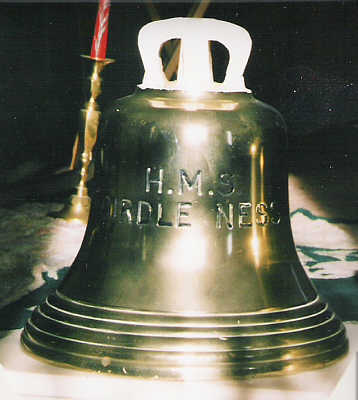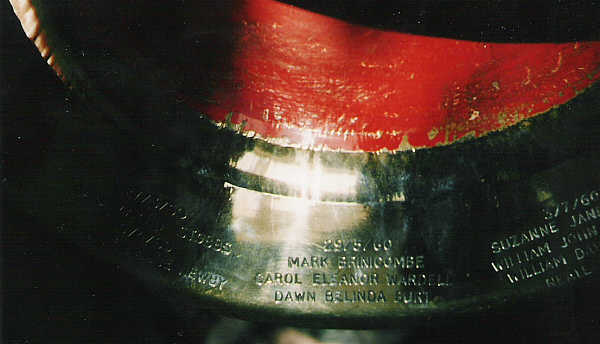 Fred also wants me to publicize the fact that that he traces people for free. If you need need to find a long lost shipmate, then Fred's your man.
Interestingly, in September 2004, I received an email from Phil Paton who is looking for HMS Hartland Point's bell - and for the same reason that Fred is looking for HMS Girdle Ness's. Phil was christened on board HMS Hartland Point in Singapore Bay in November 1964 and has been looking for the bell for almost 30 years.
If anyone knows where the bells are we'd be very grateful if you'd email me at brisray@yahoo.co.uk. In fact, I'd be very interested in knowing what happens to a ship's bell once the ship is scrapped. Is it whoever gets there first grabs it and runs or is there a procedure for them, like being given to the ship's Captain or Association?
This page created 28th April 2002, last modified 24th October 2017