The following photographs are of my father and his shipmates aboard HMS Gambia. I know nothing at all about the people he served with apart from the nick names he gave them in the albums.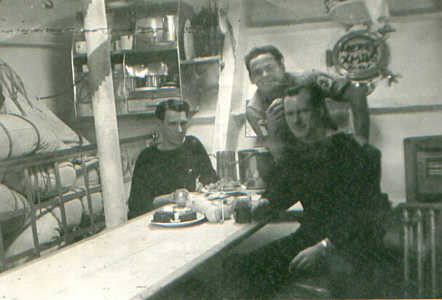 These three are Denys Powell's friends. This was taken one Christmas, but I don't know what year.
This photo was kindly sent to me by his daughter, Anita Neads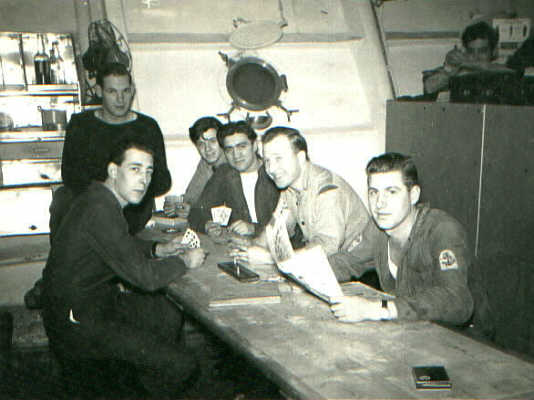 Denys Powell is on the right of this photograph which may have been taken on HMS Gambia
This is another photograph from Anita Neads
Union Jack Club - Karachi - Feb 1952
One of Steve McAllister's photographs. He writes "unfortunately, I don't know the name of any of the gentlemen in the picture, but I'd love to the name the two on the left of my Grandad, he's the one in the centre with a dodgy beard, because the're in quite a few of my grandad's pictures."
Ken Booth, that mine of information, says that the man to Alan's right is Danny McAlinden and the one next to him is L.E.M. Gordon Ross.
Seamen's Mess ~ Christmas Day at Port Said , Egypt ~ 1952
As Dads originalcaption says "Just the Life"
Andy ~ 1950
Billy ~ 1951
Bob ~ 1950
Ken Booth (General) ~ 1950
In July 2001, Mr Ken Booth emailed me. He was L.E.M. on Gambia and wasnicknamed General. Originally I incorrectly put his nickname as Peanut. Ken explains :-
I did have a strong connection with Peanut, it being the Peanut Club, started during the WW2 to support Sir Archibald McIndoe, the Plastic Surgeon who rebuilt the faces etc. of servicemen burnt in action. The badges that I sold for one shilling were small yellow discs with an unshelled peanut on it. I sold hundreds of these on many ships and in pubs all over the place. It was a crime to be found without your badge on you, so much so that when you went for a shower the lads would keep them in their mouths! After selling so many hundred I would get a Peanut Medal, this was a peanut hanging on a bar on a ribbon, there were five different colours of ribbon until you got to the top which was a Gold peanut, which I still have. I also like peanut butter!!
Ken was Treasurer of the HMS Gambia Association for its first eight years. He said that there was a crew of 650 plus men on the Gambia but could usually find around 140 of them from each commission. Hopefully a few more may find sites such as this and get in contact with the Association.
There is more about the Peanut Club, plastic surgery and the Guinea Pig Club.
Bradley ~ 1950
Bris ~ 1950
Conny ~ 1950
'Golfer' Cosgrove ~ 1951
'Explorer' Dyson ~ 1951
The man on the left is Alan Goodwin
This picture was taken in the Upper Barracca Gardens in Malta, during the first Summer cruise in 1951
One of Steve McAllister's photographs
Ken Booth writes that the man with Alan is "Fred Harling from Banbury. He was sent home part way through the commission, with if I remember correctly, T.B."
Alan Goodwin at a rest camp at Colombo in Ceylon
This is one of Steven McAllister's photographs, he writes "sadly, I know very little about this picture, but it's my favourite one of my Grandad. All I know, is that it was taken at a rest camp in Colombo, Ceylon. I know it was taken while he was on the Gambia, possibly while on the 2nd Summer Cruise, down the coast of India."
Ken Booth adds that the rest camp at was at Dyatalawa, which is quite some way from Colombo. Having travelled back from the camp to the ship, which was in dry dock in Colombo, through the night by train, was not to be forgotten. I still have the marks from the seats!
Jan ~ 1950
Jaques ~ 1951
Jenks ~ 1950 / 1951
(I'm not too sure if these are two different people)
This page created 22nd July 1999, last modified 18th January 2016