The following photographs are of my father and his shipmates aboard HMS Gambia. I know nothing at all about the people he served with apart from the nick names he gave them in the albums.
Johnnie ~ 1951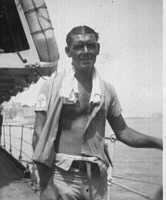 Joney ~ 1950
The funeral of A/B Kerr, drowned whilst sailing on Victoria Lake, Rangoon, 1951
You can read more about this sad incident on the old HMS Gambia Association site.
Reggie (Fatty) Ford ~ 1950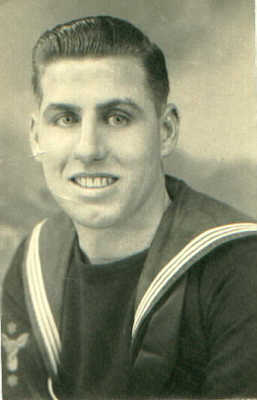 Dennis Powell
Denys Powell served on HMS Gambia from 1949 to 1952.
These photographs of him were kindly sent to me by his daughter, Anita Neads.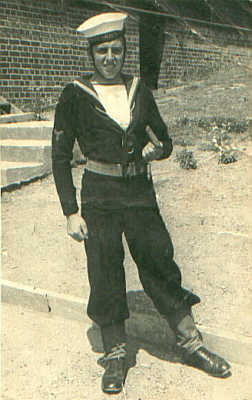 Denys Powell, 26th June 1949
Scouse ~ 1950
Sweety ~ 1950
Taff ~ 1951
Is this Bill "Taffy" Flage? If you know, please email at brisray@yahoo.co.uk. His son, John, would like to hear from soneone who knew him.
This is a photograph was kindly sent by Paul Stanley and shows the Gambia's Hockey team of 1955
Stirring the Christmas Pudding - December 1955
Another photograph kindly sent by Paul Stanley. From left to right :-
Ck Morrisey, Mne Ck Whitehead, Ck Jenkins, P.O. Ck Ford, P.O. Ck Bennet, Cdr Trythall, C.P.O. Ck Heath, P.O. Ck Newell.
I don't know how they did it, but the animals look none too happy
This page created 2nd December 2003, last modified 18th January 2016