HomePage | Optical Illusions | War Stories | QBasic | Dads Navy Days | Bristol | Bristol, USA | Bristol, Canada | Terre Haute | Miscellany | Web Stuff | About Ray | Site Map | Site Search | Messages | Credits | Links | Web Rings
Dads Navy Days | A brief history | Documents (Page 1), (Page 2), (Page 3) | Maps (Page 1), (Page 2) | HMS Gambia - ship (1950), (1951), (1952) | Collision (Page 1), (Page 2) | HMS Gambia - crew (Page 1), (Page 2), (Page 3), (Page 4) | HMS Gambia - places (1950), (1951) | HMS Gambia - visitors | HMS Warrior - ship (1953), (Vietnam), (1954), (Equator), (Life), (More 1954) | HMS Warrior - crew | HMS Warrior - places (Page 1), (Page 2) | HMS Warrior - planes (Page 1), (Page 2), (Page 3) | Other ships (Page 1), (Page 2), (Page 3), (Page 4), (Page 5) | Before & After | ARA Independencia (Page 1), (Page 2), (Page 3), (Page 4), (Page 5), (Page 6) | Spithead '53 (Page 1), (Page 2) | HMS Chevron (Page 1), (Page 2) | HMS Liverpool | HMS Cook | Peanut Club | Other Sites
1st Cruiser Squadron - Mediterranean - 1951
In November 2001, Ray Holden sent me this photograph taken in 1951 from HMS Liverpool, the ship he served on. He said " The picture is of 1st Cruiser Squadron in Med 1951, the cruiser trying to take our stern off is HMS Kenya."
At first the ship was thought to be HMS Gambia but it is HMS Kenya as there are no director platforms on the front of the bridge. HMS Gambia had platforms that jutted out above B turret.
HMS Kenya from HMS Sheffield
This photograph from Ray Holden shows a jackstay being prepared on HMS Sheffield for a transfer to HMS Kenya
HMS Kite - taken on the Mersey soon after completion in 1943
In November 2001, Ray Holden sent me this photograph and the following notes on the ship :-
She was a modified Black Swan Class sloop, built and engined by Cammell Laird, Birkenhead. Launched 13 October 1942 completed March 1943. She was off 1350 tons displacement, 299 ft 6" long, 38ft 6" beam, draft of 11ft 5", She had a top speed of 19.7 knots

Her armament consisted of 2 twin 4" HA/LA Guns 2x2 pdr. 4 barrelled Pom Poms 2 20mm Oerlikons and two .3" twin machine guns. Anti Sub. weapons 2 Stern Rollers and two light and two heavy Rail Throwers for depth charges. She carried 112 depth charges.

She became a founder member of 2nd Support Group based at Liverpool, their job to escort convoys in and out of The Western Approaches. Their signature tune, always played when they left or entered harbour, was "A Hunting We Will Go".

The Ship was adopted by the town of Braintree, Essex, and at this time (November 2001) they are setting up a permanent exhibition to HMS Kite, all photos from The Kite Pages are going there.
Battle Honours
Biscay - 1943
Atlantic - 1943-44
Normandy - 1944
Arctic - 1944
HMS Jamaica
A Colony Class cruiser - photo sent by Ray Holden
Oiling HMS Peacock from HMS Gambia ~ 1950
HMS Peacock ~ 1950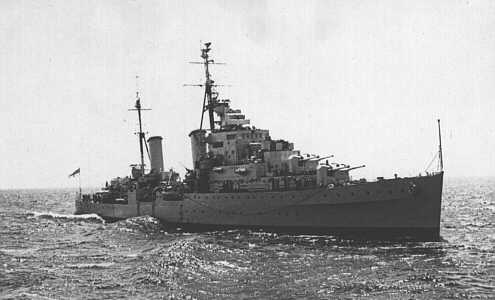 HMS Pheobe - 1951
USS Renshaw ~ a destroyer ~ 1953
The following photographs are of a torpedo firing exercise from HMS Sheffield. All four photographs were very kindly sent to me by Ray Holden in January 2003
A torpedo being fired from HMS Sheffield
A torpedo being fired from HMS Sheffield
The target is the destroyers on the horizon. The torpedoes were set to go deep so that they passed under the target
HMS Sheffield - Torpedo recovery
After the firings the torpedoes had to be recovered by these boat crews
HMS Tariq ~ Drogomensti, Greece ~ 1950
An enlargement of HMS Tariq at Dragomesti, Greece ~ 1950
Dads Navy Days | A brief history | Documents (Page 1), (Page 2), (Page 3) | Maps (Page 1), (Page 2) | HMS Gambia - ship (1950), (1951), (1952) | Collision (Page 1), (Page 2) | HMS Gambia - crew (Page 1), (Page 2), (Page 3), (Page 4) | HMS Gambia - places (1950), (1951) | HMS Gambia - visitors | HMS Warrior - ship (1953), (Vietnam), (1954), (Equator), (Life), (More 1954) | HMS Warrior - crew | HMS Warrior - places (Page 1), (Page 2) | HMS Warrior - planes (Page 1), (Page 2), (Page 3) | Other ships (Page 1), (Page 2), (Page 3), (Page 4), (Page 5) | Before & After | ARA Independencia (Page 1), (Page 2), (Page 3), (Page 4), (Page 5), (Page 6) | Spithead '53 (Page 1), (Page 2) | HMS Chevron (Page 1), (Page 2) | HMS Liverpool | HMS Cook | Peanut Club | Other Sites
HomePage | Optical Illusions | War Stories | QBasic | Dads Navy Days | Bristol | Bristol, USA | Bristol, Canada | Terre Haute | Miscellany | Web Stuff | About Ray | Site Map | Site Search | Messages | Credits | Links | Web Rings
This page last modified 18th April 2005