HomePage | Optical Illusions | War Stories | QBasic | Dads Navy Days | Bristol | Bristol, USA | Bristol, Canada | Terre Haute | Miscellany | Web Stuff | About Ray | Site Map | Site Search | Messages | Credits | Links | Web Rings
Dads Navy Days | A brief history | Documents (Page 1), (Page 2), (Page 3) | Maps (Page 1), (Page 2) | HMS Gambia - ship (1950), (1951), (1952) | Collision (Page 1), (Page 2) | HMS Gambia - crew (Page 1), (Page 2), (Page 3), (Page 4) | HMS Gambia - places (1950), (1951) | HMS Gambia - visitors | HMS Warrior - ship (1953), (Vietnam), (1954), (Equator), (Life), (More 1954) | HMS Warrior - crew | HMS Warrior - places (Page 1), (Page 2) | HMS Warrior - planes (Page 1), (Page 2), (Page 3) | Other ships (Page 1), (Page 2), (Page 3), (Page 4), (Page 5) | Before & After | ARA Independencia (Page 1), (Page 2), (Page 3), (Page 4), (Page 5), (Page 6) | Spithead '53 (Page 1), (Page 2) | HMS Chevron (Page 1), (Page 2) | HMS Liverpool | HMS Cook | Peanut Club | Other Sites
HMS Vanguard ~ 1951
HMS Vanguard ~ 1952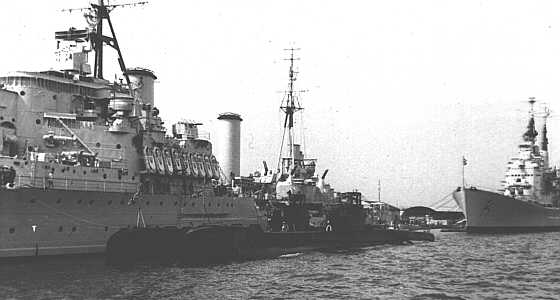 HMS Gambia, Vanguard and two submarines ~ Gibraltar ~ 1952
HMS Wrangler ~ Tobermory Bay, Mull
This is the ship that dad trained in, so the photo must have been taken 1949 / 1950
Both the pictures, above and below, are labelled in the albums as HMS Wrangler - but one has the characters D158 and the other R48. I had no idea why this should be, but I received an email from Tom Spowart who served in the Canadian Royal Navy (his web page can be seen at My Royal Canadian Navy which probably explains it.
"The photos give me impression it was a "V" class destroyer and at the closing of World War II Canada received two such ships from the Royal Navy, HMS Vixen, pennant number R64 and HMS Valentine pennant number R17. After major refits, Vixen was subsequently renamed as HMCS Sioux with pennant number 225 and Valentine became HMCS Algonquin pennant number 224. I served on the Sioux during the early 1950's.
It is quite possible that all "V" class British ships had an "R" pennant number and possible later changed them as they had refits which may have redesignated them as different classes of destroyers."
My thanks to Jerry Proc for pointing out an error, now corrected, in the above text. Jerry's website, VE3FAB, has a history of both of these ships.
HMS Wrangler
Grand Harbour, Valleta - 1955
This is another of Ray Holden's photographs. This one he sent to me in January 2002. He writes "The 1st Cruiser Squadron used to tie up on the far side. This picture was taken in 1955 when Sheffield was flagship, that's her second from left. The ship behind is Kenya, this is where Gambia used to tie up behind her flagship which was Liverpool."
Dads Navy Days | A brief history | Documents (Page 1), (Page 2), (Page 3) | Maps (Page 1), (Page 2) | HMS Gambia - ship (1950), (1951), (1952) | Collision (Page 1), (Page 2) | HMS Gambia - crew (Page 1), (Page 2), (Page 3), (Page 4) | HMS Gambia - places (1950), (1951) | HMS Gambia - visitors | HMS Warrior - ship (1953), (Vietnam), (1954), (Equator), (Life), (More 1954) | HMS Warrior - crew | HMS Warrior - places (Page 1), (Page 2) | HMS Warrior - planes (Page 1), (Page 2), (Page 3) | Other ships (Page 1), (Page 2), (Page 3), (Page 4), (Page 5) | Before & After | ARA Independencia (Page 1), (Page 2), (Page 3), (Page 4), (Page 5), (Page 6) | Spithead '53 (Page 1), (Page 2) | HMS Chevron (Page 1), (Page 2) | HMS Liverpool | HMS Cook | Peanut Club | Other Sites
HomePage | Optical Illusions | War Stories | QBasic | Dads Navy Days | Bristol | Bristol, USA | Bristol, Canada | Terre Haute | Miscellany | Web Stuff | About Ray | Site Map | Site Search | Messages | Credits | Links | Web Rings
This page last modified 18th April 2005