1954 began with new communist offensives menacing South Vietnam, central and northern Laos, and the northeast of Cambodia. On May 8, 1954, the French base at Dien Bien Phu suffered a major defeat after a heavy artillery attack. The French forces in North Vietnam evacuated to below the 16th parallel. Bao Dai wished to lead the country with the support of the United States, but a referendum held in October decided to uphold Ngo Dinh Diem. Bao Dai was deposed on October 26, 1955, marking the end of the Nguyen Dynasty and the beginning of the Republic of South Vietnam.
The war for independence officially ended on July 20, 1954, after the long negotiations in Geneva. In finally gaining full national independence, Vietnam lost its unity. The Geneva agreement signed in August 1954, divided the country at the 17th parallel pending general elections previewed for the middle of 1956. The North became the Democratic Republic of Vietnam under the leadership of the Lao Dong party and the South became the Republic of South Vietnam. In April 1956 the last French troops left Vietnam.
The above extract from the History of Vietnam :- http://www.vwam.com/vets/anticolonial.html
This page is of HMS Warriors part in the evacuation.
Thaiphong (Vietnam) Evacuation ~ 31 Aug - 15 September
A total of 3,188 refugees were taken in two journeys South from Haipong to St. Jaques
There are two figures of the number of refugees. The figure of 3,188 is taken from one of HMS Warrior's 'seatime' postcards. The Presidential Citation gives the figure as 3,221.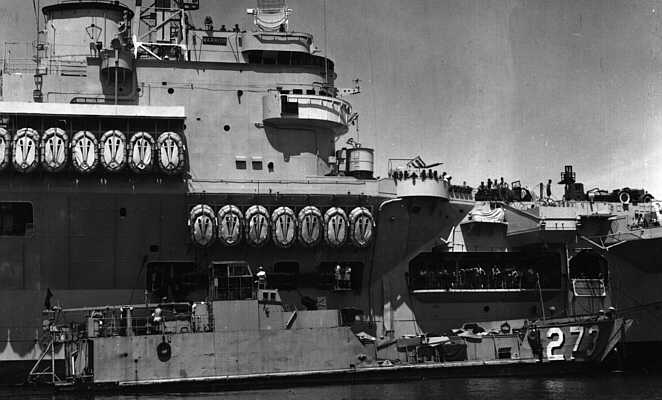 HMS Warrior and landing craft ~ Vietnam ~ 1954
Taking Vietnamese refugees from Haiphong to Saigon ~ 1954
Vietnamese refugees ~ 1954
Delousing ~ 1954
Wash time ~ 1954
Chow time ~ 1954
Hanger deck ~ 1954
This photo was captioned 'Battle Honours'
Tony Pearce in his email of November 2000 wrote "Imagine what it felt like when looking through your pictures suddenly to see the one of the "Battle Honours" which I painted 46 years ago. This was to celebrate the birth of three babies on the journey from Haiphong down to Saigon and was displayed on the side of the ship's island as we went into Hong Kong." Another ex-Warrior sailor, Brian Graham Taylor also remembers these "Battle Honours".
In February 2004, I received an email from Gareth Knott. The birth of his father on 19th May 1954, is represented by one of the storks. Gareth's grandfather, Ken Knott served on board Warrior for most of that year.
This page created 14th June 1999, last modified 17th September 2017