HomePage | Optical Illusions | War Stories | QBasic | Dads Navy Days | Bristol | Bristol, USA | Bristol, Canada | Terre Haute | Miscellany | Web Stuff | About Ray | Site Map | Site Search | Messages | Credits | Links | Web Rings
Dads Navy Days | A brief history | Documents (Page 1), (Page 2), (Page 3) | Maps (Page 1), (Page 2) | HMS Gambia - ship (1950), (1951), (1952) | Collision (Page 1), (Page 2) | HMS Gambia - crew (Page 1), (Page 2), (Page 3), (Page 4) | HMS Gambia - places (1950), (1951) | HMS Gambia - visitors | HMS Warrior - ship (1953), (Vietnam), (1954), (Equator), (Life), (More 1954) | HMS Warrior - crew | HMS Warrior - places (Page 1), (Page 2) | HMS Warrior - planes (Page 1), (Page 2), (Page 3), | Other ships (Page 1), (Page 3), (Page 3), (Page 4), (Page 5) | Before & After | ARA Independencia (Page 1), (Page 2), (Page 3), (Page 4), (Page 5), (Page 6) | Spithead '53 (Page 1), (Page 2) | HMS Chevron (Page 1), (Page 2) | HMS Liverpool | HMS Cook | Peanut Club | Other Sites
HMS Warrior in Vietnam
1954 began with new communist offensives menacing South Vietnam, central and northern Laos, and the northeast of Cambodia. On May 8, 1954, the French base at Dien Bien Phu suffered a major defeat after a heavy artillery attack. The French forces in North Vietnam evacuated to below the 16th parallel. Bao Dai wished to lead the country with the support of the United States, but a referendum held in October decided to uphold Ngo Dinh Diem. Bao Dai was deposed on October 26, 1955, marking the end of the Nguyen Dynasty and the beginning of the Republic of South Vietnam.
The war for independence officially ended on July 20, 1954, after the long negotiations in Geneva. In finally gaining full national independence, Vietnam lost its unity. The Geneva agreement signed in August 1954, divided the country at the 17th parallel pending general elections previewed for the middle of 1956. The North became the Democratic Republic of Vietnam under the leadership of the Lao Dong party and the South became the Republic of South Vietnam. In April 1956 the last French troops left Vietnam.
The above extract from the History of Vietnam :- http://www.vwam.com/vets/anticolonial.html
This page is of HMS Warriors part in the evacuation.
Thaiphong (Vietnam) Evacuation ~ 31 Aug - 15 September
A total of 3,188 refugees were taken in two journeys South from Haipong to St. Jaques
There are two figures of the number of refugees. The figure of 3,188 is taken from one of HMS Warrior's 'seatime' postcards. The Presidential Citation gives the figure as 3,221.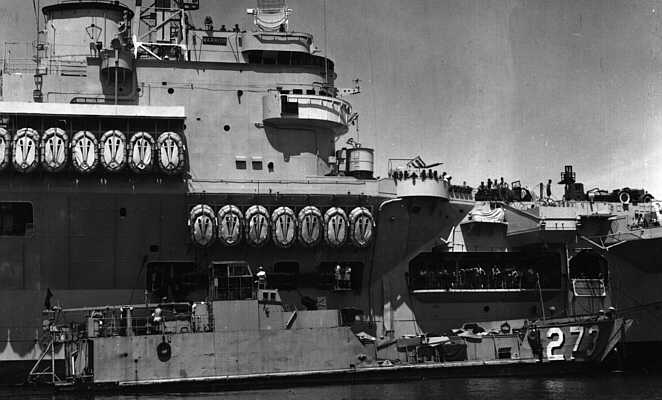 HMS Warrior and landing craft ~ Vietnam ~ 1954
Taking Vietnamese refugees from Haiphong to Saigon ~ 1954
Vietnamese refugees ~ 1954
Delousing ~ 1954
Wash time ~ 1954
Chow time ~ 1954
Hanger deck ~ 1954
Dads Navy Days | A brief history | Documents (Page 1), (Page 2), (Page 3) | Maps (Page 1), (Page 2) | HMS Gambia - ship (1950), (1951), (1952) | Collision (Page 1), (Page 2) | HMS Gambia - crew (Page 1), (Page 2), (Page 3), (Page 4) | HMS Gambia - places (1950), (1951) | HMS Gambia - visitors | HMS Warrior - ship (1953), (Vietnam), (1954), (Equator), (Life), (More 1954) | HMS Warrior - crew | HMS Warrior - places (Page 1), (Page 2) | HMS Warrior - planes (Page 1), (Page 2), (Page 3), | Other ships (Page 1), (Page 3), (Page 3), (Page 4), (Page 5) | Before & After | ARA Independencia (Page 1), (Page 2), (Page 3), (Page 4), (Page 5), (Page 6) | Spithead '53 (Page 1), (Page 2) | HMS Chevron (Page 1), (Page 2) | HMS Liverpool | HMS Cook | Peanut Club | Other Sites
HomePage | Optical Illusions | War Stories | QBasic | Dads Navy Days | Bristol | Bristol, USA | Bristol, Canada | Terre Haute | Miscellany | Web Stuff | About Ray | Site Map | Site Search | Messages | Credits | Links | Web Rings
This page last modified 18th April 2005