HomePage | Optical Illusions | War Stories | QBasic | Dads Navy Days | Bristol | Bristol, USA | Bristol, Canada | Terre Haute | Miscellany | Web Stuff | About Ray | Site Map | Site Search | Messages | Credits | Links | Web Rings
Bristol, USA | Colorado | Florida | Georgia | Illinois | Indiana | Iowa | Minnesota | New York | South Dakota (Page 1), (Page 2) | Tennessee / Virginia | Wisconsin | Alaska
Bristol - Tennessee / Virginia
Population (2000) - TN - 24,821 + VA - 17,367 = 42,188
Another Bristol we visited on our trip down from Indiana to Florida in December 2001.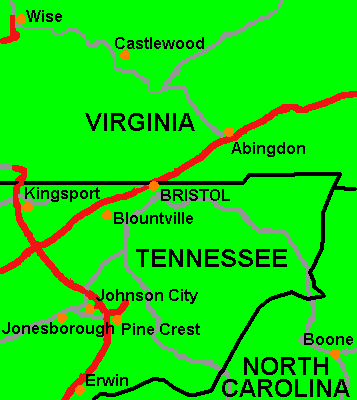 Bristol - Virginia / Tennessee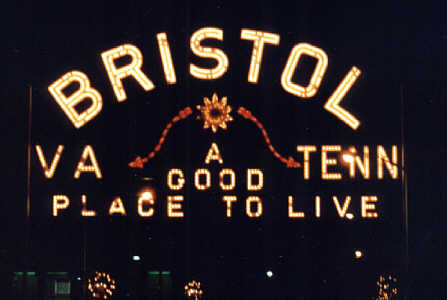 Bristol Virginia / Tennessee
The town is unusual in that half of it is in Virginia and the other half in Tennessee. The street sign, which was placed on the National Register of Historic Places on 8th September 1988, is above State Street which is the dividing line between the two states. The sign has an interesting history all of it's own, it was first erected in 1910 on top of a hardware store. In 1915 it was moved to it's present site. It originally read "Push - That's Bristol" but was changed to the current motto in the 1920's. The present sign contains 1,332 light bulbs.
Bristol has a well documented history. The information about the sign comes from "The Historic Bristol Sign", there is also a history in pictures of Bristol in "The Passing Years". Both are published by the Bristol Historical Association at P.O. Box 204, Bristol, Tennessee-Virginia 37621. Some of the websites about Bristol also contain a history of the town.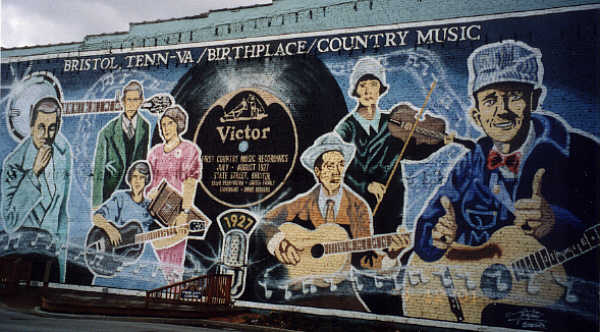 Birthplace of Country Music
In August 1927 the Carter Family came to Bristol and made one of the first country music recordings at 410 State Street for Victor Record Studio. This earned Bristol the name "The Birthplace of Country Music". Now we know who to blame! There is another connection in the photograph to do with Bristol, England. The logo that HMV uses as it's trademark comes from a painting by Francis Barraud called "His Master's Voice" painted in 1899. The dog was named Nipper and was originally a stray found in Bristol, England.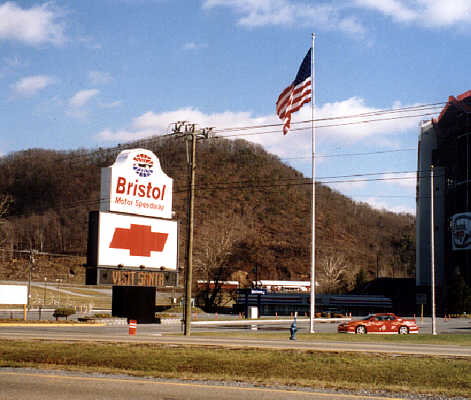 Bristol Raceway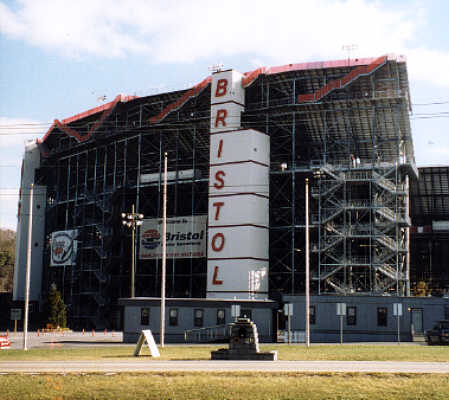 Bristol Raceway
Bristol Virginia / Tennessee is most famous for it's race tack. Bristol Motor Speedway opened in 1961 with its first Winston Cup Series event on 30th July. Jack Smith won that race in a Pontiac with an average speed of 68.37 mph. At that time, it was a half mile track with 22 degree banking. In 1969, the track was reshaped and remeasured. The turns are now banked at 36 degrees and the track measures .533 miles. The straights are approximately 70 feet wide, and the track was re-paved in 1991. The Bristol Raceway was re-paved again in concrete in the summer of 1992 in an effort to eliminate an asphalt stripping problem in the turns. The walls were raised in places to conform with NASCAR regulations. At the same time of the concrete paving, a new pit gate was constructed in turn 3 so that race car transporters could park in the infield area of the track. Previously, trailers were parked on the outside of the facility. A 4,000 seat pavilion and the "Horseshoe Stage" were constructed for concerts in the campground in 1993.
Bristol, USA | Colorado | Florida | Georgia | Illinois | Indiana | Iowa | Minnesota | New York | South Dakota (Page 1), (Page 2) | Tennessee / Virginia | Wisconsin | Alaska
HomePage | Optical Illusions | War Stories | QBasic | Dads Navy Days | Bristol | Bristol, USA | Bristol, Canada | Terre Haute | Miscellany | Web Stuff | About Ray | Site Map | Site Search | Messages | Credits | Links | Web Rings