Terre Haute Postcards - Folders (1)
More postcards from my collection...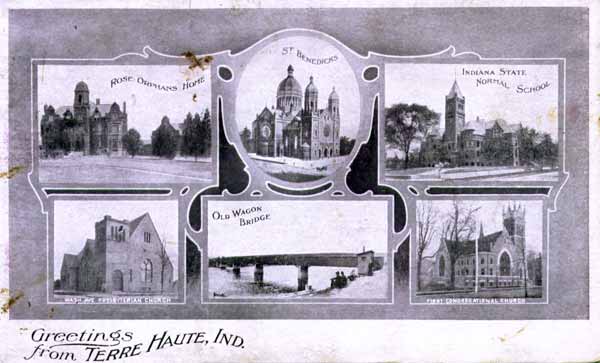 Greetings from Terre Haute, Ind.
This triple fold postcard folder, stamped in St. Louis on August 6th, 1919, has no other printed text but contains 18 small images of Terre Haute scenes. There are no publisher or printer marks on the postcard but the lettering style is very reminiscent of that used by Bundy.
I have another, damaged, copyof this postcard that was posted from Terre Haute on June 9th, 1907

Rose Orphans Home

St. Benedicts
(Spelled St. Benedicks on the card)

Indiana State Normal School

Wabash Avenue
Presbyterian Church

Old Wagon Bridge

First Congregational Church

View on Ohio Street looking
East from 6th Street

Rose Polytechnic Institute

St. Mary of the Woods

Wabash Avenue

South 6th Street

Wabash River

Court House

Union Station

Ideal Street Scene

Indiana State Normal School

North 7th Street

Collett Park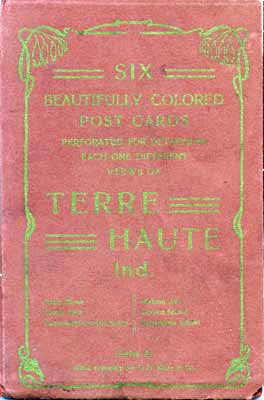 6 Beautifully Colored Post Cards, Terre Haute, Ind.
This unused postcard folder has the following printed text...
Series A
Made expressly for S. H. Knox & Co.
This folder is a compendium of 6 postcards, these are...
| | | |
| --- | --- | --- |
| Court House | Collett Park | Fairbanks Memorial Library |
| Wabash Avenue | State Normal School | Rose Polytechnic School |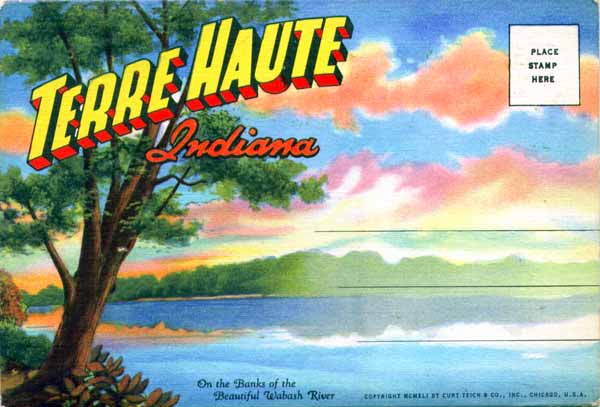 Terre Haute, Indiana
On the Banks of the Beautiful Wabash River
This unused postcard has the following printed text...
Copyright MCMXLI [1941] by Curt Teich & Co., Inc., Chicago, U.S.A.
D-6511
Wabash Valley News Agency Inc., Terre Haute Ind.
Genuine Curteich-Chicago "C.T. Art-Colortone" Post Card (Reg. U.S. Pat. Off.)
I have another copy of this postcard folder date stamped on 29th September 1952 and have seen another copy stamped on 15th September 1948.
This card is a compendium of 20, including the covers, other Wabash Valley News Agency Terre Haute cards, these are...

Wabash River (front)

Greetings (back)

Paul Dresser's Birthplace

Izaak Walton Lake

Rose Polytechnic

Izaak Walton Rearing Ponds
Deming Park

Women's Residence Hall
Indiana State Teachers College

Sunken Gardens
Fairbanks Park

Student Union Building
Indiana State Teachers College

Deming Park

Memorial Stadium

Wabash Avenue

Grotto of Lourdes
St. Mary of the Woods College

Court House & City Hall

Federal Penitentiary

Post Office & Court House

Le Fer Hall
St. Mary of the Woods College

YMCA

Fine Arts and Commerce Building
Indiana State Teachers College

Church of the Immaculate Conception
St. Mary of the Woods College
The card has the following text about Terre Haute...
Terre Haute has been the home of Indians generations prior to the coming of the white man into this part of the country. Situated as it is, on the broad Fort Harrison Prairie, high above the flood waters of the Wabash, away from the malarial lowlands of the early days, the Indians found here a happy place to live. It was only natural that on this broad fertile plain, the white man should fix his habitation. Terre Haute was incorporated as a town in 1816, the same year Indiana was admitted to the Union.
Early trails centered in Terre Haute where Fort Harrison, one of the pioneer outposts in the Northwest Territory was located. Since those early days the history of Terre Haute has been the history of transportation.
These military trails formed the basis for the early stage roads into the Northwest Territory. The National government built the first Federal Highway into this Territory with its terminus on the Banks of the Wabash of Terre Haute. Later came the railroads, which were built from Terre Haute in all directions and today four trunk line systems leave Terre Haute in eleven directions.
With the motorization of transportation, the early pioneer trails were made into excellent U.S. Highways and county unit roads, which are paved from Terre Haute in a radiating network. U.S. 40 and U.S. 41 intersect at Terre Haute.
Paul Cox Field, Terre Haute's excellent Municipal Airport, is one of the outstanding fields in the central states.
Terre Haute dominates a territory in Eastern Illinois and Western Indiana known as the "Wabash Valley Empire." It is the metropolis of this fertile agricultural region with a population of over 250,000.
From an educational standpoint, Terre Haute is more favored than almost any city in the Central West, with three high ranking educational institutions of college standing. Indiana State Teachers' College has an unusual enrollment of over 3,500 students. Rose Polytechnic Institute, one of the outstanding engineering colleges of this country. St. Mary-of-the-Woods, a Roman Catholic Girl's College is located across the river from Terre Haute, on a tact of 1,200 acres. This is one of the most beautiful girl's colleges in this country, with an investment of $10,000,000 in its plant.
The public schools of Terre Haute are excellent. Three Senior High Schools, a Technical High School, four Junior High Schools and 18 Grammar Schools, there are also eight parochial schools including one High School.
Industrial plants in Terre Haute find that Terre Haute's exceptional educational opportunities are a material factor in stabilizing their labor market.
Out-of-door recreation is offered by the municipality in two public golf courses, one an 18-hole course with a $50,000 club house, the other a nine-hole course, with locker room facilities at the Memorial Stadium. This Stadium was built in memory of those who lost their lives in the World War, at a cost of $400,000 and seats 16,000 people. It is lighted for night games.
The City of Terre Haute has eighteen public parks and playgrounds, with an area of 685 acres.
Two municipal swimming pools of modern concrete construction provide relief during the warm weather. One pool located on the river bank in Fairbanks Park, accommodates over 2,000 swimmers.
POINTS OF INTEREST
1. Indiana State Teachers' College, established 1867, with its campus in the heart of downtown Terre Haute.
2. Rose Polytechnic Institute, established 1874, located on U.S. Highway 40 approximately four miles east of Terre Haute. It is the oldest engineering college west of the Alleghenys.
3. St. Mary-of-the-Woods College, established 1840, located four miles west of Terre Haute on U.S. Route 50, also, Mother House of the Sisters of Providence, famous Shell Chapel - Shrine of Perpetual Adoration.
4. Largest vegetable green houses in the world - 37 acres under glass devoted exclusively to the growing of cucumbers for the metropolitan market, located two and three-quarters miles from down town Terre Haute on U.S. Highway 41.
5. Deming Park on the bluffs at the eastern edge of Terre Haute and just off U.S. Highway 40, preserved in its native forest state, with picnic ovens stocked with cord wood for the use of tourists and citizens, famous Izaak Walton rearing ponds and wild fowl preserve.
6. Dresser power Plant of the Public Service Company of Indiana, located three miles south of West Terre Haute along the west bank of the Wabash River. This is a twenty-three million dollar plant which furnishes the entire Central portion of Indiana from state line to state line with electric power.
7. Terre Haute Federal Penitentiary built at a cost of three million dollars to house 2200 prisoners and 300 officers. This is located four miles south of Terre Haute on State Highway 63.
8. Dresser Drive along the Wabash River from U.S. Highway 40 south two miles past the birthplace of Paul Dresser, author of Indiana's famous song "On the banks of the Wabash."
9. Two historic shrines of Indiana's school children are located on the grounds of the Elk's Ft. Harrison Country Club, three miles north of down town Terre Haute on the Banks of the Wabash. The original Fort Harrison, built by General William Henry Harrison and Captain Zachary Taylor in 1811, and defended successfully in the battle of Fort Harrison on Sept. 3, 1812, is perpetuated by a D.A.R. marker. Vestiges of the East Wall of the original stockade are incorporated in the present club house. The historical Wabash-Erie Canal is seen along the Wabash River throughout the entire extent of the club grounds.
10. Turkey Run State Park lies 40 miles north of Terre Haute on U.S. Highway 41. This is Indiana's most famous scenic spot visited annually by hundreds of thousands of tourists.
11. Monster steam shovels on titanic strip mining projects 15 miles south and east of Terre Haute bring thousands of tourists annually to see these Indiana grand canyons.
This page created 7th March 2005, last modified 31st March 2009