HomePage | Optical Illusions | War Stories | QBasic | Dads Navy Days | Bristol | Bristol, USA | Bristol, Canada | Terre Haute | Miscellany | Web Stuff | About Ray | Site Map | Site Search | Messages | Credits | Links | Web Rings
Terre Haute | Prehistory | Indians | Explorers | Postcards (Page 1), (Page 2), (Page 3), (Page 4), (Page 5), (Page 6) | Union Hospital | Ghosts | 2002 Events (Cars), (Planes), (Hovercraft) | Snow Rollers (Page 1), (Page 2), (Page 3), (Page 4), (Page 5) | Differences (Page 1), (Page 2), (Page 3), (Page 4) | Other Stuff | Fowlers | Other Sites
Snow Rollers ~ 1
On Wednesday, 12th February 2003, people in Terre Haute and surrounding areas woke to an amazing sight. The rare Snow Rollers had formed overnight. Tuesday evening, it started to snow, large dry flakes floated downwards and settled on the ground. This was the first stage of the formation of these snow rollers. I never saw them being formed, in fact I haven't met anyone who has, but this is apparently what happens. A wind blows these flakes across the ground in short hops, each time they hit the ground they pick up more flakes. Eventually, the clumps can no longer be blown around quite so easily and they begin to roll. As they roll they gather more snow and eventually they form snow rollers. These resemble little rolled up blankets. They range from a few inches in diameter and width to maybe 18" in diameter and around 2ft in width. You can easily tell where they started rolling as they leave a "V" shaped trail behind them. As they roll they get wider which explains the "V". Each layer of the roll is around 1 to 1.5" thick, and many of the rolls are hollow. Snow Rollers are rare in Indiana, occurring only once in roughly 80 years, a truly once in a lifetime phenomenon.
General Views
Even though there is no discernable difference in the conditions that form the snow rollers, some areas just didn't seem to have many form in them, even though the same field may have had thousands of the things.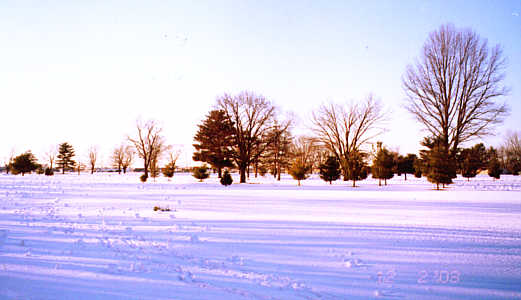 For some reason some areas are clear of the snow rollers. In this view of Rae Park, there are no snow rollers to the left of the dark clump in the mid ground of this photograph.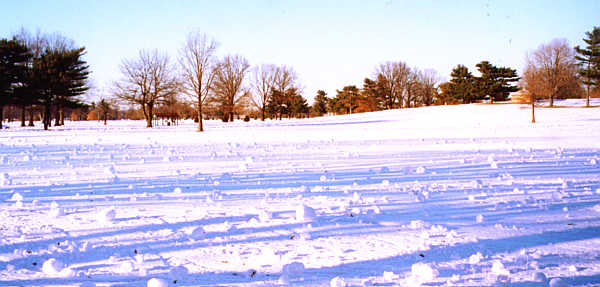 The same in this photo, the rising ground up to the tree line is clear of snow rollers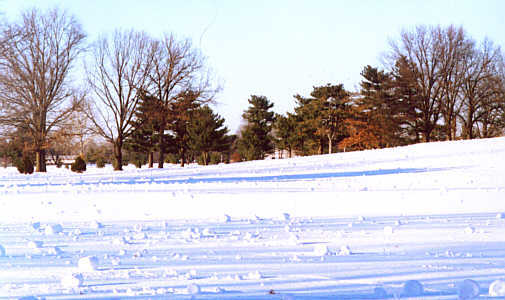 Rae Park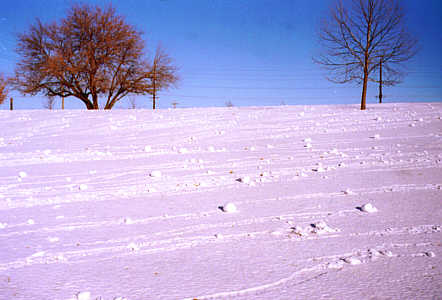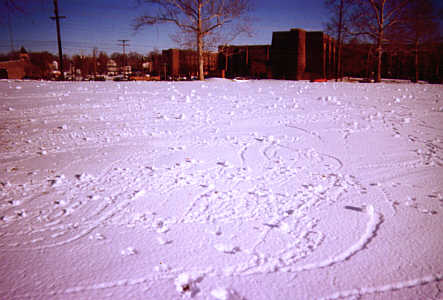 The two photographs above were taken at Fairbanks Park, on the edge of the Wabash River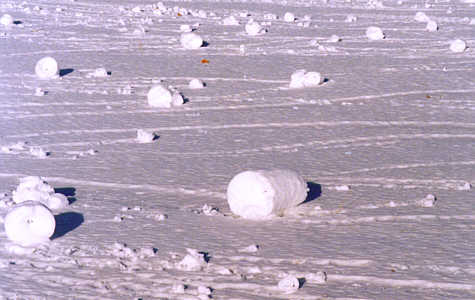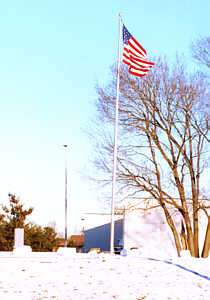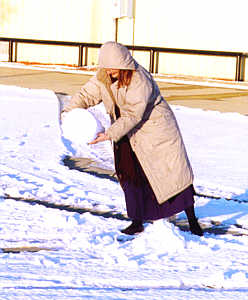 Patty with one of the snow rollers
This photo and the one with the flag were taken just off 3rd Street, one of the main roads through Terre Haute. In fact, 3rd Street is part of Highway 41
Terre Haute | Prehistory | Indians | Explorers | Postcards (Page 1), (Page 2), (Page 3), (Page 4), (Page 5), (Page 6) | Union Hospital | Ghosts | 2002 Events (Cars), (Planes), (Hovercraft) | Snow Rollers (Page 1), (Page 2), (Page 3), (Page 4), (Page 5) | Differences (Page 1), (Page 2), (Page 3), (Page 4) | Other Stuff | Fowlers | Other Sites
HomePage | Optical Illusions | War Stories | QBasic | Dads Navy Days | Bristol | Bristol, USA | Bristol, Canada | Terre Haute | Miscellany | Web Stuff | About Ray | Site Map | Site Search | Messages | Credits | Links | Web Rings
This page last modified 9th March 2005