HomePage | Optical Illusions | War Stories | QBasic | Dads Navy Days | Bristol | Bristol, USA | Bristol, Canada | Terre Haute | Miscellany | Web Stuff | About Ray | Site Map | Site Search | Messages | Credits | Links | Web Rings
War Stories | War Pics 1 | War Pics 2 | Recruits 1 | Recruits 2 | Dumps | Exercise 1 | Exercise 2 | Exercise 3 | Exercise 4 | Vehicles | NBC | Danger UXB | Dangerous | By Air and by Sea
Exercise 1
This little story happened during a few hours of a major exercise somewhere in Europe :-
We'd been on exercise for a week or so, the fortunes of war had ebbed and flowed but now was the time for the final triumphal push to get the invaders back to whence they came. Our little group was attached to an armoured division (armour was always better than the infantry because at least you didn't end up walking everywhere and you had somewhere to shelter when it rained), and the Divisional assets were being gathered together ready for the 'big push'. A wood was chosen for our forming up point and when our vehicle got there a marshall guided us to our appointed place. When we park the vehicles we ALWAYS ensured that they were facing in the right direction for a quick exit. (It's no good if the 3rd Soviet Shock Army is knocking on your door and you've parked with no way out). Being parked in the right direction usually meant reversing the vehicle, and as rearward views in armoured vehicles is very limited the marshall proceeded to give me directions by hand signals.
It soon became apparent that he wasn't used to directing our vehicles as he managed to have me drive into a tree on the first attempt, things went a little better on the second attempt, though there was a terrible screeching noise, and when the vehicle stopped altogether I was a bit concerned but he signaled me to increase the power which on thinking we'd hit a fallen log or something I did. He ordered me to stop and shut down the power then he wandered off to guide another vehicle.
On getting out I found out what the screeching was. He'd reversed me between to trees so close together that the track guards had been ripped off, as had the exhaust. Moving around the back of the vehicle, he'd reversed me into a tree and had wrecked the bins where the water and tool boxes were kept. When I'd increased the power I'd bent the tree so far over it had become dangerous and someone had to come out and chop it down.
All items issued to us have to be signed for and the loss of some of them is taken very seriously, because of the nature of some items they aren't allowed to be lost and the damaged bits have to be gathered up and taken back to the stores or otherwise safely disposed of (they may contain small radioactive sources (watches and other self illuminants), be poisonous (batteries containing Mercury or Cadmium) or classified. Some items have to be paid for by the person who signed for them (even though they may not be the one responsible for losing or damaging them) and other damage or lose may be caused by fair and wear and tear. Luckily, exercise damage to vehicles comes under the last heading and although there was a lot of paperwork no one was charged. (When using a vehicle both the driver and whoever's commanding it are both responsible for it.)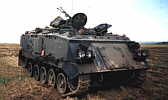 That same evening a driver unluckier than me was driving a 50 ton bridge layer that ended up upside-down at the bottom of a 60 foot drop. Fortunately, no one was badly hurt but it took a lot more than a bloke with a chain saw to sort out!
The next morning, after tying the exhaust on with wire, we started to line up ready for the advance. As we were doing this three 'enemy' tanks decided to 'attack' us. A pretty stupid thing to do on an exercise and suicidal if it was for real. The 'enemy' (Americans has it happened) decided they were going to use their smoke grenades and pyrotechnics against us, I don't think they quite realised what sort and how much equipment was hidden in the woods, because we'd all seen them coming and thought they might stay out of range, report where we were, then go away. Obviously, when they opened fire we all retaliated and the three vehicles were hidden by great plumes of smoke and exploding pyrotechnics. A couple of vehicles were sent out to get them and the crews were taken prisoner.
Our officer was a man of habit and every morning at the same time he'd go off on spade patrol and off he went with his spade and comfy bum. This happened wherever and whatever we were doing. The rest of the crew and I thought it was hilarious that he'd held up an entire divisional move of a couple hundred vehicles (we were near the front) because of his internal body clock but I gather certain people got their knickers in a right old twist because of it.
Sometimes we'd get assigned to Infantry units, which wasn't half as much fun as either working as part of an armoured unit or acting independently. The main reason for this was all the walking involved. Although trained to use the Mark I Eyeball and the back of a fag packet for the calculations our little party would have to drag a whole set of electronics around with us, laser rangefinders, surveillance radar, night vision devices and thermal imagers, at least three radio sets and an awful lot of cable. The reason for the last being that when some of this equipment was working we'd light up like some sort of electronic Christmas tree. Apart from the walking we'd also have to get involved in more trench digging, sometimes it felt as if we were digging our way across Europe.
War Stories | War Pics 1 | War Pics 2 | Recruits 1 | Recruits 2 | Dumps | Exercise 1 | Exercise 2 | Exercise 3 | Exercise 4 | Vehicles | NBC | Danger UXB | Dangerous | By Air and by Sea
HomePage | Optical Illusions | War Stories | QBasic | Dads Navy Days | Bristol | Bristol, USA | Bristol, Canada | Terre Haute | Miscellany | Web Stuff | About Ray | Site Map | Site Search | Messages | Credits | Links | Web Rings