Temple Gate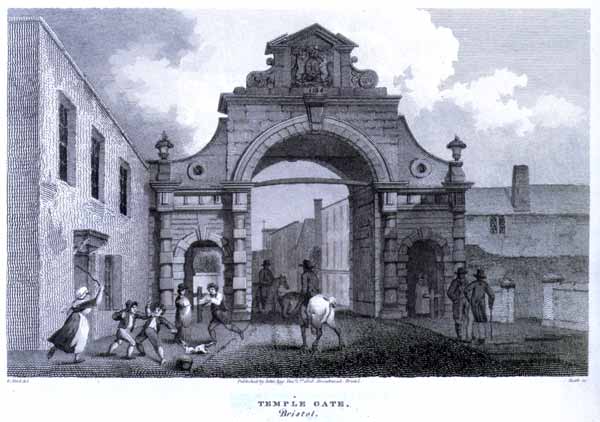 Temple Gate
Not a postcard but an old etching, it has the printed text...
E. Bird del
Heath sc
Published by John Agg, Decr. 1st, 1808, Broadmead, Bristol
When the building of the stone bridge was begun in 1247 the River Avon were temporarily diverted into a channel, adjacent to the districts of Castle Temple Fee and Redcliffe. When the completion the bridge allowed the waters of the river resume their old course, this channel was not entirely obliterated, but was retained as the ditch of a new and strong wall, which was built on its inner verge. This wall was the strongest of the city walls, and during the civil war offered a successful resistance to the besiegers. This wall has completely disappeared, but its course is marked by the line of the street which skirted its inner side. Starting at a strong tower, Tower Harritz, on the bank of the Avon in the Temple Back, it curved gently to the south-west along the south side of Pipe Lane to Temple Street, close to the point where that street is crossed by the railway. Here stood the Temple Gate, which became the chief entrance to the city. At the Temple Gate the wall turned to the west and followed the course of Portwall Lane, lying between it and Pyle Street, as far as Redcliffe Street, which it crossed a little north of the church of St. Mary Redcliffe, leaving the church still outside the walled area. From Redcliffe Gate the wall passed between Jones Street and Back Lane for a short distance, to terminate at Redcliffe Back at a tower overhanging the Avon.
Both Temple and Redcliffe Gates were rebuilt in the eighteenth century. The former was a fine example of Renaissance architecture; a heavily rusticated mass of masonry, having a lofty central arch and two roomy lateral archways for foot- passengers. In 1808, it was deemed to be an obstruction to traffic, demolished and the stone sold to local builders. Redcliffe Gate was a building somewhat similar, but neither so handsome nor so well-proportioned; it was taken down to improve the street in 1788. Frome Gate had already disappeared in 1694, Newgate in 1766, and the Bridge, or South Gate, at the foot of Broad Street, on the rebuilding of St. Nicholas' Church, in 1762.
Source: "Bristol: A Historical and Topographical Account of the City" by Alfred Harvey. Published by Methuen in 1906.
Thanks to Angus for pointing out a mistake I made in the original page. I put Pile Lane instead of Pipe Lane.
This page created 25th February 2010, last modified 11th August 2019