Introduction
This page was created because of an enquiry emailed to me in March 2005 by local filmmaker Angel Garden of Bristol.
This interesting story is now largely forgotten, but thanks to Angel looks like it's going to get a new lease of life. As she says in one of her emails "it's got everything, romance, drama, possible witchcraft."
The Civil War
Wars are always brutal, civil wars especially so. The siege and massacre at Prior's Hill Fort in 1645 illustrates this. At the start of the Civil War, in 1642, Bristol was in Parliamentarian hands. In July 1643, Prince Rupert led an army of 20,000 against Colonel Fiennes force of 2,300 defending the 15,000 - 20,000 people living in Bristol at the time. Fiennes held out for just a few days before the defences were breached and he was forced to surrender the city.
In September 1645, the tide of war had changed and it was the Parliamentarians that were attacking the city. At 2am on the morning of 10th September 1645, a bonfire was lit by the attackers on Ashley Hill and the battle was begun. Four heavy guns were fired at Prior's Hill Fort and after at least 2 hours of hand-to hand fighting, probably the fiercest of the battle for Bristol, the fort was finally secured for the Parliamentarians. Once the walls were breached little mercy was given to the defenders. As one Parliamentarian put it...
"In the end we forced the enemy within to run below into the inner rooms of the work, hoping to receive quarter; but our soldiers were so little prepared for to show mercy, by the opposition that they met withal in the storm, and the refusal of quarter when it was offered, that they put to the sword the commander (one Major Price, a Welshman) and almost all the officers, soldiers and others in the fort, except a very few, which at the great entreaty of some of our officers, had their lives spared."
The quote above comes from "For King & Parliament - Bristol and the Civil War" by John Lynch (Sutton Publishing, 1999, ISBN 0-7509-2021-1) This is a good read and contains many photographs, maps and illustrations. Also worth reading is "Bristol and the Civil War" by Patrick McGrath (Bristol Branch of the Historical Association, 1981).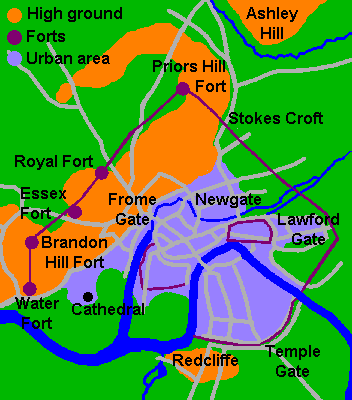 Bristol's defences during the Civil War (1642 - 45)
Accounts of the death of the young Royalist or Cavalier officer named Pugsley differ slightly depending on the source. John Latimer in his "Annals of Bristol in the Seventeenth Century" (William George's Sons, 1900, page 202) says that...
"Soon after the capture of Priors Hill Fort, whilst Fairfax and his great lieutenant, Cromwell, were viewing the city from the parapet, a cannon shot from the Castle grazed the wall within two handbreadths of them, but left them uninjured. Amongst the Cavaliers slain in that fort was a young officer named Pugsley, who had just been married, and who, by Fairfax's orders, was buried in an adjoining field with military honours. His widow survived him for no less than sixty years. On her death, in 1705, she was, in accordance with her dying request, buried by the side of her husband in her wedding dress, without a coffin, but with girls strewing flowers and musicians playing merrily as her body was borne to the grave."
Ma Pugsley
Not much is known about Mrs. Pugsley, who became better known as Ma, Mother or Dame Pugsley in later life. If she was eighty when she died, then although Latimer gives her year of death as 1705, Nicholl's and Taylor give a more specific date of 4th August 1700, she would have been born around 1620. Her husband was killed in 1645, which would make her 25 when he died.
After his death he was buried on Nine Tree Hill with military honours. The hill was so named because of the group of elm trees that once stood there. She would visit his grave daily, still dressed in mourning until she, herself died.
She was obviously filled with joy that she should finally be reunited with the love of her life as she left instructions in her will that she should be buried with her husband, dressed in her wedding clothes. Two women would scatter herbs before her funeral procession which should be accompanied by a fiddler. The bells of St. Nicholas rang as she passed under the gate. It is said that 10,000 people turned out to see her buried.
She didn't forget the poor and needy either. She left instructions that bread be given to the 16 women of St. Nicholas' almshouse in King Street at Easter and Twelfth-night. It would be interesting to know if she had some connection with St. Nicholas, maybe she lived in the parish?
Unfortunately, some people weren't so generous to her and stamped on her grave, condemning her as a witch.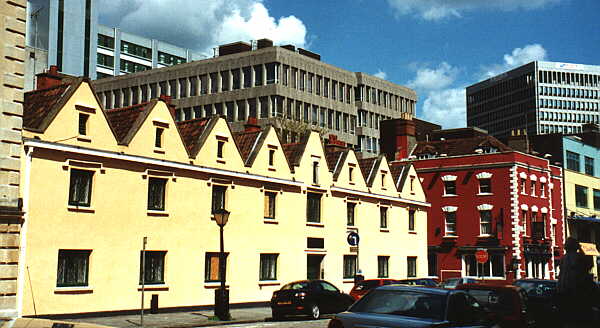 St. Nicholas Almhouse, King Street, 1999
This building was the first to be erected on reclaimed marshland in 1652.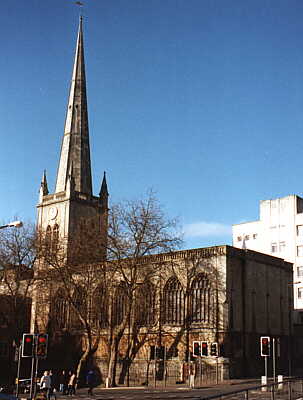 St. Nicholas Church viewed from Bristol Bridge
J. F. Nicholls and John Taylor in Volume III (Civil and Modern History) of their "Bristol, Past and Present" (Arrowsmith, 1882, page 152) says...
"Mrs. Pugsley died August 4th, 1700, aged eighty. Her funeral was according to here directions, and was 'punctually performed to the admiration and in the view of ten thousand spectators.' Her body was borne uncoffined on a litter, with a sheet for shroud, preceded by a fiddler playing a sprightly air, and two damsels strewing sweet herbs and flowers, while the bells of St. Nicholas church rung a merry peal. Thus it was carried to a grave in a field adjoining Nine-tree hill. Dame Pugsley was supposed to be the widow of a young soldier killed at the siege of Bristol, 1645, and buried with military honours on Nine-tree hill. His widow wore mourning all her life, and desired to be borne to her grave with demonstrations of joy at their happy reunion. Mother Pugsley's well is within recent memory. It consisted of two stone basins, one of which contained 'an infallible remedy for the eyes,' whilst the other was especially renowned for making tea. She built a hut over the spot where her husband fell and was buried, which gave her name to the field and well. At her death she bequeathed money for a sixpenny loaf and a ninepenny loaf at Easter, and a twopenny loaf on Twelfth-day, to each of the sixteen women inhabiting St. Nicholas' almshouse. The vulgar supposed her to have been a witch, and they trampled upon her grave. A skull, thought to have been her husband's, was dug up; it had a bullet hole just above the temple."
John Evans in his "A Chronological Outline of the History of Bristol" (Bristol Observer, 1824, pages 199 & 200) says that...
Mother Pugsley's Well-field, in the S. E. portion of which stood Priors Hill Fort, is associated with the most delightful portion of many a Bristolian's existence; but we believe that few are acquainted with the history of the lady from whom it derived the name. That and other surrounding land was, at the time of our text, the property of a young man, recently married, named Pugsley, who held a command under Prince Rupert during this siege. He received his death by a shot fired from the redoubt on Montpelier, and fell in or near a ditch where now stands a wall, the boundary of the gardens on the declivity of Nine-tree-Hill, a continuation of the same field in its descent towards Stoke's Croft. After the surrender of the city, he was buried with military honours, beneath the turf stained with his blood. A monumental tablet in the former wall marked the spot. His widow, a young and beautiful woman, resisted every importunity to change her forlorn condition; wearing mourning-habiliments till the day of her death, which was not until she had passed eighty years of age. We find the manner of her funeral thus recorded, in a MS. originally the property of a contemporary family of the Society of Friends, named Farnharn, who resided in Castle-street :-

1700, August 4th, an old woman of the name of ------- Pugsley died, and desired to be buried in the following manner: to be wound up in her wedding-sheet, having on her wedding-shift also, and be carried on a bier to the field adjoining unto the ground commonly called the Nine Trees (by reason of such a number of elms there planted), and two maids should go before the corpse with herbs, and strew them as they went; and that the bells of Saint Nicholas church should ring as her body was carried under the gate. And she further ordered that a fiddler should play before the corpse. All which was punctually performed, to the admiration and in the view of at least ten thousand spectators. She had no coffin.

Elsewhere we learn that "Gammer Pugsley" bequeathed money for a sixpenny loaf and a ninepenny loaf at Easter, and a twopenny loaf on Twelfth Day, to each of the sixteen women inhabiting St. Nicholas' Alms-house.

About twenty-eight years since, the then proprietor of the field, Mr. Thomas Edwards Freeman, sold it to some building-speculators, who dug clay, erected a brick-kiln (now used as a cow-house), and sunk the foundation of several houses, part of the plan of an immense crescent; but three years of possession failing to produce also completion of the contract, occupation was resumed, and the turf restored to its original verdure.

It is in contemplation to rail in the spring as formerly, enlarge the basins, and render the water more available for the use of the inhabitants of Kingsdown in dry seasons. By crowning the fountain with a rustic dome, which should bear on its brow an inscription

TO EVER-BLOOMING CONNUBIAL AFFECTION

Dame Pugsley's troubled Spirit of the Spring might be appeased, and the verdant scene of thousands of happy hours of childhood would become still more interesting to the matured spectator.
John Dix (September 21, 1811 – after 1863) was a writer, bad poet, worse surgeon and alcoholic. His work appeared in the Bristol Mirror. In 1839, he wrote a collection of poems published as
Local legends and Rambling Rhymes
, with illustrations by "A. Pen". In that, is this:
Mother Pugley's Well

Come, sit on my knee, my little boy Bill,
And list to a story of Nine Tree Hill,
Where, when I was a boy,
With a heart full of joy,
I wandered, as happy as happy could be,
With schoolboy companions, merry and free,
Chasing the bee and the butterfly gay,
And sporting, like them, through the long summer's day.
Ah! that was the season, my little boy Bill,
Tis gone, but remembrance dwells lingeringly still
On the days which are past,
Too pleasant to last,
And which, like all bright things, went a little too fast.
But a truce to reflection,
And care and dejection—
For these last two I've no very great predilection;
So ring for a light,
And this very night
I'll read you the rhymes that I've managed to write.

O'er a soldier's grave his comrades brave
Fire vollies, one—two—three!
The valiant and bright in the grave's dark night
Till the judgment morn must be!
For the hero's name the hand of fame
Hath a glorious wreath entwined;
Hell be thought of long in_heart and song,
By those who are left behind.
Away, in woe, from the spot they go,
While their eyes with tear-drops fill,
For the youthful brave, who has found a grave
Where he fell, upon Nine Tree Hill.
Within a curtain-shaded room,
A youthful widow weeps
For him, who ere his youthful bloom
Had passed, in silence sleeps.
Her brow is marked with lines of thought,
That brow which should not show
Time's channels, or the furrows wrought
By deep unspoken woe.
She gazes on a pictured form,
And with convulsive grief,
Bows, like a reed unto the storm,
And finds in tears relief.

Oh ! often in our darkest hours,
When bitter misery wrings
The breast, and sorrow's tempest lowers,
If grief unlock its springs,
And floods of briny tear-drops stream,
The anguish half is o'er—
Hope's radiant tints above us gleam,
Though still the billows roar.
She paced, with an unquiet tread,
The room, where pleasant days
Passed 3wiftly by with him, the dead,
Evanished from her gaze.
All, all those sickening feelings came,
Of young affection crushed—
Of hopes that were but as a name
Once breathed, then ever hush'd.
Year after year passed o'er her head,
Grey grew her raven hair;
Her footstep lost its dancing tread,
Her form was bowed with care.
Yet still she wore her sable dress,
And never cast aside
The emblems of her long distress
For him, who early died.

St Nicholas' bells are ringing to-day,
Some great folks or other are wed, I dare say;
Merrily, merrily, do they ring,
It isn't the birthday of queen or of king.
I wonder whatever on earth it can be!
Lauk ! look how the people are running to see;
Some wonderful sight
Must surely invite
Their attention, and cause such excessive delight;
And hey diddle diddle,
Do hark!—there's a fiddle!
The thing is an incomprehensible riddle.
But here comes a crowd, and Oh ! what upon earth
Can that corpse, on that bier, have to do with such mirth?
And as true as I live, on each side there's a maiden,
Dressed all in white, with the sweetest herbs laden,
Which they strew as they go;
What a singular show!
Whose funeral is it? I should like to know—
Who is it wound up in that white sheet so snugly,
Without coffin, or pall, or the like?
Gammer Pugsley.

Fifty-five years had passed away,
But never more was the widow gay;
Bucks by the score
Knocked at her door;
But although they would beg, and entreat, and implore
Her to change her condition, their efforts were vain,
She'd not throw off her weeds, nor get married again.
As older she grew, quite eccentric she got,
As her will, which I11 quote from, will tell you, I wot:
It shows that grey hairs waved a warm heart above,
And that age had not quenched the young fervour of love.
Some poetess saith,
Love is stronger than death;
Tis true, and the sentiment's really sublime:
But love's power is shown more,
When its flame, at fourscore,
Burns with no hand to fan it, undimmed by old time.

"When hence my spyryte shalle remove,
I wille my claye bee layde
Wythynne ye grave of all I love
Beneathe ye elme tree's shade;
No mourners lette there bee; forre why
Shoulde teares bee shedde forre those
Who leave a long captivitie
& bidde adieu to woes
Upon ye biere my bodie laye,
My weddynge gaurmente onne,
& wynde me onne my weddynge sheete,
Though brethe and bloome bee gonne.
A fybble, and two maidennes younge,
With herbis, forre to strowe,
& lette Saynte Nycholas belles be runge,
As bye ytts gate I goe."

Mother Pugsley! who does not remember thy well,
With its waters so cool and so clear;
But how few can the tale of thy constancy tell,
Unto few do thy sorrows appear?
Though none care for thy memory, oft to the spring
Go the young and the old at sunrise,
And sit on its margin—to weep? no such thing,
Tis only to wash their sore eyes.
The well-field is cut up; brick and mortar alone
On the hill of the nine elms is seen;
Before grim reality, frightened, has flown
Romance, from its dwelling so green.
There, little boy Bill, now the tale I have told;
If the morning should chance to be bright,
We'll walk to the well of that lady of old—
Come, a kiss for my story; good night!
Incidentally, in 1832, Dix married Sussanah Moore whose father boiled soap in Bedminster.
Maps
Times and places change, Priors Hill fort and Ma Pugsley's Well no longer exist. Prior's Hill Fort stood where Freemantle Square, Cotham does today. The present layout of the area is very different from what it was in 1643 or even 1824 when John Evans wrote "A Chronological Outline of the History of Bristol" when the area was mainly rural. Evans (page 193) writes that Prior's Hill belonged to the Priory of St. James, now Kingsdown. The fort stood in the angle of James's Place and Somerset Street near the summit of Nine Tree Hill.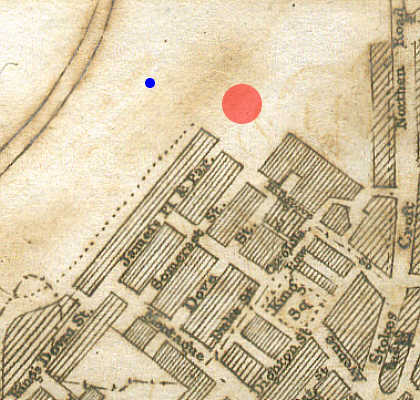 John Evans map of 1824
The red circle represents where I think Prior's Hill for was
The smaller blue circle represents the position of Ma Pugsley's Well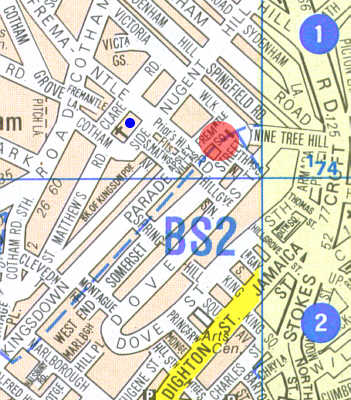 1993 map
Frederick C. Jones says "that the exact site was located in 1940 by the writer and Mr. Jack Picken (of the Bristol Waterworks' Engineering Staff). It lies beneath the boundary wall dividing 10, Nugent Hill from 2, Clare Road, Cotham. The well is 20 feet deep. There are the remains of a pump above it."
John Evans on page 357 of his book says that...
It has been proved to us that the ground now known as Dame Pugsley's field and Nine-Tree Hill was, in a deed dated Dec. 1723, transferring it to the family who still hold it, called "Steep-Hill and "Conduit-Close," and this might have have been ever the written law of our daisy-land before Dame Pugsley was born; but all the ink in all the lawyers this side dooms-day cannot gainsay the common law dictated by the little boys and girls of more than a century. We have reason for conjecture that Mrs. Pugsley was somehow connected with a family named Cole.
The Well
The once much visited well seems to have consisted of two stone basins or cisterns. Water from one was supposed to have great medicinal properties, especially for ailments of the eyes. The other seems to have made a very good pot of tea.
Records of the Bristol Local Board of Health 1851-1872, edited by David Large were collected and put into A Bristol Miscellany, edited by Patrick McGrath for the Bristol Record Society, 1985. The well is mentioned in that in an articcle dated October 30, 1863 that says "A spring at Kingsdown known as Pugsley's well was formerly accessable to the public but has been for several years enclosed in a garden and there is at present no access to it."
A later entry dated July 29, 1864 says that, "As regards 'Mother Pugsley's well ' it appears that the quantity of water is not large and that in order to render this available for the public use it would be necessary to purchase the property on which the well stands, the cost of the premises and of laying pipes for leading the water would be more than the benefit to accrue therefrom would warrant." It seems that although the well was known about, the cost of reopening it was not worth the effort.
Frederick C. Jones in his "The Glory that was Bristol" (St. Stephens Press, 1946, page 108) gives a description of the well itself...
Much speculation must always surround the venerable fountain called Mother (or Dame) Pugsley's Well (10) which rose amid the daisied turf at Kingsdown. That the well existed long prior to the seventeenth-century is certain, and its feminine appellation has suggested to some students an earlier dedication, possibly Saint Mary, since an ancient title appears to have been "the Virgin's Well," (11) Be that as it may, the well furnished for many centuries a copious supply of water, it being the custom for substantial citizens to perambulate on summer evenings around the meadows enclosing the two stone-basins, one holding healing water and the other crystal liquid for domestic purposes. Miss Marian Pease informed the writer that she has heard her mother say that when she was a very little child, about 1832/3, living at Union Street, it was a favourite place for the nurses to take "the children there." Evans, in his "Chronological History of Bristol," includes the "Well Field" under his "Fifth morning walk."

Whether the unceasing stream is that referred to on the occasion of the historic founding of Bristol Quakerism is a question which one would give much to unravel. (12) On Sept. 8th, 1654, two travellers entered Bristol by Lawford's Gate. Their names were John Camm, "an ancient man" (about 50 [a good age in those days]) and John Audland, "his neighbour, a man of 24, of a sweet ruddy and amiable countenance and of a cheerful spirit." They made their way to the house of Dennis Hollister, a leading citizen, and, after resting for a day, went out early on Sunday morning, Sept. 10th, for a country walk "to a little spring a mile and a half from the city to have a talk there." . . . At that spring the birth of Bristol Quakerism took place. Audland, all at once, became excited: there rose within him "the trembling sense of being filled with power," and gravely yet with much joy the men returned to Broadmead. Later, in a field in Earlsmead, Audland "stood up" before a crowd full of dread and shining brightness on his countenance and lifted up his voice as a trumpet." The description of "a mile and a half from the city" would seem to indicate Mother Pugsley's Well at Kingsdown, especially if the mileage is counted from the well to Dennis Hollister's house in High Street.

The traditional connection of Dame Pugsley's Well with a young Royalist officer named Pugsley is too well known to need repetition here. The field in which the well was situated is said, according to tradition, to have been his property, and he was killed in the Civil War of 1645 by a shell or shot thrown probably by a mortar from the redoubt on Montpelier as he walked within the wall of Prior's Hill Fort. Pugsley was buried with military honours beneath the turf, and his widow, to whom he had only recently been married, is said to have paid a daily visit to his grave until, when she died in her eightieth year, she was laid to rest in her husband's grave beneath the shadow of the elm trees. The spot was marked by a monumental tablet, and when building operations began near by in the middle-nineteenth century the bones of the two lovers were "found embedded in a great quantity of ashes."

Mr. F. J. Burt (of Brislington) writing in 1920(14) recalled that in his childhood the well was situated in a builder's yard at the top of Nugent Hill, Cotham, (15) two semi-detached villas being erected on the site by a builder named Hucker. He had a vivid recollection of drinking the water which had the reputation of being of medicinal value, especially for the eyes. The proposal to build Fremantle Square upon the site, to which for generations the citizens had been allowed free access, aroused widespread indignation. In January, 1845, it was stated, at a meeting of the City Council, that the Council could not find money out of the Borough Fund to defend the public rights in this well, even if they were willing; and, in 1864, a public agitation to purchase the well and restore it to the public was turned down on the flimsy pretext of expense, and "the very limited supply of water said to be coming from the well."(16)

(10) A painting of the well with steps leading down to the pool is in the Print Room of Bristol Art Gallery.
(11) See Felix Farley. 30/5/1752. There are also references in :"Curiosities of Bristol," pp. 9-10. 1853.
(12) See Quakerism in 17th Century Bristol ": Marian F. Pease ("The Friend." Apr. 23, 1937).
(13) See Curiosities of Bristol," pp. 9-10, 1853.
(14) Western Daily Press, Aug. 11, 1926.
(15) The exact site was located in 1940 by the writer and Mr. Jack Picken (of the Bristol Waterworks' Engineering Staff). It lies beneath the boundary wall dividing 10, Nugent Hill from 2, Clare Road, Cotham. The well is 20 feet deep. There are the remains of a pump above it.
(16) Not to be confused with Perrett's Well, which may probably be that marked by the conduit house still standing in St. Matthew's Avenue.
The Walk
Frederick Jones in his "The Glory that was Bristol" mentions the walks suggested by John Evans in his "A Chronological Outline of the History of Bristol" The walk is about five miles long, and can still, more or less, be done today. The original route as given by Evans was...
Wine St, Union St, Broadmead, St. James Back, Silver St, Lower and Upper Maudlin Lanes, St. Michaels Hill, Horfield Lane, Montague Parade, Kingsdown Parade, James Parade, James Place, Dame Pugsley's Well Field, Somerset St, Spring Hill, King Square, King Square Avenue, North St, Cumberland St, Brunswick, St, Portland Square, St. Paul St, Newfoundland St, Milk St, Square Avenue, St. James' Square, St. James Barton, Barrs St, Old King St, Merchant St, Castle Mill St, Narrow Wine St, Wine St.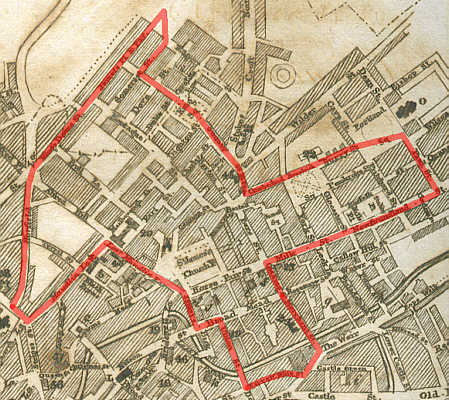 John Evans' original 1824 "Fifth Morning Walk"
from "A Chronological Outline of the History of Bristol"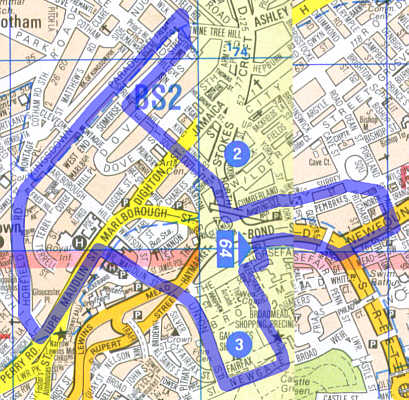 Amended 2005 Walk
The only part that is really different is from Newfoundland Street onwards.
Redevelopment has meant that some of the original roads no longer exist.
Sources :-
A Bristol Miscellany, edited by Patrick McGrath. Bristol Record Society, 1985
A Chronological Outline of the History of Bristol by John Evans (Bristol Observer, 1824)
Annals of Bristol in the Seventeenth Century by John Latimer (William George's Sons, 1900)
Bristol and the Civil War by Patrick McGrath (Bristol Branch of the Historical Association, 1981)
Bristol, Past and Present - Vol. III (Civil and Modern History) by J. F. Nicholls and John Taylor (Arrowsmith, 1882)
For King & Parliament - Bristol and the Civil War by John Lynch (Sutton Publishing, 1999, ISBN 0-7509-2021-1)
Local legends and Rambling Rhymes by John Dix. Davey, Bristol, 1839
The Glory that was Bristol by Frederick C. Jones (St. Stephens Press, 1946)
This page created 21st April 2005, last modified 22nd October 2017