HomePage | Optical Illusions | War Stories | QBasic | Dads Navy Days | Bristol | Bristol, USA | Bristol, Canada | Terre Haute | Miscellany | Web Stuff | About Ray | Site Map | Site Search | Messages | Credits | Links | Web Rings
Bristol | Place Names | Legends, Pre-history and the Romans | Birth of the City | 1100 Onwards | Voyages | 1450 Onwards | 1650 Onwards | 1700 Onwards | Riots | The Blitz (Page 1), (Page 2) | The Castle (Page 1), (Page 2), (Page 3), (Page 4), (Page 5), (Page 6) | Blaise Castle (Page 1), (Page 2) | Castle Green (Page 1), (Page 2) | Union Street | Broadmead | The Old City (Page 1), (Page 2), (Page 3), (Page 4) | Christmas Steps (Page 1), (Page 2) | St. Mary Redcliffe (Page 1), (Page 2), (Page 3) | College Green (Page 1), (Page 2) | King Street (Page 1), (Page 2) | Clifton (Page 1), (Page 2) | Avon Gorge (Page 1), (Page 2), (Page 3) | Hotwells (Page 1), (Page 2) | City Docks (Page 1), (Page 2), (Page 3) | Bedminster (Page 1), (Page 2), (Page 3), (Page 4), (Page 5), (Page 6), (Page 7) | Old Market (Page 1), (Page 2) | St. George (Page 1), (Page 2) | Temple (Page 1), (Page 2), (Page 3) | Arno's Vale Cemetery (Page 1), (Page 2) | Brislington | @ Bristol | Oldest House | I. K. Brunel (Page 1), (Page 2) | Ma Pugsley | Yeamans | Boundaries (Page 1), (Page 2) | Photography | Exhibition (Page 1), (Page 2) | Lead Working | Historical Perspective | Virtute et Industrial | Other Sites | Bibliography (Page 1), (Page 2) | Help Wanted (Page 1), (Page 2), (Page 3)
Bristol - Union Street Excavations
In September 2000 the shops opposite the Galleries shopping centre in Union and Fairfax Streets were demolished. The sites' owners, Royal and Sun Property Investments Ltd and their contractors, Stansell, allowed the Bristol and Region Archaeology Services to carry out excavation work on the site before it is buried forever.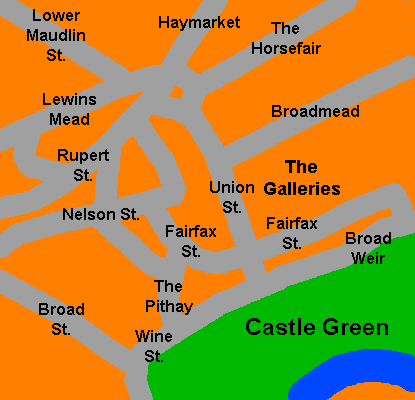 The Area around Union Street
In medieval times Broadmead was open meadow land to the north of the city wall, which ran roughly where Fairfax Street is today, and which is now partly uncovered by the excavations. Part of Broadmead was owned by the Benedictine Priory of St. James.
In 1731, Walter Churchman took out a patent for an "engine" to make chocolate. Churchman died in 1761 and Joseph Fry, an apothecary, took over the mills. Union Street was built in 1777 and Fry built a factory there.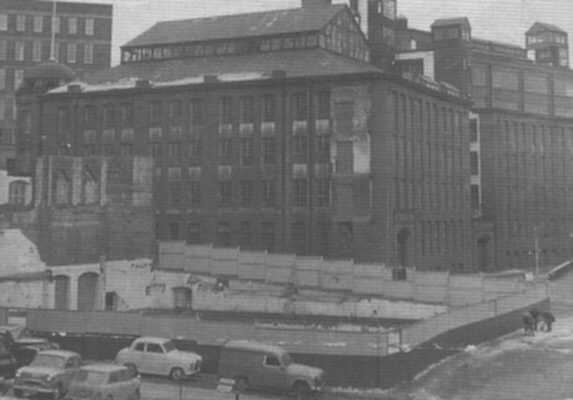 Fry's Chocolate Factory
In April 2000, 2 1lb tins of Pure Concentrated Cocoa and 2 of Malted Cocoa, made in this factory were auctioned at Christie's. The reason these tins are special is that they were recovered from Captain Robert Scott's doomed Antarctic expedition. They were given to Scott in 1910 and 11 tins were recovered from the camp in 1955. The tins were returned to Fry's which by then had moved to Keynsham.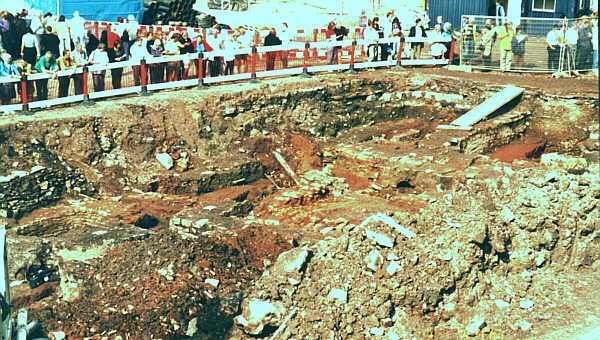 The excavations from Union Street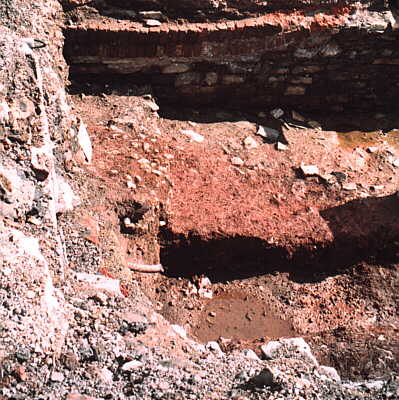 Medieval street - St James' Back
This photograph was taken from the behind the barrier shown in the first photo, and is of the area in front of the ramp on the right. This picture shows the cobbles (on top of the red soil just under the shadow of the wall) of St James' Back, a medieval street. This street linked the old priory with the river.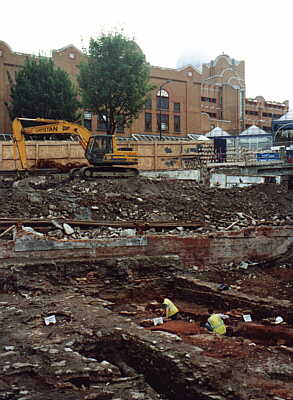 Medieval House
In the background of the picture can be seen the Galleries shopping mall. The archaelogists here are working in the remains of a medieval, 12th century, house. From the remains they have found they have deduced that the house was of two storeys, built of yellow limestone and roofed with slate. From below the house they have found the remains of an even earlier industrial use, a circular furnace and a hearth.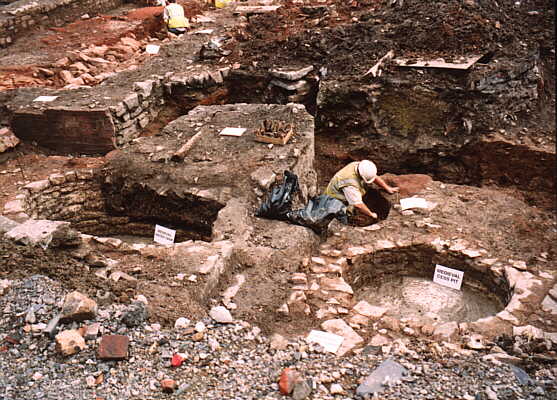 Medieval Waterworks
The circular pit to the left is thought to be a water tank and the one to the left a cess pit. A similar arrangement of the two in close proximity can be seen in the excavations of Bristol Castle. Not the most sanitary of arrangements.
Bristol | Place Names | Legends, Pre-history and the Romans | Birth of the City | 1100 Onwards | Voyages | 1450 Onwards | 1650 Onwards | 1700 Onwards | Riots | The Blitz (Page 1), (Page 2) | The Castle (Page 1), (Page 2), (Page 3), (Page 4), (Page 5), (Page 6) | Blaise Castle (Page 1), (Page 2) | Castle Green (Page 1), (Page 2) | Union Street | Broadmead | The Old City (Page 1), (Page 2), (Page 3), (Page 4) | Christmas Steps (Page 1), (Page 2) | St. Mary Redcliffe (Page 1), (Page 2), (Page 3) | College Green (Page 1), (Page 2) | King Street (Page 1), (Page 2) | Clifton (Page 1), (Page 2) | Avon Gorge (Page 1), (Page 2), (Page 3) | Hotwells (Page 1), (Page 2) | City Docks (Page 1), (Page 2), (Page 3) | Bedminster (Page 1), (Page 2), (Page 3), (Page 4), (Page 5), (Page 6), (Page 7) | Old Market (Page 1), (Page 2) | St. George (Page 1), (Page 2) | Temple (Page 1), (Page 2), (Page 3) | Arno's Vale Cemetery (Page 1), (Page 2) | Brislington | @ Bristol | Oldest House | I. K. Brunel (Page 1), (Page 2) | Ma Pugsley | Yeamans | Boundaries (Page 1), (Page 2) | Photography | Exhibition (Page 1), (Page 2) | Lead Working | Historical Perspective | Virtute et Industrial | Other Sites | Bibliography (Page 1), (Page 2) | Help Wanted (Page 1), (Page 2), (Page 3)
HomePage | Optical Illusions | War Stories | QBasic | Dads Navy Days | Bristol | Bristol, USA | Bristol, Canada | Terre Haute | Miscellany | Web Stuff | About Ray | Site Map | Site Search | Messages | Credits | Links | Web Rings
This page created 28th September 2000, last modified 5th May 2005