HomePage | Optical Illusions | War Stories | QBasic | Dads Navy Days | Bristol | Bristol, USA | Bristol, Canada | Terre Haute | Miscellany | Web Stuff | About Ray | Site Map | Site Search | Messages | Credits | Links | Web Rings
Bristol | Place Names | Legends, Pre-history and the Romans | Birth of the City | 1100 Onwards | Voyages | 1450 Onwards | 1650 Onwards | 1700 Onwards | Riots | The Blitz (Page 1), (Page 2) | The Castle (Page 1), (Page 2), (Page 3), (Page 4), (Page 5), (Page 6) | Blaise Castle (Page 1), (Page 2) | Castle Green (Page 1), (Page 2) | Union Street | Broadmead | The Old City (Page 1), (Page 2), (Page 3), (Page 4) | Christmas Steps (Page 1), (Page 2) | St. Mary Redcliffe (Page 1), (Page 2), (Page 3) | College Green (Page 1), (Page 2) | King Street (Page 1), (Page 2) | Clifton (Page 1), (Page 2) | Avon Gorge (Page 1), (Page 2), (Page 3) | Hotwells (Page 1), (Page 2) | City Docks (Page 1), (Page 2), (Page 3) | Bedminster (Page 1), (Page 2), (Page 3), (Page 4), (Page 5), (Page 6), (Page 7) | Old Market (Page 1), (Page 2) | St. George (Page 1), (Page 2) | Temple (Page 1), (Page 2), (Page 3) | Arno's Vale Cemetery (Page 1), (Page 2) | Brislington | @ Bristol | Oldest House | I. K. Brunel (Page 1), (Page 2) | Ma Pugsley | Yeamans | Boundaries (Page 1), (Page 2) | Photography | Exhibition (Page 1), (Page 2) | Lead Working | Historical Perspective | Virtute et Industrial | Other Sites | Bibliography (Page 1), (Page 2) | Help Wanted (Page 1), (Page 2), (Page 3)
Bristol - Broadmead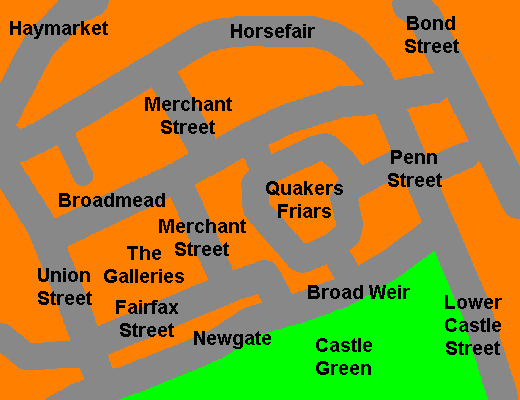 Broadmead
Due to the heavy damage sustained by this area during the air attacks of World War II it is not surprising that there is little of the old Broadmead left, but amongst the shops and stores several buildings of national and international interest remain.
Walking along Broadmead from Union Street on the left can be seen John Wesley's Chapel.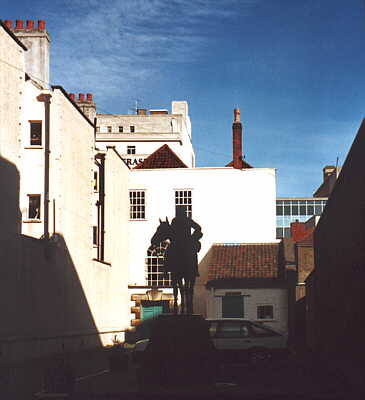 John Wesley's Chapel
Wesley, in his journal of 9th May 1739 wrote "We took possession of a piece of ground near St James Churchyard, in the Horsefair, where it was designed to build a room, large enough to contain both the societies of Nicholas and Baldwin Streets, and such of their acquaintances as might desire to be present with them, at such time as the Scripture was expounded; and on Saturday, 12th, the first stone as laid, with the voice of prayer and thanksgiving."
This was the New Room, which was opened on 3rd June, the first Methodist Chapel in the world. It was soon found to be too small and was enlarged.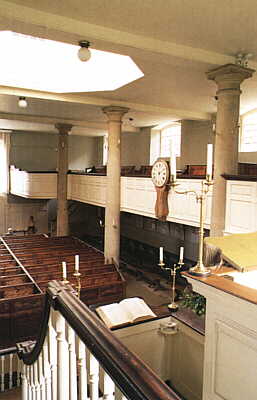 The New Room
John Wesley travelled thousands of miles in the fifty years of his ministry. Lay preachers were appointed who travelled many, many miles on horseback, spreading the gospel wherever they went. These people relied on the people for their food and clothing on their journeys around the circuits. There are now around forty million Methodists around the world.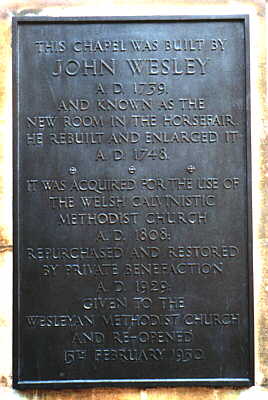 Plaque outside the New Room
Turning around we can cross the road and enter Merchant Street. On the left can be seen the bulk of The Galleries mall and nestled, practically inside it, is the Merchant Tailors Almshouse.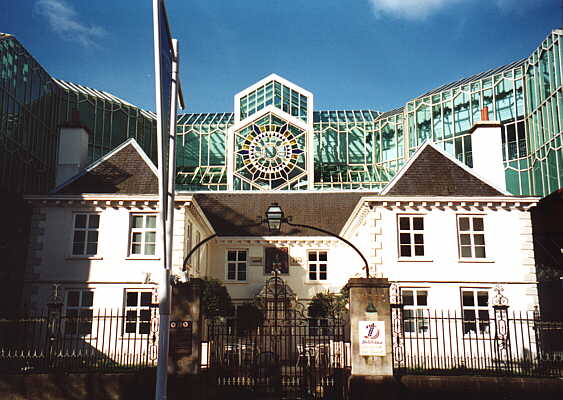 Merchant Tailors Almshouse
This building has seen many changes. An earlier building on the site became the property of the Merchant Tailors in 1575. The present building dates from 1701 when it was opened as a home for nine poor tailors or their widows. It was used for this purpose to at least 1905, but in the 1930's was used as the Weights and Measures Office. It later housed a bank and later still the restaurant as it is seen in this photograph taken in April 2001. The huge glass structure behind the building is The Galleries shopping mall.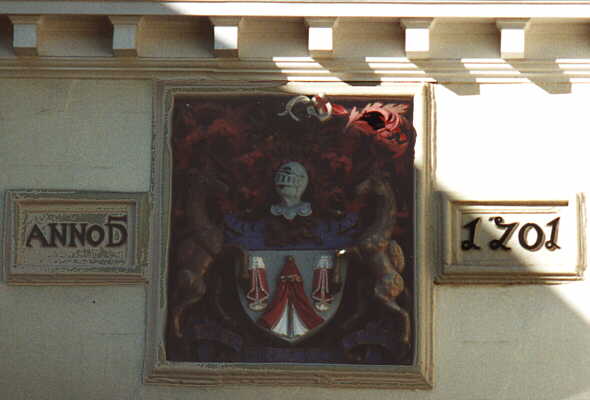 The Arms of the Merchant Tailors
Opposite the Merchant Tailors Almshouse is the Quakers Friars. There are entrances to this square in Broadmead, Merchant Street, Broad Weir and Penn Street.
The Quakers needed a meeting house of their own and in 1667, built one on land owned by Dennis Hollister, that was the garden of the old Dominican Friary. The building became known as Quakers' Friars and is now the city Registry.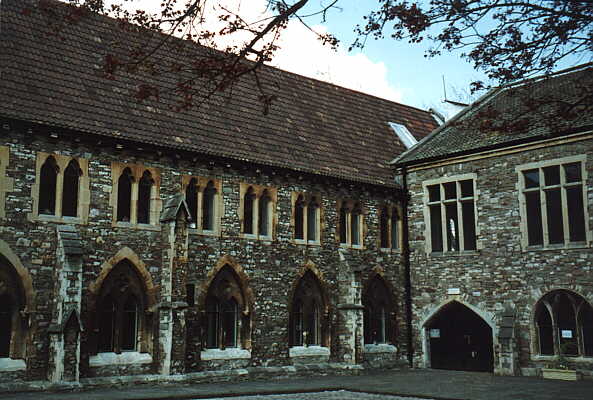 Quakers Friars - now the City Registry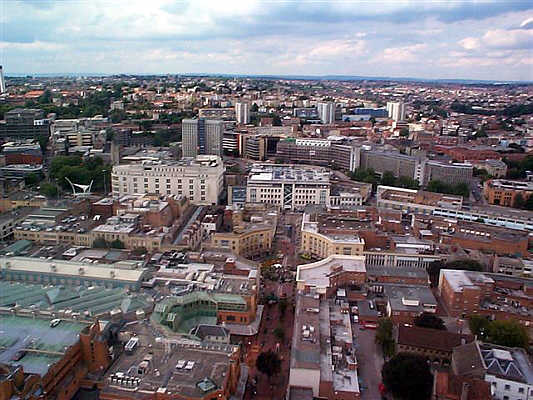 Broadmead from air balloon
This picture, sent to me by Christina Creese, nicely shows Broadmead from the air balloon on Castle Green. In the bottom left of the picture you can see the Galleries, with the Merchant Tailors Almshouse. Broadmead is Bristol's central shopping centre.
Bristol | Place Names | Legends, Pre-history and the Romans | Birth of the City | 1100 Onwards | Voyages | 1450 Onwards | 1650 Onwards | 1700 Onwards | Riots | The Blitz (Page 1), (Page 2) | The Castle (Page 1), (Page 2), (Page 3), (Page 4), (Page 5), (Page 6) | Blaise Castle (Page 1), (Page 2) | Castle Green (Page 1), (Page 2) | Union Street | Broadmead | The Old City (Page 1), (Page 2), (Page 3), (Page 4) | Christmas Steps (Page 1), (Page 2) | St. Mary Redcliffe (Page 1), (Page 2), (Page 3) | College Green (Page 1), (Page 2) | King Street (Page 1), (Page 2) | Clifton (Page 1), (Page 2) | Avon Gorge (Page 1), (Page 2), (Page 3) | Hotwells (Page 1), (Page 2) | City Docks (Page 1), (Page 2), (Page 3) | Bedminster (Page 1), (Page 2), (Page 3), (Page 4), (Page 5), (Page 6), (Page 7) | Old Market (Page 1), (Page 2) | St. George (Page 1), (Page 2) | Temple (Page 1), (Page 2), (Page 3) | Arno's Vale Cemetery (Page 1), (Page 2) | Brislington | @ Bristol | Oldest House | I. K. Brunel (Page 1), (Page 2) | Ma Pugsley | Yeamans | Boundaries (Page 1), (Page 2) | Photography | Exhibition (Page 1), (Page 2) | Lead Working | Historical Perspective | Virtute et Industrial | Other Sites | Bibliography (Page 1), (Page 2) | Help Wanted (Page 1), (Page 2), (Page 3)
HomePage | Optical Illusions | War Stories | QBasic | Dads Navy Days | Bristol | Bristol, USA | Bristol, Canada | Terre Haute | Miscellany | Web Stuff | About Ray | Site Map | Site Search | Messages | Credits | Links | Web Rings
This page created 27th July 2000, last modified 5th May 2005