HomePage | Optical Illusions | War Stories | QBasic | Dads Navy Days | Bristol | Bristol, USA | Bristol, Canada | Terre Haute | Miscellany | Web Stuff | About Ray | Site Map | Site Search | Messages | Credits | Links | Web Rings
Bristol | Place Names | Legends, Pre-history and the Romans | Birth of the City | 1100 Onwards | Voyages | 1450 Onwards | 1650 Onwards | 1700 Onwards | Riots | The Blitz (Page 1), (Page 2) | The Castle (Page 1), (Page 2), (Page 3), (Page 4), (Page 5), (Page 6) | Blaise Castle (Page 1), (Page 2) | Castle Green (Page 1), (Page 2) | Union Street | Broadmead | The Old City (Page 1), (Page 2), (Page 3), (Page 4) | Christmas Steps (Page 1), (Page 2) | St. Mary Redcliffe (Page 1), (Page 2), (Page 3) | College Green (Page 1), (Page 2) | King Street (Page 1), (Page 2) | Clifton (Page 1), (Page 2) | Avon Gorge (Page 1), (Page 2), (Page 3) | Hotwells (Page 1), (Page 2) | City Docks (Page 1), (Page 2), (Page 3) | Bedminster (Page 1), (Page 2), (Page 3), (Page 4), (Page 5), (Page 6), (Page 7) | Old Market (Page 1), (Page 2) | St. George (Page 1), (Page 2) | Temple (Page 1), (Page 2), (Page 3) | Arno's Vale Cemetery (Page 1), (Page 2) | Brislington | @ Bristol | Oldest House | I. K. Brunel (Page 1), (Page 2) | Ma Pugsley | Yeamans | Boundaries (Page 1), (Page 2) | Photography | Exhibition (Page 1), (Page 2) | Lead Working | Historical Perspective | Virtute et Industrial | Other Sites | Bibliography (Page 1), (Page 2) | Help Wanted (Page 1), (Page 2), (Page 3)
Bristol - Queen Square and King Street - Page 1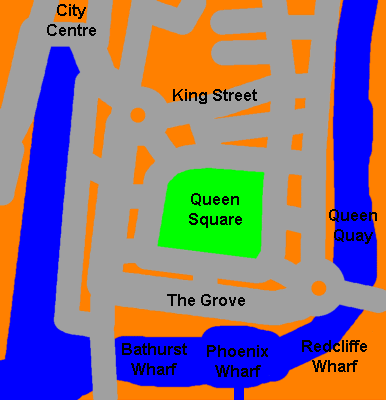 The Marsh, now Queen Square, was outside the city walls and was used up to the beginning of the 17th Century as a rubbish dump. It was then remodelled as a place to play bowls and to walk along a tree lined Promenade. In 1702 the Square was laid out in its present form, and new houses were built there in 1753. During the Bristol Reform Riots of 1831 most of the houses were destroyed and had to be rebuilt. In 1999 the road running through the green was removed and traffic through the area was reduced, being limited to public transport. The Square now being returned to something of the peace it enjoyed before the 18th century.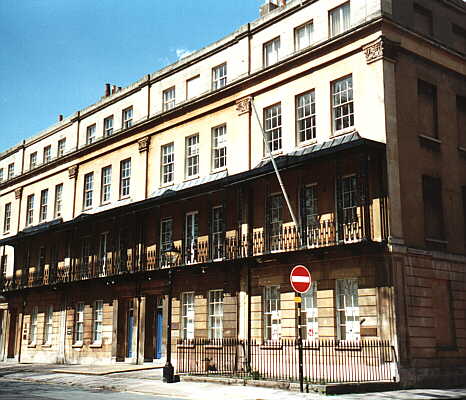 Some of the fine houses in Queen Square
Near the South East corner of the square, where it meets The Grove stands the Hole in the Wall pub.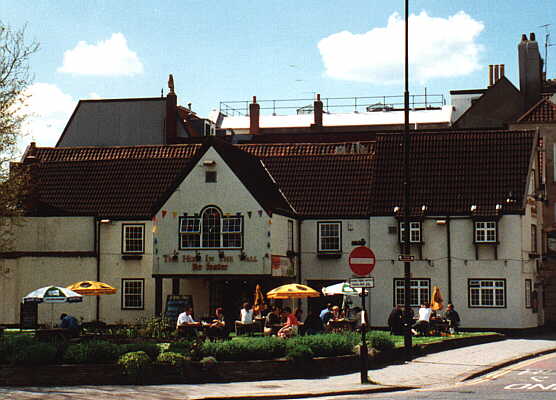 This pub is supposed to be one of the ones that was used as a model for the inn in Robert Louis Stephensons' Treasure Island.
At the opposite end of Queen Square is King Street.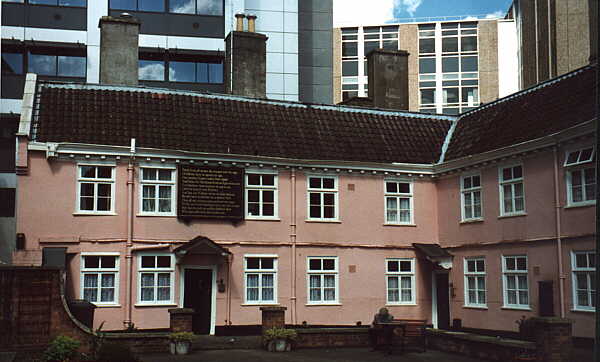 Nestled between the offices of the city centre is this Seamens Almshouse. It was built with money donated by the Society of Merchant Venturers, the almshouse was enlarged with money donated by Edward Colston in the late 17th century. The plaque is reproduced below.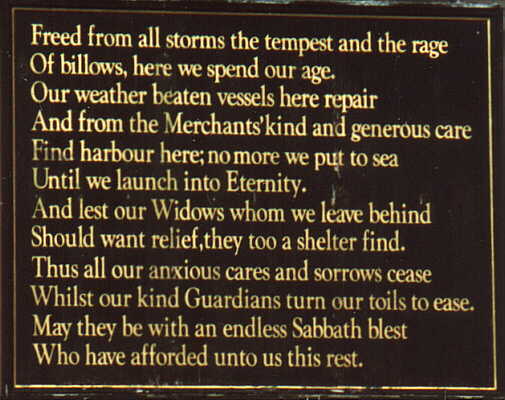 Next to the Seamens Almhouse is a small stone built building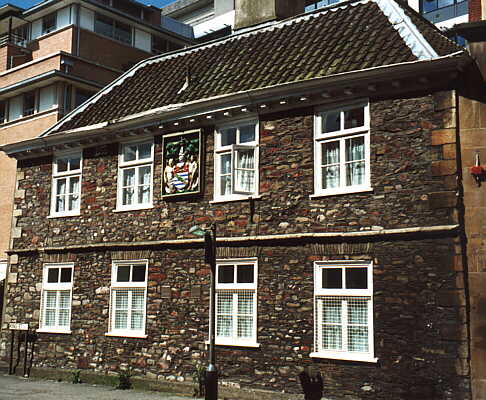 I don't really know what this building is, but I suspect that it is part of the Seamens Almshouse. The reason I think this is because of the arms on the front of the building. This contains a mermaid, anchor and Neptune. Pretty much a giveaway really. The plaque is reproduced below.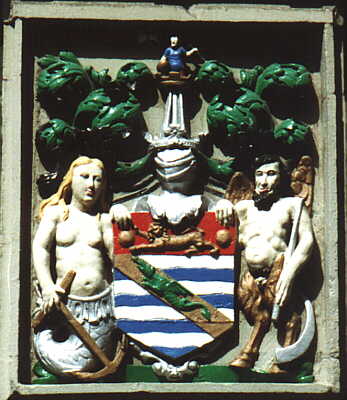 Bristol | Place Names | Legends, Pre-history and the Romans | Birth of the City | 1100 Onwards | Voyages | 1450 Onwards | 1650 Onwards | 1700 Onwards | Riots | The Blitz (Page 1), (Page 2) | The Castle (Page 1), (Page 2), (Page 3), (Page 4), (Page 5), (Page 6) | Blaise Castle (Page 1), (Page 2) | Castle Green (Page 1), (Page 2) | Union Street | Broadmead | The Old City (Page 1), (Page 2), (Page 3), (Page 4) | Christmas Steps (Page 1), (Page 2) | St. Mary Redcliffe (Page 1), (Page 2), (Page 3) | College Green (Page 1), (Page 2) | King Street (Page 1), (Page 2) | Clifton (Page 1), (Page 2) | Avon Gorge (Page 1), (Page 2), (Page 3) | Hotwells (Page 1), (Page 2) | City Docks (Page 1), (Page 2), (Page 3) | Bedminster (Page 1), (Page 2), (Page 3), (Page 4), (Page 5), (Page 6), (Page 7) | Old Market (Page 1), (Page 2) | St. George (Page 1), (Page 2) | Temple (Page 1), (Page 2), (Page 3) | Arno's Vale Cemetery (Page 1), (Page 2) | Brislington | @ Bristol | Oldest House | I. K. Brunel (Page 1), (Page 2) | Ma Pugsley | Yeamans | Boundaries (Page 1), (Page 2) | Photography | Exhibition (Page 1), (Page 2) | Lead Working | Historical Perspective | Virtute et Industrial | Other Sites | Bibliography (Page 1), (Page 2) | Help Wanted (Page 1), (Page 2), (Page 3)
HomePage | Optical Illusions | War Stories | QBasic | Dads Navy Days | Bristol | Bristol, USA | Bristol, Canada | Terre Haute | Miscellany | Web Stuff | About Ray | Site Map | Site Search | Messages | Credits | Links | Web Rings
This page created 5th August 2000, last modified 5th May 2005