Roy Bateman served on Phoebe between 1948 to when she was scrapped in 1951. Sadly, Roy passed away in 2014, but his son, Terry, sent me the following photo in February 2019. At first we thought this was damage done to Phoebe during the collision with Gambia, but it couldn't be, the damage is too extensive and too far forward. What this photo shows is HMS Swiftsure after a collision with HMS Diamond in September 1953. And so, this page was produced.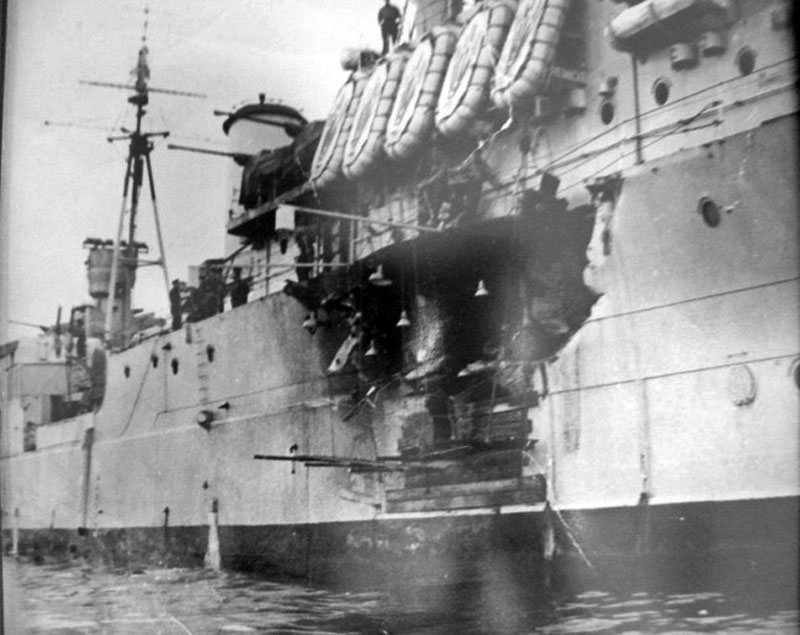 HMS Swiftsure after a collision with HMS Diamond in September 1953
HMS Diamond was a Daring class destroyer launched on June 14, 1950, while HMS Swiftsure was a Minotaur class light cruiser launched on February 4, 1943.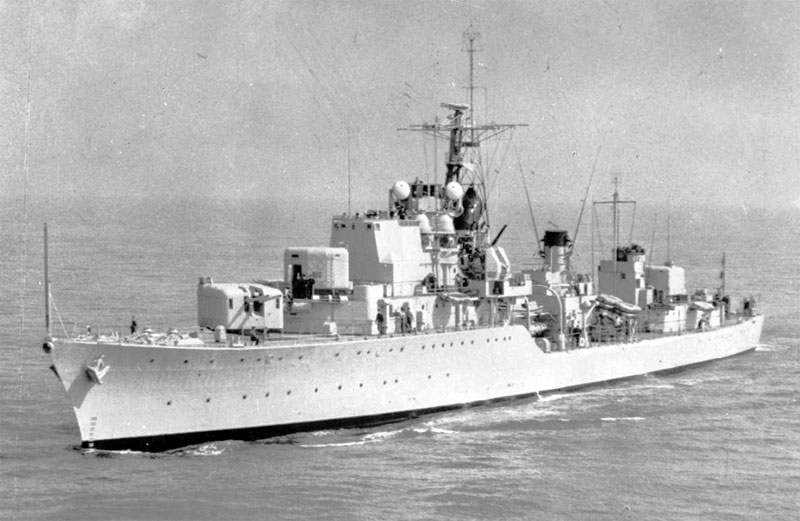 HMS Diamond in July 1952 (Imperial War Museums, A32253)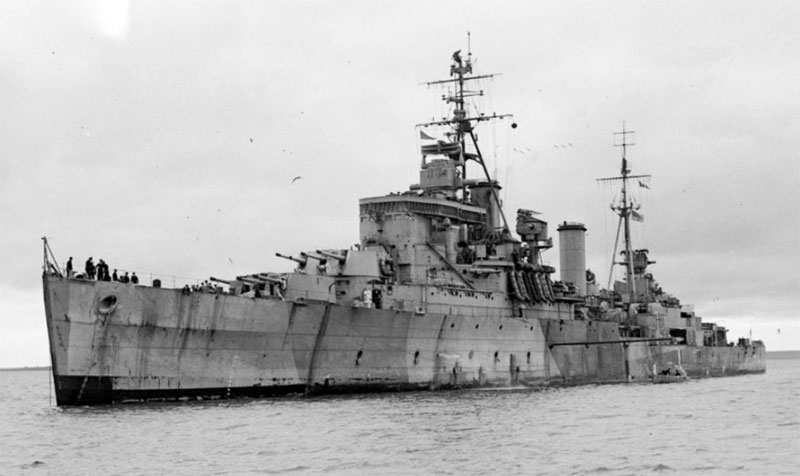 HMS Swiftsure in July 1944 at Scapa Flow (Imperial War Museums, A24886)
Both ships took part in Exercise Mariner which started on September 15, 1953. The exercise was the largest international naval exercise ever held. It was sponsored jointly by Supreme Allied Commander Atlantic (SACLANT), Supreme Allied Commander Europe (SACEUR) and the Channel Commanders.
Nine countries, 300 ships of almost fifty different types, 190 merchant ships including the Queen Elizabeth and Queen Mary; 1,000 aircraft of twenty types, and half a million men, took part. The exercise lasted nineteen days, until October 4, 1953, and included convoy protection, naval control of shipping and striking fleet operations in northern waters; from the arctic to North America and covering 5 million square miles. In order to make the training as realistic as possible, the enemy role was taken by surface raiders, submarines and land-based air elements drawn from NATO forces.
Don Clayton was a signaller on the bridge of HMS Diamond at the time of the collision on September 29, 1953 near Iceland. In 2009, he wrote of the incident in the Christmas 2009 Newsletter of the Freedom Fighters Wargame Club.
In September 1953 I was a young Signalman serving onboard HMS Diamond which was a Daring Class destroyer. One of the features of this class of destroyer was that it was built with a bow for ramming submarines. Unfortunately, we decided to go for something larger like an 8000 ton Cruiser called HMS Swiftsure.

We were carrying out an exercise in the Arctic Circle, at night, in complete darkness. You could not see a hand in front of your face as anyone who has been up in the Arctic Circle will know what I mean, it was dark. We also had a gale force wind blowing with 52 foot waves, the height of a 2 storey house, this added to the freezing cold made my station on the upper bridge very unpleasant.

All ships were under strict "darken ship" conditions so all navigation lights were switched off. The formation was made up of 2 sections, the Main Body (HMS Swiftsure and other large ships) and the destroyer escorts. The destroyers were spread out ahead of the Main body giving anti-submarine protection. At 1945 hours a signal was received to reverse the course of the formation, which is a turn of 180 degrees. This meant that the destroyer escorts had to reverse their course, increase speed to max and pass clear of the ships in the main body which would continued on their original course until the destroyer escorts were reformed astern of the main body.

Bearing in mind the conditions and the fact that no lights were visible anywhere, HMS Diamond managed to find HMS Swiftsure and rammed into her amidships. Ships in the formation were only using low power radar which suffered from storm clutter and was clearly not easy to read. The collision became obvious about 2 minutes before it occurred, too late to take avoiding action at the speed HMS Diamond was doing. Our Assistant Gunnery Officer was on the upper bridge with me and as soon as he could see that a collision was imminent he had the foresight to dash down onto our foredeck and have the high powered water hose ready to use. I remained on the upper bridge petrified, I was wearing foul weather clothing with Wellington boots and would have had no chance of swimming if we sank.

Had it been HMS Swiftsure which collided with HMS Diamond I would not be writing this today, she would have cut through us like a knife through butter as our hull was one of the first welded versions with very thin plate. 52 feet of our bow was left inside HMS Swiftsure which included our paint locker. The fire onboard HMS Swiftsure burnt for the rest of the night and reached up to the control room and bridge. She never went to sea again and was eventually scrapped. Because of the heroism of our Acting Gunnery Officer we managed to control the fire and eventually extinguish it.

Our Captain faced a Courts Martial for hazarding his ship. A famous signal was sent between HMS Swiftsure and HMS Diamond which I received and sent from the bridge by signal lamp. The captain of HMS Swiftsure said to our captain – "What are you going to do now" our captain replied "Build a farm". Within 30 minutes of the collision the gale abated and the sea dropped to almost a flat calm. HMS Diamond returned to the naval port at Chatham backwards. She had a new bow welded on and continued in the service.

I still consider this to be one of my miracles in life, things could have been so different. I don't think that anyone died from this collision but there were some injuries onboard HMS Swiftsure.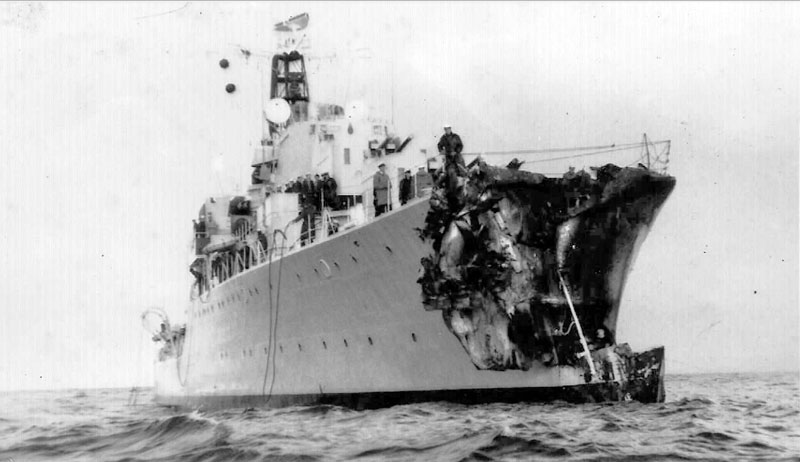 The damaged bow of HMS Diamond
The collision caused a fire on Swiftsure that damaged most of the electrical wiring to the bridge. Both ships arrived at Sheerness on October 6, 1953. Some repairs were done to Swiftsure but she remained inactive until February 1957 when she was moved to Chatham for a major refit. At Chatham, it was found that the damage caused by the collsion was more extensive than first thought and she was never returned to active service. She was eventually sold, arriving at the Inverkeithing yard of Thomas W Ward on October 17, 1962 to be scrapped.
Diamond was repaired and remained in service until she was scrapped at Rainham, Kent in 1981.
There was a newsreel made by Pathe of Exercise Mariner that shows the damage done to both ships:
The accident led to the well-known messages between the ships:
Swiftsure: "What do you intend to do now?"
Diamond: "Buy a farm."
Sources
Exercise Mariner - Royal Fleet Auxilary Historical Society
Imperial War Museums - a great collection of photos
Peacetime "Exercise Mariner" - Nambour Chronicle and North Coast Advertiser (September 25, 1953)
Royal Navy Funny Signals - World of Warships forum
Special article by Don Clayton - Freedom Fighters Wargame Club, Christmas 2009 Newsletter - An eyewitness account of the collision from Don Clayton who was on the bridge of HMS Diamond
The Increase in Strength - NATO the First Five Years 1949-1954, Part 3, Chapter 9
This page created 25th August, 2019, last modified 26th August, 2019