HomePage | Optical Illusions | War Stories | QBasic | Dads Navy Days | Bristol | Bristol, USA | Bristol, Canada | Terre Haute | Miscellany | Web Stuff | About Ray | Site Map | Site Search | Messages | Credits | Links | Web Rings
Dads Navy Days | A brief history | Documents (Page 1), (Page 2), (Page 3) | Maps (Page 1), (Page 2) | HMS Gambia - ship (1950), (1951), (1952) | Collision (Page 1), (Page 2) | HMS Gambia - crew (Page 1), (Page 2), (Page 3), (Page 4) | HMS Gambia - places (1950), (1951) | HMS Gambia - visitors | HMS Warrior - ship (1953), (Vietnam), (1954), (Equator), (Life), (More 1954) | HMS Warrior - crew | HMS Warrior - places (Page 1), (Page 2) | HMS Warrior - planes (Page 1), (Page 2), (Page 3) | Other ships (Page 1), (Page 2), (Page 3), (Page 4), (Page 5) | Before & After | ARA Independencia (Page 1), (Page 2), (Page 3), (Page 4), (Page 5), (Page 6) | Spithead '53 (Page 1), (Page 2) | HMS Chevron (Page 1), (Page 2) | HMS Liverpool | HMS Cook | Peanut Club | Other Sites
Before & After
This page is for information about the ships, either before or after the time dad served on them.
HMS Gambia
In 1942, the American heavy cruiser, USS Wichita, was assigned to a task force formed around Wasp and Washington (BB-56), the group coming under the command of Rear Admiral John W. Wilcox, Jr., embarked in the latter. Wichita sortied on 26 March, slated to report to Commander, Naval Forces, Europe, for duty, in company with Wasp Washington Tuscaloosa, and eight destroyers. The next day, the force ran into heavy weather, during which time Admiral Wilcox was washed overboard from his flagship. Despite an intensive search, none of the ships recovered the missing flag officer. Command of the task force thus devolved upon Rear Admiral Robert C. "Ike" Giffen, who flew his flag in Wichita. On 3 April, Wichita's task force rendezvoused with three British light cruisers, HMS Edinburgh, HMS Gambia, and HMS Frobisher. Edinburgh then guided the American ships into Scapa Flow their new base of operations, arriving there on the 4th. Over the weeks that ensued, the Americans exercised out of Scapa Flow with units of the British Fleet.
On 16th April 1944 a joint British/American force left Trincomalee in two groups:-
TASK FORCE 69 (Ad. Somerville) with QUEEN ELIZABETH, VALIANT, RICHELIEU (Fr.), the cruisers (Rear. Ad. Reid) NEWCASTLE, NIGERIA, CEYLON, GAMBIA and TROMP plus destroyers.
TASK FORCE 70 (Vice Ad. Power) with RENOWN, carriers (Rear Ad. Moody) ILLUSTRIOUS and SARATOGA, the cruiser LONDON and destroyers.
On the 18 April Gambia and Ceylon reinforced TF70 and the next day 46 bombers and 39 fighters flew off from the carriers to attack Sabang, north-west of Sumatra, and the surrounding airfields. This was the start of Operation Cockpit. 30 tons of bombs were unloaded, two merchantmen were hit and two Japanese destroyers and an escort vessel were left burning. In addition 24 Japanese bombers were destroyed on the ground and large oil tanks, a power station, a barracks and the dockyard all received direct hits. Afd. Somerville reported that he had caught the Japanese commander "with his kimono up". On the return passage three Japanese torpedo planes tried to attack the fleet but were shot down by the covering fighters, and the fleet returned safely to Trincomalee and Columbo.
In June 1944 Illustrious, accompanied by its covering force of Ceylon, Gambia, Renown, Richelieu and Nigeria took part in an air attack on the harbour and airfield of Port Blair in the Andaman Islands. This was successfully carried out on 19th June.
The above WWII actions are taken from HMS Ceylon and the Dictionary of American Naval Fighting Ships : USS Wichita
In 1954 the ship returned home from Valletta in Malta carrying a bunch of Marines home. They'd been stationed there for two years, and one soldiers highly readable tale can be found at Tell it to the Marines.
I received the following information and photograph from Will Porrio from The Netherlands :-
My late parents in law lived in Iran during 1955, since my father in law was employed by Shell and working in the Iran Refinery (Persia in 1955). At that time they met a few guys from HMS Gambia, who happened to be in Abbadan in Iran. These were George Rice and Jim Smith, both from Devon, England.
When they had to say goodbye, they gave as a gift a silver "Shopping List" cover with the HMS Gambia weapon on it (elephant in front of palm tree). That silver cover is now in my wife's possession and I believe she has also some pictures of the two guys, mentioned above.
Jim, in fact gave an address in Plymstock and George gave one from Tavistock. A picture of the cover of the shopping list was also kindly supplied by Will.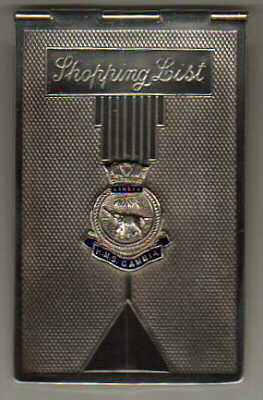 Silver HMS Gambia shopping list cover kindly sent by Will Porrio
In February 2001 I received an email from Bill Heartland. He sent me details of the HMS Gambia Association. The site contains a lot of fascinating features on the ship and crew.
More indormation about Gambia can be found at Warships
HMS Warrior
In May 1944 the Royal Canadian Navy decided to return the two RN escort aircraft carriers Nabob and Puncher and use light fleet carriers instead. Warrior and Magnificent were offered by the RN in January 1945, but neither of the new ships were commisioned until after the end of the war. Warrior was completed in Belfast on 24th January 1946 and arrived in Halifax, Canada on 31st March with the Seafires and ASW Fireflies of 803 and 825 Squadrons. She wasn't equipped for the severe Canadian winters and in November 1946 was transferred to Esquimalt. Defence cuts meant that the Canadians only wanted one aircraft carrier, and they decided to take the slightly larger Magnificent. Warrior returned to Belfast in February 1948, transferred stores to Magnificent and was paid off from the Canadian Navy on 23rd March 1948.
After WWII the Royal Navy tried many innovations in their aircraft carriers. In 1948 HMS Warrior was fitted with a flexible rubber flight deck. The idea was to be able to reduce the weight of the undercarriage and the arrester gear of the planes using it. The actual tests were successful but wasn't adopted as it meant that the planes so adapted could only land on specially prepared land runways.
Another innovation tried on Warrior was the introduction of an angled flightdeck, this was fitted during a major refit that lasted from 14th December 1954 to 21st August 1956.
The role the ship played in the H-Bomb tests at Malden Island on 15th May 1957 has long been the cause of controversy. Did the British Government really purposely send over a thousand of its sailors into a radioactive zone merely as guinea pigs or did it really not know the risks involved? My thanks must go to Carlos Rufino who served on HMS Warrior when she was in the Argentinean Navy and known as ARA Independencia for bringing the article Blast from the past to my attention.
On 31st July 1957 HMS Warrior visited the Pitcairn Islands. As the Island Magistrate said in his address to Warrior, "This day means more to the people of Pitcairn Island than most of you could tell ...We shall never forget your visit ... Thank you and a pleasant voyage home."
HMS Warrior / HMCS Warrior
Warrior also belonged to the Canadian Navy between 1945 and 1947.
History of the Military Air Services of Canada
HMS Warrior / ARA Independencia
HMS Warrior was sold to Argentina as ARA Independencia in 1958. Commissioned 26th January 1959, she was in service with them till stricken from Argentinean Navy list in 1971 when she was scrapped.
For information on HMS Warrior and the nuclear bomb tests in general
British Nuclear Test Veterans Association
On 31st July 1957 HMS Warrior visited the Pitcairn Islands. The Island responded by issuing a commemorative stamp. Details of the stamp and visit can be found on the Official Pitcairn Island site.
Other information on the ship can be found on the following sites :-
Dads Navy Days | A brief history | Documents (Page 1), (Page 2), (Page 3) | Maps (Page 1), (Page 2) | HMS Gambia - ship (1950), (1951), (1952) | Collision (Page 1), (Page 2) | HMS Gambia - crew (Page 1), (Page 2), (Page 3), (Page 4) | HMS Gambia - places (1950), (1951) | HMS Gambia - visitors | HMS Warrior - ship (1953), (Vietnam), (1954), (Equator), (Life), (More 1954) | HMS Warrior - crew | HMS Warrior - places (Page 1), (Page 2) | HMS Warrior - planes (Page 1), (Page 2), (Page 3) | Other ships (Page 1), (Page 2), (Page 3), (Page 4), (Page 5) | Before & After | ARA Independencia (Page 1), (Page 2), (Page 3), (Page 4), (Page 5), (Page 6) | Spithead '53 (Page 1), (Page 2) | HMS Chevron (Page 1), (Page 2) | HMS Liverpool | HMS Cook | Peanut Club | Other Sites
HomePage | Optical Illusions | War Stories | QBasic | Dads Navy Days | Bristol | Bristol, USA | Bristol, Canada | Terre Haute | Miscellany | Web Stuff | About Ray | Site Map | Site Search | Messages | Credits | Links | Web Rings
This page last modified 18th April 2005