The ship was built by Swan Hunter at Wallsend. Work started in July 1939 and she was launched at the end of November 1940. Fitting was completed in February 1942. She was loaned to the RNZN between 1943 and 1946 when she was returned to Royal Navy service until December 1960, then held in reserve until 1964. She was finally broken up in 1968.
With a length of 555ft and a beam of 16.5 ft she weighed 8,525 tons raising to 10,450 with a full load, she had a compliment of 730 men. She had a range of 10,200 miles at 12 knots using 1,700 tons of fuel oil, though her top speed was 31.5 knots. Her main armament was 3 triple 6" guns as well as 4 dual 4" guns and 2 quad 2" guns.
For far more detailed information go to WWII Cruiser Operations

During this time the captain was V.D.A. Donaldson and the Commander was R.F. Phillimore, MBE, DSC.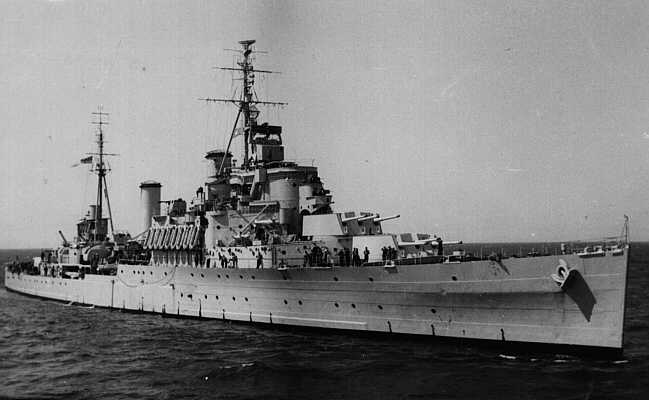 1950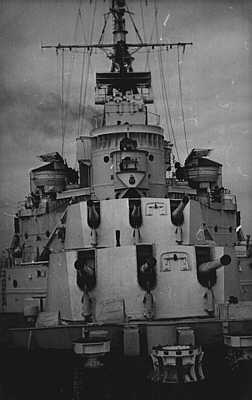 This photo was taken off of Malta, 1950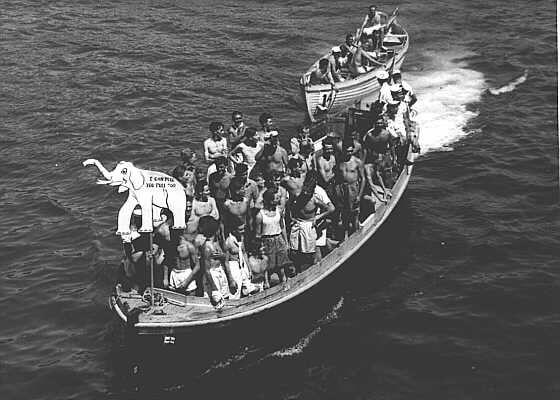 "Chucking up party" ~ Fleet Ships Regatta ~ Marmarice, Turkey ~ July 1950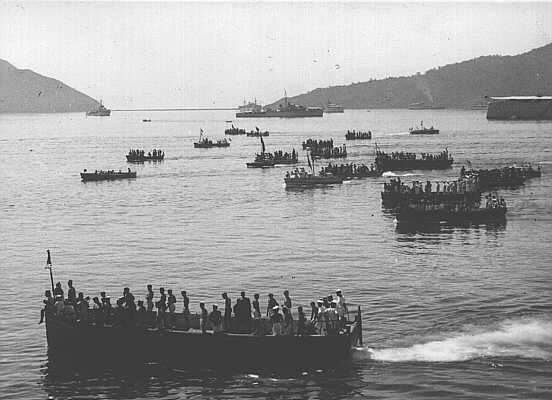 "Battle of the chuckers up" ~ Fleet Ships Regatta ~ Marmarice, Turkey ~ July 1950
To give some idea what was involved in these fleet regatta's here's an extract from a letter that Bernard Mouzer, OBE RVM, sent to me from his 1948/51 commission on HMS Phoebe. The letter was originally written to his wife.
The Regatta this year is being spread over two days with the small ships competing on the first day. The two New Zealand ships win most of their races. With their Maori rowers they are very formidable opposition. But the main contest is on the second day between the bigger ships, Forth, Gambia, Glory and ourselves. Although we are the smallest of the four, with the smallest complement to choose crews from, we fancy ourselves to win the Cock. In the evening before our race I go to the cinema in the waist to see "Under Capricorn."

Wednesday 12. 7.50 is probably the most memorable day of the commission. Phoebe wins the Regatta and is the Cock of the Fleet. We are already looking forward to steaming into Grand Harbour with the huge plywood cock in its prominent place on B turret and of course the Skipper receiving the silver cock trophy from the Admiral.

Phoebe wins quite comfortably. Out of the 8 Seamen's boats we come fourth and our A whaler comes first. So as well as a sore bottom and horny hands I now have a certain amount of satisfaction. Times are faster than last year and the competition keener, encouraged by the New Zealanders.

They (the New Zealanders) are different to us. It can be said for them that they are tremendously high spirited and good humoured and that they go all out to enjoy themselves. However, because of their high spirits they run away with themselves and become hooligans. They're excused a bit because amongst the hooliganism there is nothing but good humour. They don't get nasty. But by nature they're rough and physically they're big, well developed and extremely healthy.

Imagine therefore the consequences when foraging parties from the New Zealand ships come in the black night to pinch our Cock. The wooden one illuminated on B turret. There were also parties from other ships, notably Gambia and Forth. The Captain himself piped 'Stand by to Repel Boarders' and when we got up top he was standing on the quarterdeck, drenched to the skin, clad in formal dinner attire, heaving spuds and shouting, "Rally round Phoebes!" All the hoses were going, all the officers were drenched and mostly drunk – spuds, red lead bombs, paint, buckets of gash, and still the Kiwis came. Up the gangway, up the anchor cable, up the booms and in through the ports. They were beaten, drenched, painted and then chucked over the side only to shout back in defiance, "We'll be back you jokers" and back they'd come.

The bridge was teeming with them. One of them was thrown off the flag deck onto an awning and then over the foc'sle. A couple were taken to sick bay but thanks to good providence nobody was seriously hurt. One cheeky b climbed in through a port, put all the plugs in the officers bathroom, turned all the taps on, took all the tap tops off and stowed them in a wine box. All the cabins in that region were flooded. What a laugh! One of them pinched one of the Captain's brass dolphins ( huge things) dived over the side with it and put it in his boat as booty. How he managed to swim with it I don't know.

At the height of it all the Captain had "The Cease Fire" sounded and everything stopped as suddenly as it started. A bedraggled officer from another ship still in his formal dinner dress, dragged himself up the gangway from where he had been heaved over the side and said, "Now I can go ahead with the social call I came to pay!" On the other side of the ship, in Hawea's boat a New Zealander in trunks, covered from head to foot in black paint, wiping himself on our tiddly cotton duck gangway screen said, "Three Cheers for Phoebe. We'll be back about three!"

Well not much happened after that except to pick all the blokes out of the water, and this morning we cleared up the mess. There were spuds, red lead, paint and in big black letters painted on the stern, "Gambia." Now we are shipshape again and it's all over. I know that it is all foolish hooliganism but I can't help admiring the Kiwis for their good humour and gameness. It helped to pass the time and no harm has been done except to the Instructor Lieutenant who has got a black eye. I am so pleased. (He is the man who upset me by being so unhelpful about my request for a correspondance course).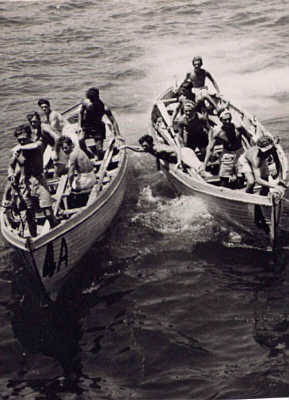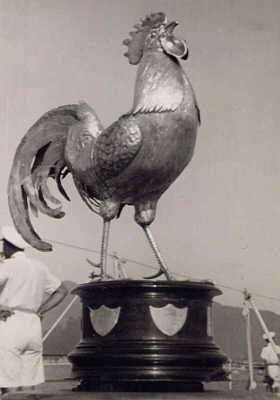 These photos were also very kindly sent to me by Bernard Mouzer, OBE RVM
He's in 4A, in white shorts, turning round to look forward
The trophy is the "Cock of the Fleet"
There's another photo of it when Gambia won it at Argustoli, Greece in 1952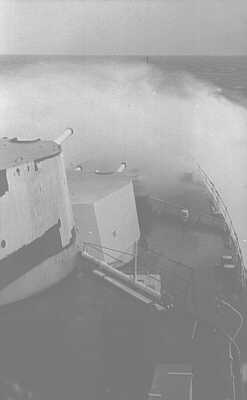 Speed trials off Plymouth ~ 1949 or 1950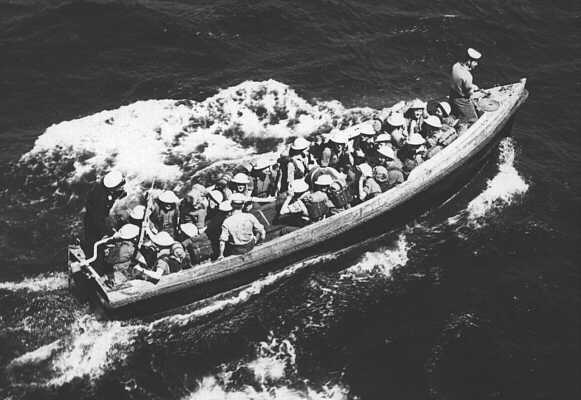 Ships Marines on assault training ~ 1950
This page created 23rd July 1999, last modified 21st July 2019