HomePage | Optical Illusions | War Stories | QBasic | Dads Navy Days | Bristol | Bristol, USA | Bristol, Canada | Terre Haute | Miscellany | Web Stuff | About Ray | Site Map | Site Search | Messages | Credits | Links | Web Rings
Dads Navy Days | A brief history | Documents (Page 1), (Page 2), (Page 3) | Maps (Page 1), (Page 2) | HMS Gambia - ship (1950), (1951), (1952) | Collision (Page 1), (Page 2) | HMS Gambia - crew (Page 1), (Page 2), (Page 3), (Page 4) | HMS Gambia - places (1950), (1951) | HMS Gambia - visitors | HMS Warrior - ship (1953), (Vietnam), (1954), (Equator), (Life), (More 1954) | HMS Warrior - crew | HMS Warrior - places (Page 1), (Page 2) | HMS Warrior - planes (Page 1), (Page 2), (Page 3) | Other ships (Page 1), (Page 2), (Page 3), (Page 4), (Page 5) | Before & After | ARA Independencia (Page 1), (Page 2), (Page 3), (Page 4), (Page 5), (Page 6) | Spithead '53 (Page 1), (Page 2) | HMS Chevron (Page 1), (Page 2) | HMS Liverpool | HMS Cook | Peanut Club | Other Sites
HMS Warrior - the planes
These are photos that are in dads albums, unless stated otherwise, of HMS Warrior of some of the ships planes. I've got no idea what he was doing on the flight deck to take these photos other than he must have been off watch at the time, either that or they were taken by someone else. Either way, I think that they're pretty spectacular.
In November 2000, Tony Pearce who was one of the two meteorologists, emailed me saying that there were two photographers, Kingsley Jones and Norman Ford, on HMS Warrior, it is more than likely that these took the photographs.
I can't thank Mr Vic Flintham enough for naming the aircraft that appear on these pages. Vic writes the Post-war Military Aviation site.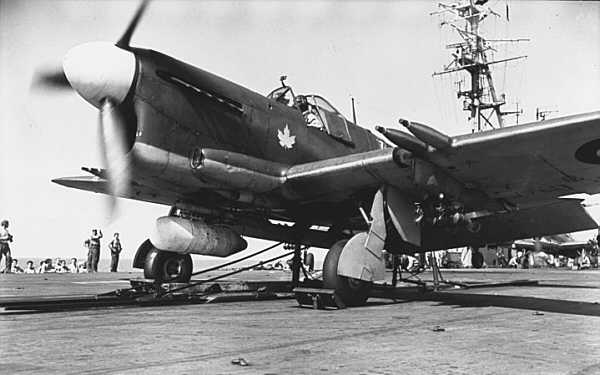 HMCS Warrior ~ 1945
(Post-war Firefly Mk I)
In December 2002, Albert Gauthier sent me this great photo of HMCS Warrior. His dad served on her from her launch in 1944 to the end of the war. Albert writes "My dad joined the Canadian Navy in 1943, immediately after turning 18 years old. He was immediately shipped to Halifax, Nova Scotia and shortly thereafter, shipped to London and a place called Macrihanish in Scotland, where he trained as a Aircraft Maintenance Mechanic while the Warrior was under construction. He basically trained until the end of 1944 until the Warrior was ready and they got the ship about that time."
The photo was taken in mid 1945 when he was on the ship and they were headed to Japan to set up a naval blockade prior to the bomb dropping.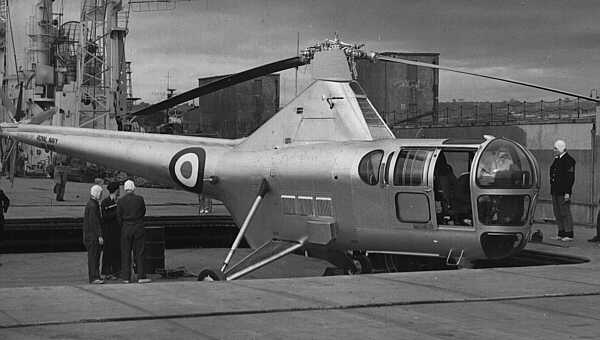 Ships helicopter being bought inboard ~ 1953
(Dragonfly HR.3 WG665)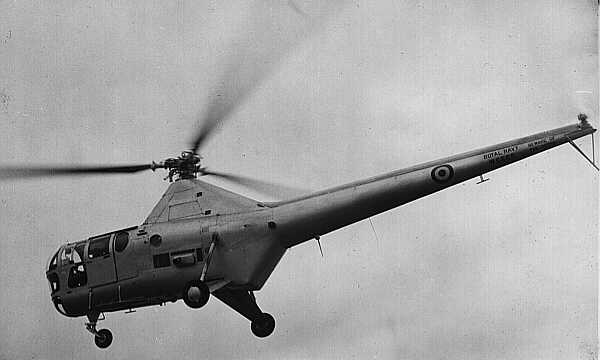 Ships helicopter ~ 1953
(Dragonfly HR.3 WG665)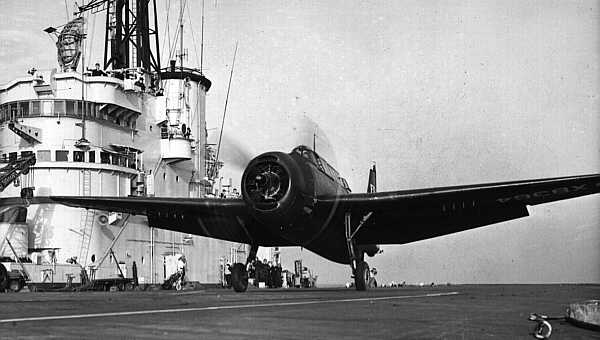 Flight deck ~ 1953
(Grumman Avenger)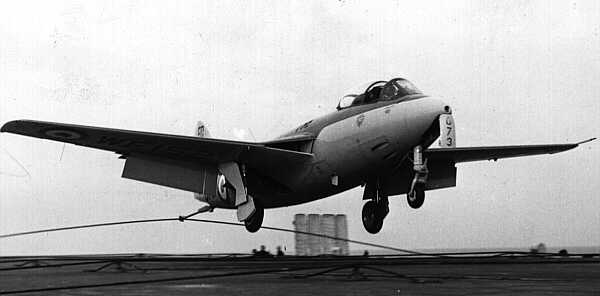 Caught ! ~ 1953
(Sea Hawk F.1 or F.2 (073))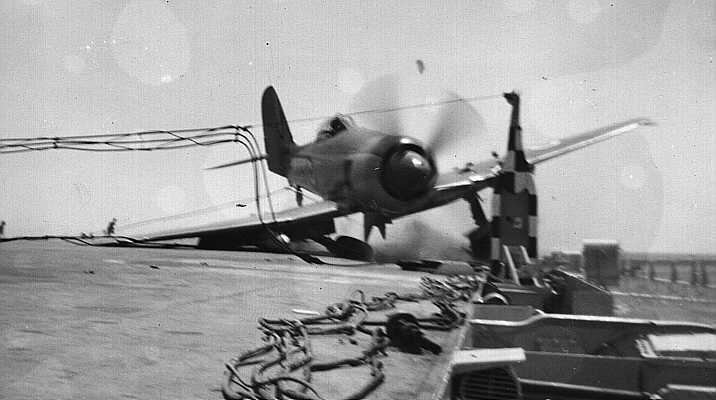 In Dads album this photo has the caption "Wot! No wheels in front"?
(Sea Fury FB.11)
I wonder if the pilot felt so jolly!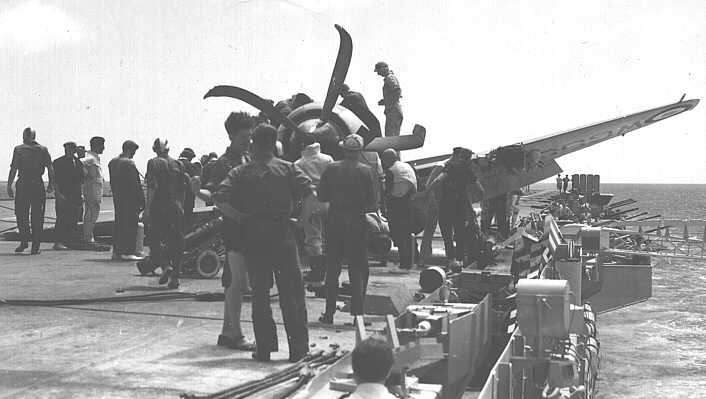 Crash ! ~ HMS Warrior ~ 1953
(Sea Fury FB.11)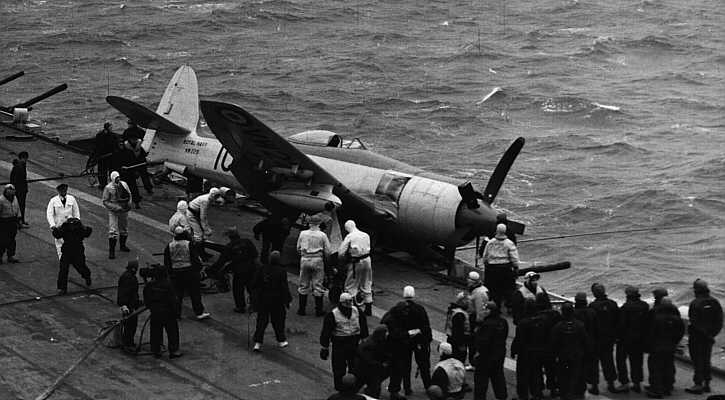 Crash ! ~ HMS Warrior ~ 1953
(Sea Fury FB.11)
Dads Navy Days | A brief history | Documents (Page 1), (Page 2), (Page 3) | Maps (Page 1), (Page 2) | HMS Gambia - ship (1950), (1951), (1952) | Collision (Page 1), (Page 2) | HMS Gambia - crew (Page 1), (Page 2), (Page 3), (Page 4) | HMS Gambia - places (1950), (1951) | HMS Gambia - visitors | HMS Warrior - ship (1953), (Vietnam), (1954), (Equator), (Life), (More 1954) | HMS Warrior - crew | HMS Warrior - places (Page 1), (Page 2) | HMS Warrior - planes (Page 1), (Page 2), (Page 3) | Other ships (Page 1), (Page 2), (Page 3), (Page 4), (Page 5) | Before & After | ARA Independencia (Page 1), (Page 2), (Page 3), (Page 4), (Page 5), (Page 6) | Spithead '53 (Page 1), (Page 2) | HMS Chevron (Page 1), (Page 2) | HMS Liverpool | HMS Cook | Peanut Club | Other Sites
HomePage | Optical Illusions | War Stories | QBasic | Dads Navy Days | Bristol | Bristol, USA | Bristol, Canada | Terre Haute | Miscellany | Web Stuff | About Ray | Site Map | Site Search | Messages | Credits | Links | Web Rings
This page last modified 18th April 2005