HomePage | Optical Illusions | War Stories | QBasic | Dads Navy Days | Bristol | Bristol, USA | Bristol, Canada | Terre Haute | Miscellany | Web Stuff | About Ray | Site Map | Site Search | Messages | Credits | Links | Web Rings
Dads Navy Days | A brief history | Documents (Page 1), (Page 2), (Page 3) | Maps (Page 1), (Page 2) | HMS Gambia - ship (1950), (1951), (1952) | Collision (Page 1), (Page 2) | HMS Gambia - crew (Page 1), (Page 2), (Page 3), (Page 4) | HMS Gambia - places (1950), (1951) | HMS Gambia - visitors | HMS Warrior - ship (1953), (Vietnam), (1954), (Equator), (Life), (More 1954) | HMS Warrior - crew | HMS Warrior - places (Page 1), (Page 2) | HMS Warrior - planes (Page 1), (Page 2), (Page 3) | Other ships (Page 1), (Page 2), (Page 3), (Page 4), (Page 5) | Before & After | ARA Independencia (Page 1), (Page 2), (Page 3), (Page 4), (Page 5), (Page 6) | Spithead '53 (Page 1), (Page 2) | HMS Chevron (Page 1), (Page 2) | HMS Liverpool | HMS Cook | Peanut Club | Other Sites
HMS Warrior ~ 1954 cruise ~ Around Africa
Tony Pearce, one of the two meteorologists, drew the maps for the journey, the Commissioning Certificate, and a "Crossing the Line" certificate. The originals were photographed by the ship's photographers, Kingsley Jones and Norman Ford, made into a 6 up negative and then mass produced for the crew. They lost a lot of detail in the process.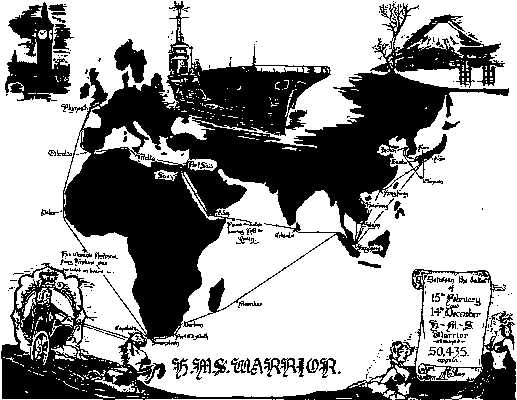 HMS Warrior ~ 1954 cruise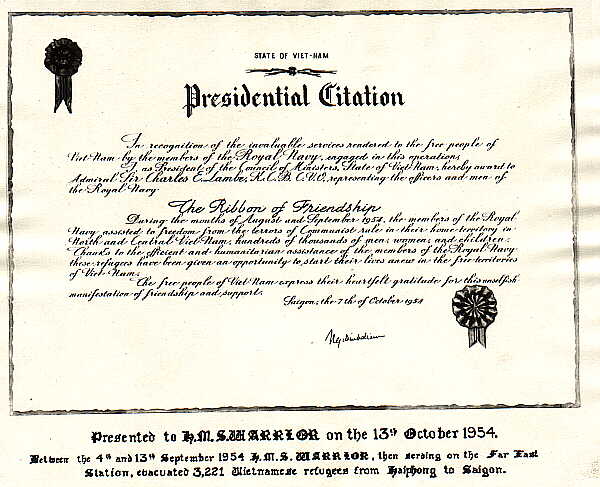 The Citation reads :-
In recognition of the invaluable services rendered to the free people of Viet Nam by the members of the Royal Navy, engaged in this operation.
I, as President of the Council of Ministers, State of Viet Nam, hereby award to Admiral Sir Charles E. Lambe, KCB, CVO, representing the office and men of the Royal Navy.
The Ribbon of Friendship
During the months of August and September 1954, the members of the Royal Navy assisted to freedom from the terrors of Communist rule in their home territory in North and Central Viet Nam, hundreds of thousands of men, women and children.
Thanks to the efficient and humanitarian assistance of the members of the Royal Navy these refugees have been given an opportunity to start their lives anew in the free territories of Viet Nam.
The free people of Viet Nam express their heartfelt gratitude for this unselfish manifestation of friendship and support.
Saigon, the 7th of October 1954
Presented to HMS WARRIOR on the 13th October 1954,
Between the 4th and 13th September 1954 HMS WARRIOR, then serving on the Far East Station, evacuated 3,221 Vietnamese refugees from Haipong to Saigon.
Dads Navy Days | A brief history | Documents (Page 1), (Page 2), (Page 3) | Maps (Page 1), (Page 2) | HMS Gambia - ship (1950), (1951), (1952) | Collision (Page 1), (Page 2) | HMS Gambia - crew (Page 1), (Page 2), (Page 3), (Page 4) | HMS Gambia - places (1950), (1951) | HMS Gambia - visitors | HMS Warrior - ship (1953), (Vietnam), (1954), (Equator), (Life), (More 1954) | HMS Warrior - crew | HMS Warrior - places (Page 1), (Page 2) | HMS Warrior - planes (Page 1), (Page 2), (Page 3) | Other ships (Page 1), (Page 2), (Page 3), (Page 4), (Page 5) | Before & After | ARA Independencia (Page 1), (Page 2), (Page 3), (Page 4), (Page 5), (Page 6) | Spithead '53 (Page 1), (Page 2) | HMS Chevron (Page 1), (Page 2) | HMS Liverpool | HMS Cook | Peanut Club | Other Sites
HomePage | Optical Illusions | War Stories | QBasic | Dads Navy Days | Bristol | Bristol, USA | Bristol, Canada | Terre Haute | Miscellany | Web Stuff | About Ray | Site Map | Site Search | Messages | Credits | Links | Web Rings
This page last modified 18th April 2005