HomePage | Optical Illusions | War Stories | QBasic | Dads Navy Days | Bristol | Bristol, USA | Bristol, Canada | Terre Haute | Miscellany | Web Stuff | About Ray | Site Map | Site Search | Messages | Credits | Links | Web Rings
Bristol | Place Names | Legends, Pre-history and the Romans | Birth of the City | 1100 Onwards | Voyages | 1450 Onwards | 1650 Onwards | 1700 Onwards | Riots | The Blitz (Page 1), (Page 2) | The Castle (Page 1), (Page 2), (Page 3), (Page 4), (Page 5), (Page 6) | Blaise Castle (Page 1), (Page 2) | Castle Green (Page 1), (Page 2) | Union Street | Broadmead | The Old City (Page 1), (Page 2), (Page 3), (Page 4) | Christmas Steps (Page 1), (Page 2) | St. Mary Redcliffe (Page 1), (Page 2), (Page 3) | College Green (Page 1), (Page 2) | King Street (Page 1), (Page 2) | Clifton (Page 1), (Page 2) | Avon Gorge (Page 1), (Page 2), (Page 3) | Hotwells (Page 1), (Page 2) | City Docks (Page 1), (Page 2), (Page 3) | Bedminster (Page 1), (Page 2), (Page 3), (Page 4), (Page 5), (Page 6), (Page 7) | Old Market (Page 1), (Page 2) | St. George (Page 1), (Page 2) | Temple (Page 1), (Page 2), (Page 3) | Arno's Vale Cemetery (Page 1), (Page 2) | Brislington | @ Bristol | Oldest House | I. K. Brunel (Page 1), (Page 2) | Ma Pugsley | Yeamans | Boundaries (Page 1), (Page 2) | Photography | Exhibition (Page 1), (Page 2) | Lead Working | Historical Perspective | Virtute et Industrial | Other Sites | Bibliography (Page 1), (Page 2) | Help Wanted (Page 1), (Page 2), (Page 3)
Bristol - Bedminster 3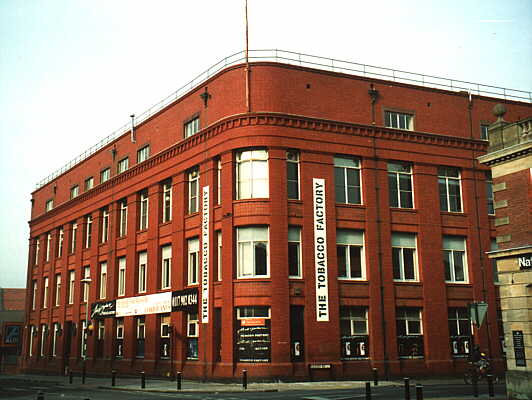 The Tobacco Factory, North Street, Bedminster
This old Will's factory in North Street is now home to The Tobacco Factory, an artist's workspace.
Carrying on down North Street from The Tobacco Factory we come to the old Ashton Tollgate.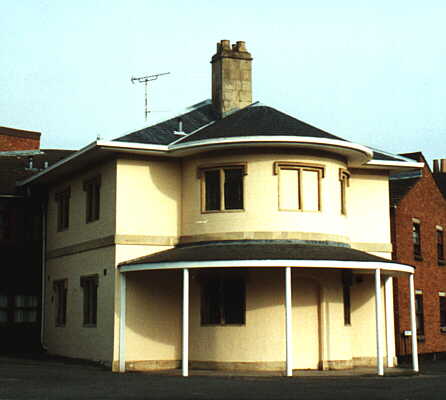 The Ashton Tollgate
In common with the other Bristol tollgates this was the scene of rioting in the 18th century. Turning right here we come to last working tannery in Bedminster.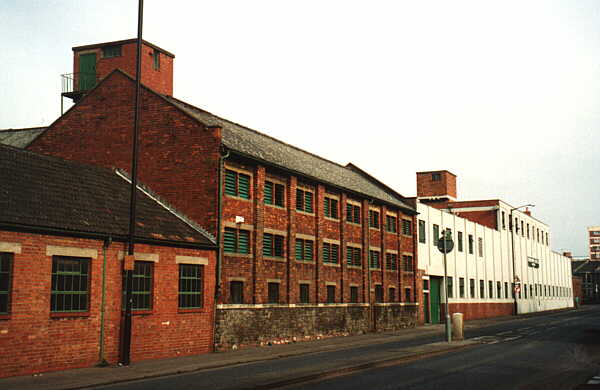 Thomas Ware & Sons Tannery
Bristol | Place Names | Legends, Pre-history and the Romans | Birth of the City | 1100 Onwards | Voyages | 1450 Onwards | 1650 Onwards | 1700 Onwards | Riots | The Blitz (Page 1), (Page 2) | The Castle (Page 1), (Page 2), (Page 3), (Page 4), (Page 5), (Page 6) | Blaise Castle (Page 1), (Page 2) | Castle Green (Page 1), (Page 2) | Union Street | Broadmead | The Old City (Page 1), (Page 2), (Page 3), (Page 4) | Christmas Steps (Page 1), (Page 2) | St. Mary Redcliffe (Page 1), (Page 2), (Page 3) | College Green (Page 1), (Page 2) | King Street (Page 1), (Page 2) | Clifton (Page 1), (Page 2) | Avon Gorge (Page 1), (Page 2), (Page 3) | Hotwells (Page 1), (Page 2) | City Docks (Page 1), (Page 2), (Page 3) | Bedminster (Page 1), (Page 2), (Page 3), (Page 4), (Page 5), (Page 6), (Page 7) | Old Market (Page 1), (Page 2) | St. George (Page 1), (Page 2) | Temple (Page 1), (Page 2), (Page 3) | Arno's Vale Cemetery (Page 1), (Page 2) | Brislington | @ Bristol | Oldest House | I. K. Brunel (Page 1), (Page 2) | Ma Pugsley | Yeamans | Boundaries (Page 1), (Page 2) | Photography | Exhibition (Page 1), (Page 2) | Lead Working | Historical Perspective | Virtute et Industrial | Other Sites | Bibliography (Page 1), (Page 2) | Help Wanted (Page 1), (Page 2), (Page 3)
HomePage | Optical Illusions | War Stories | QBasic | Dads Navy Days | Bristol | Bristol, USA | Bristol, Canada | Terre Haute | Miscellany | Web Stuff | About Ray | Site Map | Site Search | Messages | Credits | Links | Web Rings
This page created 15th April 2001, last modified 5th May 2005