HomePage | Optical Illusions | War Stories | QBasic | Dads Navy Days | Bristol | Bristol, USA | Bristol, Canada | Terre Haute | Miscellany | Web Stuff | About Ray | Site Map | Site Search | Messages | Credits | Links | Web Rings
Bristol | Place Names | Legends, Pre-history and the Romans | Birth of the City | 1100 Onwards | Voyages | 1450 Onwards | 1650 Onwards | 1700 Onwards | Riots | The Blitz (Page 1), (Page 2) | The Castle (Page 1), (Page 2), (Page 3), (Page 4), (Page 5), (Page 6) | Blaise Castle (Page 1), (Page 2) | Castle Green (Page 1), (Page 2) | Union Street | Broadmead | The Old City (Page 1), (Page 2), (Page 3), (Page 4) | Christmas Steps (Page 1), (Page 2) | St. Mary Redcliffe (Page 1), (Page 2), (Page 3) | College Green (Page 1), (Page 2) | King Street (Page 1), (Page 2) | Clifton (Page 1), (Page 2) | Avon Gorge (Page 1), (Page 2), (Page 3) | Hotwells (Page 1), (Page 2) | City Docks (Page 1), (Page 2), (Page 3) | Bedminster (Page 1), (Page 2), (Page 3), (Page 4), (Page 5), (Page 6), (Page 7) | Old Market (Page 1), (Page 2) | St. George (Page 1), (Page 2) | Temple (Page 1), (Page 2), (Page 3) | Arno's Vale Cemetery (Page 1), (Page 2) | Brislington | @ Bristol | Oldest House | I. K. Brunel (Page 1), (Page 2) | Ma Pugsley | Yeamans | Boundaries (Page 1), (Page 2) | Photography | Exhibition (Page 1), (Page 2) | Lead Working | Historical Perspective | Virtute et Industrial | Other Sites | Bibliography (Page 1), (Page 2) | Help Wanted (Page 1), (Page 2), (Page 3)
Bristol - Queen Square and King Street - Page 2
Next to the Seamens Almhouse is the old public library, now a restaurant.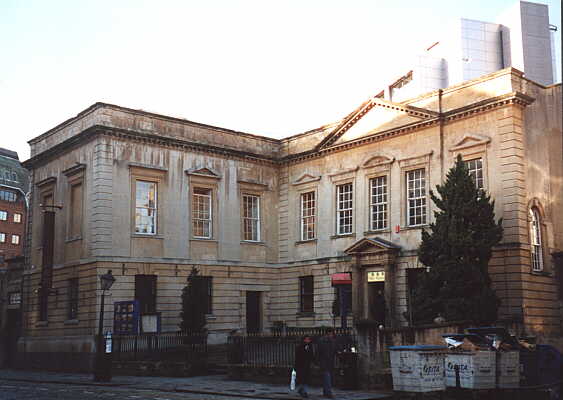 The Old Library
Walking down King Street really is like stepping back through time.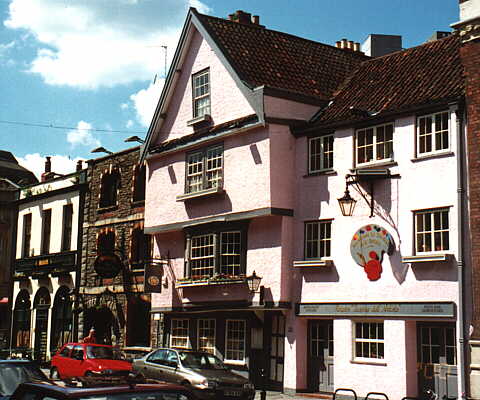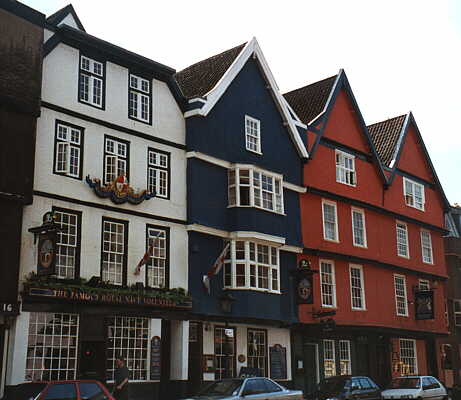 Pubs all in a row - the Royal Navy Volunteer, the Admiral Benbow and the King William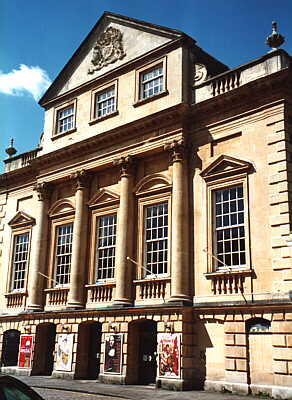 The Theatre Royal was opened on 30th May 1766. Things did not go smoothly though as many of the religious fractions within the city threatened to invoke an Act of 1757 which made actors liable to the same penalties as rogues and vagabonds. It was closed in 1941 and there were plans to turn it into a fruit warehouse, luckily a small group of Bristolians took it upon theselves to save it and, with Government aid, it was reopened in 1943. In 1946 the Old Vic Theatre Company made it its home and the theatre is now known as the Old Vic. In 1963 the Old Vic Company took over the Little Theatre from the Rapier Players, who had played there since 1935. The Old Vic also run an acting school in Clifton. In 1970 extensive remodelling meant that the Coopers Hall next door to the original theatre could be used as the main entrance. The theatre is now one of the oldest in England.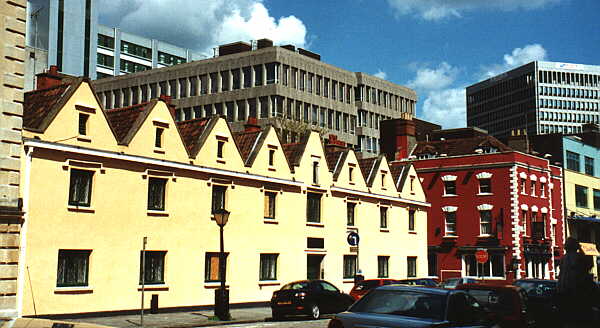 St. Nicholas Almhouse, King Street, 1999
A little way past the theatre is another set of almshouses, the yellow buildings in the picture above.
This building was the first to be erected on the reclaimed marshland between 1652 and 1656.
The red building to the right is the Old Duke, an internationally famous jazz venue.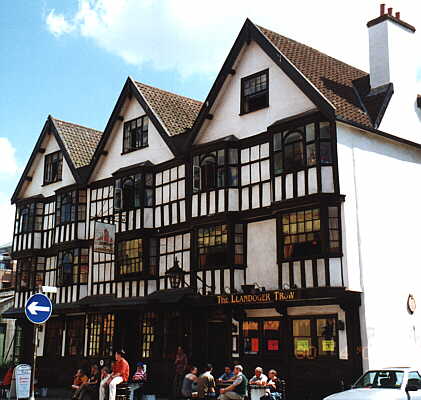 Opposite the Old Duke is the Llandoger Trow. This originally had five gables but two were destroyed in a bombing raid during Word War II.
Just around the corner, in Welsh Back, is the Granary. Built in what is known as the Bristol Byzantine style it was a warehouse before becoming a Jazz club. In the 1970's it became one of the best venues in Bristol for live rock bands - oh happy days.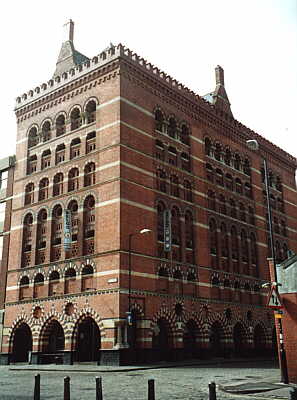 The Granary
Bristol | Place Names | Legends, Pre-history and the Romans | Birth of the City | 1100 Onwards | Voyages | 1450 Onwards | 1650 Onwards | 1700 Onwards | Riots | The Blitz (Page 1), (Page 2) | The Castle (Page 1), (Page 2), (Page 3), (Page 4), (Page 5), (Page 6) | Blaise Castle (Page 1), (Page 2) | Castle Green (Page 1), (Page 2) | Union Street | Broadmead | The Old City (Page 1), (Page 2), (Page 3), (Page 4) | Christmas Steps (Page 1), (Page 2) | St. Mary Redcliffe (Page 1), (Page 2), (Page 3) | College Green (Page 1), (Page 2) | King Street (Page 1), (Page 2) | Clifton (Page 1), (Page 2) | Avon Gorge (Page 1), (Page 2), (Page 3) | Hotwells (Page 1), (Page 2) | City Docks (Page 1), (Page 2), (Page 3) | Bedminster (Page 1), (Page 2), (Page 3), (Page 4), (Page 5), (Page 6), (Page 7) | Old Market (Page 1), (Page 2) | St. George (Page 1), (Page 2) | Temple (Page 1), (Page 2), (Page 3) | Arno's Vale Cemetery (Page 1), (Page 2) | Brislington | @ Bristol | Oldest House | I. K. Brunel (Page 1), (Page 2) | Ma Pugsley | Yeamans | Boundaries (Page 1), (Page 2) | Photography | Exhibition (Page 1), (Page 2) | Lead Working | Historical Perspective | Virtute et Industrial | Other Sites | Bibliography (Page 1), (Page 2) | Help Wanted (Page 1), (Page 2), (Page 3)
HomePage | Optical Illusions | War Stories | QBasic | Dads Navy Days | Bristol | Bristol, USA | Bristol, Canada | Terre Haute | Miscellany | Web Stuff | About Ray | Site Map | Site Search | Messages | Credits | Links | Web Rings
This page created 5th May 2000, last modified 5th May 2005