HomePage | Optical Illusions | War Stories | QBasic | Dads Navy Days | Bristol | Bristol, USA | Bristol, Canada | Terre Haute | Miscellany | Web Stuff | About Ray | Site Map | Site Search | Messages | Credits | Links | Web Rings
Bristol | Place Names | Legends, Pre-history and the Romans | Birth of the City | 1100 Onwards | Voyages | 1450 Onwards | 1650 Onwards | 1700 Onwards | Riots | The Blitz (Page 1), (Page 2) | The Castle (Page 1), (Page 2), (Page 3), (Page 4), (Page 5), (Page 6) | Blaise Castle (Page 1), (Page 2) | Castle Green (Page 1), (Page 2) | Union Street | Broadmead | The Old City (Page 1), (Page 2), (Page 3), (Page 4) | Christmas Steps (Page 1), (Page 2) | St. Mary Redcliffe (Page 1), (Page 2), (Page 3) | College Green (Page 1), (Page 2) | King Street (Page 1), (Page 2) | Clifton (Page 1), (Page 2) | Avon Gorge (Page 1), (Page 2), (Page 3) | Hotwells (Page 1), (Page 2) | City Docks (Page 1), (Page 2), (Page 3) | Bedminster (Page 1), (Page 2), (Page 3), (Page 4), (Page 5), (Page 6), (Page 7) | Old Market (Page 1), (Page 2) | St. George (Page 1), (Page 2) | Temple (Page 1), (Page 2), (Page 3) | Arno's Vale Cemetery (Page 1), (Page 2) | Brislington | @ Bristol | Oldest House | I. K. Brunel (Page 1), (Page 2) | Ma Pugsley | Yeamans | Boundaries (Page 1), (Page 2) | Photography | Exhibition (Page 1), (Page 2) | Lead Working | Historical Perspective | Virtute et Industrial | Other Sites | Bibliography (Page 1), (Page 2) | Help Wanted (Page 1), (Page 2), (Page 3)
Bristol - Bedminster 6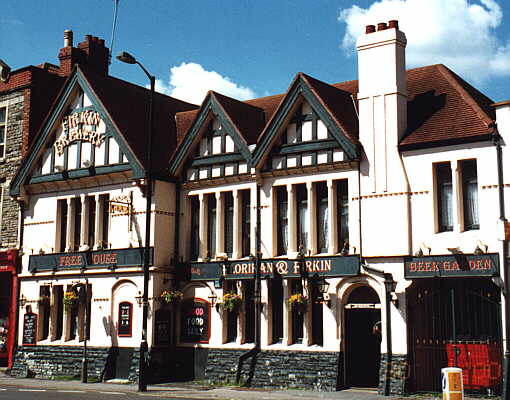 The Florikan and Firkin
This building stands on the corner of North and Cannon Streets. Since this photograph was taken, in October 2000, the building was repainted a very bright yellow and renamed The Aurora. In the eighteenth century, the pub was known as The Bull, around 1900 it was changed to The Star. In 1827, when it was The Bull, Mr Martin, the publican, bought and put on show inside a cage, a tiger. To attract even more people to the pub he paid a man, Joseph Kiddle, to get inside the cage with it. I think Mr Martin got more publicity than he bargained for, as the tiger mauled Mr Kiddle to death.
Bedminster has always been the home of many characters, some of which have been, to put it kindly, a bit eccentric, and the local histories that have been written are full of stories of them. Here are a few :-
In 1817, a very distressed young lady turned up at the home of a local squire, Samuel Worall, in Almondsbury. She spoke no English, just a kind of gibberish and no-one knew where she came from or who she was. All she would eat, apart from vegetables, was fish and pigeon's heads (yummy). A foreigner told the story of how she was the Princess Caraboo, who had been kidnapped from Sumatra by a Bristol captain and who had managed to escape when the ship docked. This was of course, a load of old tripe. Having been made famous by this tale someone eventually recognised her and the truth came out. She was, in reality, Mary Baker, born Mary Wilcocks, a domestic servant and the daughter of a cobbler. She was sent to America, but returned in 1834 and from 1851 lived in Princess Street, Bedminster. Eaking out a living by selling leeches to the General Hospital, she died in 1864 and was buried in the graveyard of Hebron Methodist Chapel, now the Bedminster Spiritualist Church, in Hebron Road. Some people say she was buried in Arno's Vale Cemetery, either way, I can't find her grave.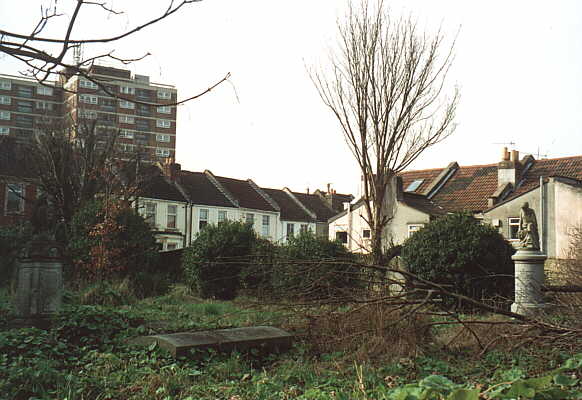 Somewhere in the overgrown graveyard of the Bedminster Spiritualist Church is the resting place of Mary Baker, the Princess Caraboo
Friends of Hebron Burialground
In 1994, a rather silly film was made of the Princess Caraboo story. IMDb shows a trailer for it.
Mrs Bosley, was the widow of master baker Walter Henry Bosley, who died of cancer in 1908. She and her son, William, continued the bakery and when he was called up for service in WWI she had to employ "C3" men. These were men considered too unfit to fight, indeed many of them were too unfit to help at all, and Mrs Bosley had to lift hundredweight (112 lbs) sacks of flour herself. Unfortunately, this took it's toll on her and by the wars' end in 1918 she is described as "a wreck". She eventually remarried and retired from the trade.
"Professor" Charles Stephens, the "Demon Barber of Bedminster" met a very untimely and unusual death on Sunday 11th or Tuesday 13th July 1920, depending on which book you read. The book "Bedminster - Archive Photographs" compiled by Anton Bantock, describes him as "a born showman and stuntman". There are other names for his sort of behaviour, but I'll let you decide decide which fits best.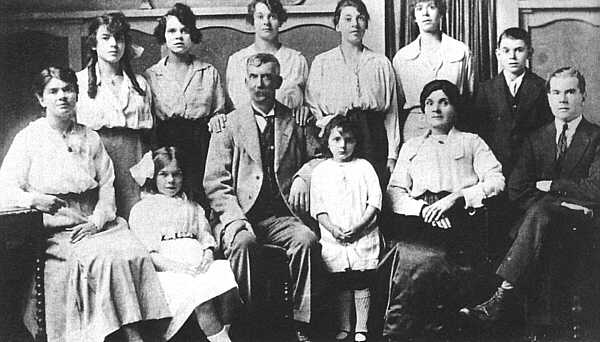 Charlie Stephens' family just before his ill fated trip to America,
Charlie is seated centre, most of the others are his daughters, from left to right,
back row: Florrie, Lily, Ada, Annie, Alice, and Charlie Junior.
front row: Rose, Viola (grandchild), Anne (wife) and Bert (son)
In addition to his war medals, Charlie had five gold and six silver medals for his heroic achievements. These included shaving customers in a lions cage, kissing lions, boxing lions in their cage, standing in front of knife throwers and having an apple sliced in two with a sword - with the apple balanced on his throat. He made numerous parachute jumps and once saved a woman from bring run down by a train by so narrow a margin that her dress was ripped by it. His wife, Anne, once ascended to 5,000 feet in a balloon. Charlie got the idea of going over Niagara Falls in a barrel. He paid a cooper from Bath over £20 to make a barrel with 2 inch thick oak staves.
Charlie was 58 years old and 5' 9" high, the barrel was 6ft 2 inches high, 32 inches in diameter in the middle, and tapering to 26 inches at either end. It had a lid that could opened by means of an internal screw-wheel and was equipped with an electric light. The whole thing weighed around 6 hundredweight (670 lbs). Roughly 170 lbs of this was lead weight to balance the barrel and to keep it upright. Charlie would have his arms and legs strapped and a further strap round his waste would lessen the chance of concussion. To help offset the cost of the expedition, which was around £140, Charlie exhibited the barrel in Bristol, before leaving for America. A Toronto newspaper arranged for a Canadian film company to offset more of the cost. Several people advised him against his attempt, including Bobby Leach who had gone over the falls in a steel drum in 1911. Leach's objection was the amount of weight that Charlie planned to use. As well as the 170lbs of lead he also planned to take an anvil with him. At ten minutes past eight in the morning the barrel was launched two miles upstream and bobbed its way down the river.
It is thought that with so much weight the barrel, on going over the falls, fell straight to the bottom of the river and smashed to pieces on the rocks. Whatever the reason, all that was ever found of Charlie was his tattooed arm strapped to a piece of the barrel. The telegram to inform his wife, Anne, of his success or failure was never sent, and the first she heard of his fate was a report in a newspaper. Later, she was informed that the payment of £20 from the Canadian film company was just sufficient to cover the cost of the burial of his arm. She bought Bert out of the Navy and they carried on the barbershop business. Charlie Junior went on to open a ladies hair-dressers.
Mr Edward Wixon in 1952, opened his ladies' underwear business in a temporary building in Wilson Parade. In 1957, the Council told him he'd have to build a more permanent shop, which he did, and this opened in July 1958. In November that very same year the Council told him it would have to be demolished to make way for the approach to the new second road bridge across the Cut. He metaphorically stuck two fingers up (for transatlantic readers I suppose that would be stuck "a" finger up) to the Council, and put a notice up in his shop window "They can't close me down; our uplifts are too strong". The defiance continued for a couple of years, during which time the Council had to bend the road around his shop, which he renamed Wixon's Kink. The shop was finally demolished in 1978.
Modern characters include the "Bemmy Cowboy", who looks almost authentic, though thankfully his gun holsters are empty. Another is the "Leatherman" who, in warmer weather, is seen wandering around in a leather jock strap and sandals and rarely anything else. Yet another was "Stan the Man" who used to be seen on roller skates or a skateboard in Knowle and Bedminster and who raised considerable amounts of money for charity, but whom I haven't seen for a couple of years now.
Bristol | Place Names | Legends, Pre-history and the Romans | Birth of the City | 1100 Onwards | Voyages | 1450 Onwards | 1650 Onwards | 1700 Onwards | Riots | The Blitz (Page 1), (Page 2) | The Castle (Page 1), (Page 2), (Page 3), (Page 4), (Page 5), (Page 6) | Blaise Castle (Page 1), (Page 2) | Castle Green (Page 1), (Page 2) | Union Street | Broadmead | The Old City (Page 1), (Page 2), (Page 3), (Page 4) | Christmas Steps (Page 1), (Page 2) | St. Mary Redcliffe (Page 1), (Page 2), (Page 3) | College Green (Page 1), (Page 2) | King Street (Page 1), (Page 2) | Clifton (Page 1), (Page 2) | Avon Gorge (Page 1), (Page 2), (Page 3) | Hotwells (Page 1), (Page 2) | City Docks (Page 1), (Page 2), (Page 3) | Bedminster (Page 1), (Page 2), (Page 3), (Page 4), (Page 5), (Page 6), (Page 7) | Old Market (Page 1), (Page 2) | St. George (Page 1), (Page 2) | Temple (Page 1), (Page 2), (Page 3) | Arno's Vale Cemetery (Page 1), (Page 2) | Brislington | @ Bristol | Oldest House | I. K. Brunel (Page 1), (Page 2) | Ma Pugsley | Yeamans | Boundaries (Page 1), (Page 2) | Photography | Exhibition (Page 1), (Page 2) | Lead Working | Historical Perspective | Virtute et Industrial | Other Sites | Bibliography (Page 1), (Page 2) | Help Wanted (Page 1), (Page 2), (Page 3)
HomePage | Optical Illusions | War Stories | QBasic | Dads Navy Days | Bristol | Bristol, USA | Bristol, Canada | Terre Haute | Miscellany | Web Stuff | About Ray | Site Map | Site Search | Messages | Credits | Links | Web Rings
This page created 4th March 2001, last modified 11th December 2005