Terre Haute Postcards
More postcards from my collection...
Winslow Government Standard Scale

Winslow Government Standard Scale Works
This is part of an advertising flyer sent by the Winslow Government Standard Scale Company. The text says...
Largest Scale Plant in the United States devoted exclusively to the manufacture of Heavy Duty Scales.
Born on 15th February 1864, in Cumberland Mills, Main (now Portland), Marlon Winslow came to work in Terre Haute in 1889 at the United States Scale Company. After inventing a railroad track scale in 1895, he established the Winslow Government Standard Scale company in Terre Haute in 1896. Marlon was an engineer / inventor and it was his wife who handled the business side of the company that produced wagon scales. A few years later they expanded with railroad track scales, depot scales, warehouse scales, stock scales, and truck scales.
In 1974 the company amalgated with the A.H. Emery Company which produced material force testing equipment and the joined company still operates as the Emery Winslow Scale Company from 4530 North 25th Street, Terre Haute. As their website says "From a simple warehouse floor scale, to a custom design for Killer Whales. We have scales to weigh mail bags or chicken breasts, sausages or railroad cars, tomato paste or nitro-glycerine, tanker trucks or Boeing 747 Aircraft. There's nothing we can't handle!"
Sources:
Emery Wilson Scale Company
History of Indiana from its exploration to 1922, Volume3
John D. Wixom - Wild Animal Dealer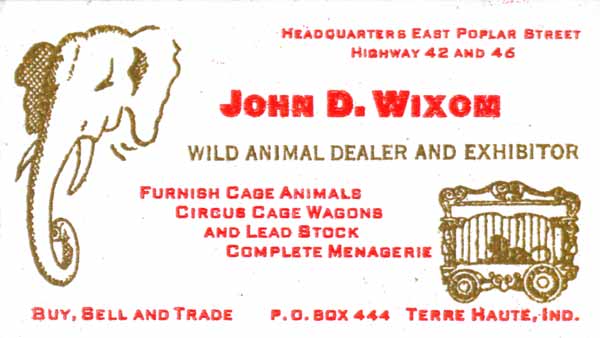 John D. Wixom - Wild Animal Dealer
Not a postcard, but a tradecard for John D. Wixom, a wild animal dealer and exhibitor who traded from East Popar Street, Terre Haute. As well as the animals he also supplied circuses and others with cages and other items. Wixom Brothers are listed as a circus act in 1901 but I don't know if this is the same Wixom, i think they were conneceted to Mat Wixom of Michigan. Wixom's Wild Animal Show is listed by the Circus Historical Society as operating around 1947.
Woodlawn Cemetery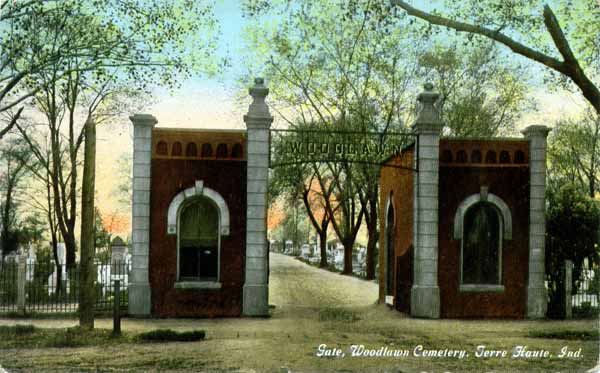 Woodlawn Cemetery
This postcard, stamped in Terre Haute on August 7th, 1911, has the printed text...
A-16071
Published Expressly for S. H. Knox & Co.
Made in U. S. A.
This page created 11th November 2008, last modified 24th March 2010